I-Connect007 Editor's Choice: Five Must-Reads for the Week
October 21, 2022 | Andy Shaughnessy, Design007 Magazine
Estimated reading time: 2 minutes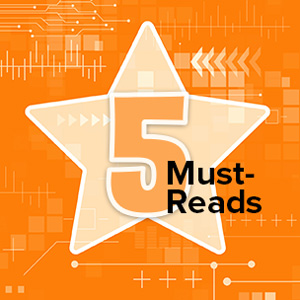 Where did the year go? I can't believe we're planning our January and February issues now. It was 84 degrees most of last week in Atlanta, and now it's 31. I guess I should take my Hawaiian shirts out of rotation!
This week we have quite a variety of articles for you. It's officially show time and the industry is back in business in a major way. We have some news coming out of last week's advanced packaging event in Washington, D.C., and an article about navigating SMTA International, which opens on Halloween this year in Minneapolis. 
We have a great column on avoiding EMI with good routing strategies, and an article on electrically conductive inks. To top it off, I-Connect007 has published a new book, written by Matt Stevenson of Sunstone Circuits, that posits a new "design for": Designing for Reality. If you're a designer, isn't designing for reality what it's all about? 
See you next time.
Sunstone and I-007eBooks Launch Book on Designing for Reality 
Published October 20
There are probably a dozen "design fors" floating around now, with DFM being ubiquitous at this point. But this new I-Connect007 book cuts right to the chase with a new acronym: The Printed Circuit Designer's Guide to… Designing for Reality. Sunstone's Matt Stevenson takes designers through the reality of the PCB fab process. Matt basically says, "Here's what works, and here's what doesn't. Let's go." Check it out.  
IPC Symposium: U.S. Must Address Critical Gaps in Advanced Packaging Needs 
Published October 12
As fictional NASCAR driver Ricky Bobby so eloquently put it, "If you ain't first, you're last." When it comes to advanced substrate packaging, North America is definitely not in first place. As Jan Vardaman explains, last week's IPC Advanced Packaging Symposium in Washington, D.C., represented a call to action. Speakers from across the electronics industry and various branches of the U.S. government addressed this gap in the supply chain which threatens our ability to develop the most cutting-edge fighter planes and weaponry. We'll keep a watch on this situation.
Time to Go 'Exploring' at SMTA International 
Published October 19
If you're getting ready for SMTA International, don't miss this. Editor Michelle Te has a handy-dandy article that covers how to use the SMTAI 2022 Passport. Ambassador Exhibitors on the show floor will discuss their companies' technology and stamp your passport, and the most active Explorers and most popular Ambassadors can win various prizes. Grab your pith helmet and start exploring.
Market and Tech Convergence: Electrically Conductive Inks 
Published October 17
In this article, Stan Farnsworth of NovaCentrix discusses the development of electrically conductive inks. Now in use in everything from smartphones and medical devices to cars and space suits, these inks can be configured by the OEM and applied in a variety of ways. Stan explains what all this means to designers and fabricators on the cutting edge.
Beyond Design: Routing Strategies to Minimize Radiation 
Published October 19
If you're a designer or design engineer wrestling with EMI issues, this Barry Olney column is just for you. Barry explains how good routing practices can save up to 10 dB of substrate radiation. He addresses things like fanout, mark-to-space ratios, and flight time for microstrip vs. stripline. In case this topic isn't your strongest suit, Barry summarizes your best way forward. Don't miss it.
---
Suggested Items
12/01/2023 | Cadence Design Systems, Inc.
Cadence Design Systems, Inc. announced that Samsung Foundry successfully taped out a 5G networking SoC design on the Samsung 5LPE technology using the Cadence® Quantus™ Extraction Solution and Tempus™ Timing Solution.
11/30/2023 | Chris Young, Young Engineering Services
There are many ways, dozens to be sure, and most likely many more, to streamline a PCB design. My goal here is to pick a single-digit number of rules to abide by, that can be reasonably adhered to, and provide some bang for the buck. These rules are meant to reduce design scope creep, avoid PCB respins, and improve production yields.
11/30/2023 | Hirose
Hirose has expanded its low-profile DF51K wire-to-board connector series to include a surface mount technology (SMT) version. Compatible with automated assembly processes, including pick-and-place machines, the DF51K SMT Series simplifies the assembly process and saves significant manufacturing time and cost. 
11/29/2023 | Siemens
Siemens Digital Industries Software set the benchmark for innovation in the field of engineering simulation with the launch of two groundbreaking solutions - HEEDS™ AI Simulation Predictor software and Simcenter™ Reduced Order Modeling software.
11/30/2023 | Tim Haag -- Column: Tim's Takeaways
I am, at heart, a die-hard "Star Trek" fan. When I was a kid, I was all about phasers, warp drive, and cool stuff like that. However, these days, I tend to put a higher value on production and storytelling. But like any fan (I'm avoiding "Trekkie" because, frankly, it's kind of embarrassing), I have certain moments from the hundreds (if not thousands) of hours filmed for the various TV shows and movies that are among my favorites. One of those moments is in "Star Trek III, The Search for Spock," when our heroes steal the Starship Enterprise from space dock.