Books

Featured Books

pcb007 Magazine

Latest Issues

Current Issue

Finding Ultra

New demands on PCB fabrication, namely advanced packaging, ultra high density interconnect (UHDI), and new specialty materials, are converging, changing the landscape of our business. Is it time to start paying close attention to this convergence?

Developing a Strategy

A solid strategy is a critical part of success. This month, we asked some of the top industry leaders and business strategy "gurus" to share their thoughts on developing strategies.

Winning With TQM

In this issue, we explore how TQM has entered the DNA of continuous improvement disciplines, and the role leadership transformation plays in this. If you've ever competed against a TQM company, you understand their winning advantage.

Columns

Latest Columns

||| MENU
A Sharper Image
October 24, 2022 | I-Connect007 Editorial Team
Estimated reading time: 3 minutes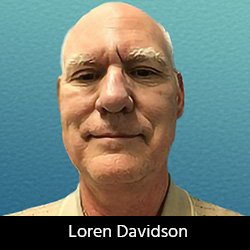 We recently spoke with Loren Davidson, a senior manufacturing engineer at TTM Technologies in Chippewa Falls, Wisconsin. In this wide-ranging discussion, Loren details the medium-volume facility's imaging processes and equipment, a variety of imaging tricks of the trade, and why it's so important to make decisions based on solid statistical data.
Andy Shaughnessy: Loren, would you start by telling us how you got into imaging?
Loren Davidson: I've been in the industry for 38 years. I started in the drill area, then three years later moved to imaging for inner layers. I spent the majority of my time there and have had some interaction with external or outer layer imaging over the years. About five years ago I moved to cover both inner and outer layer imaging. They're pretty complementary other than accounting for the differences in things like plating vs. print and etch.
At TTM Chippewa Falls, we specialize in higher-end product with some volume, but not the high-end volume. We're pushing the envelope on technology to bring it to market quicker, and we're not building necessarily a prototype product, but product that's more mainstream. If it gets to the point where it's a commodity type product or something anyone else can build, then it gets moved to other facilities or even sent to China. That's the niche market we're trying to maintain.
Shaughnessy: Great. Tell us about the process and the equipment.
Davidson: For our inner layer department, we have two Nuvogo laser direct imagers from Orbotech. Those are for our print-and-etch product. I have an Acura from Altix, which is a mechanical printer for a simpler product. It runs faster than an LDI, so we keep it to fit the higher ramp-up quantity area. For outer layer, I have two Nuvogos for the print-and-plate product and specialty prints, so we can do all the selective gold. We do dot plating. We do have ENEPIG and ENIG for all the specialty images needed to meet the customer requirements. For wet processing after print, for inner layer, we use the SCHMID DES (develop, etch, strip) lines, and for outer layer, we use the SCHMID developers. Then it goes over to the plating area. For coating, we use Hakuto CSLs (cut sheet laminators).
Shaughnessy: You do laser and film?
Davidson: Yes, for inner layers I have the Acura that runs silver film. It's a clamshell type printer, but it's automated. It autoloads the layer, brings it into the print frame area, pre-aligns the top and bottom film, pulls vacuum, prints both sides of the layer at the same time, then brings it out. For the laser direct imaging, of course, you can only image one side at a time. But with the Nuvogos, they're double-drawer printers, so they're faster, but still not as fast as a mechanical printer.
Shaughnessy: What's the cutoff? How do you know when to use film vs. laser?
Davidson: It's driven by the spacing. With 3 mil or larger spacing for inner layers, we go to the Acura. Anything less than 3 mil and we will not allow it. Then, we have some product that we're allowed to repair and do welds, but with some products, you can't. With the mechanical printer, you're at a higher risk for repetitive debris defects, so that type of product will get moved over to an LDI where you have much less risk for that. The repairability and spacing are the main drivers on whether we allow it to go to the mechanical or not.
Shaughnessy: When should somebody consider investing in LDI?
Davidson: As soon as possible, actually. There are so many advantages to the LDI for quality that you do not get repeat defects, whereas with a film printer, that repeat can be a killer. Now, the trade-off is that a mechanical printer is fully automated and runs half a million dollars compared to an LDI that is almost a million dollars. The price trade-off is that you need it. If you don't go to full automation, you can go down to right around $300,000 for a good mechanical printer.
To read this entire conversation, which appeared in the October 2022 issue of PCB007 Magazine, click here.
---
Suggested Items
05/31/2023 | EIPC
If you have never been to Munich, then you are probably not working in the PCB industry. Well, you may be, but then if you have never attended Productronica or Electronica, a bi-annual gathering in Munich of the illustrious companies who are the foundations of it, then that's a shame.
02/27/2023 | Pete Starkey, I-Connect007
The EIPC Winter Conference returned to the Metropolis of Lyon in eastern France this month. In 2018, the venue was Villeurbanne in the Auvergne-Rhône-Alpes region. Five years later the setting was the Groupama Stadium in Décines-Charpieu, and leaders of the European printed circuit community gathered in expectation of a spectacular programme of 16 presentations, a visit to a nuclear power station, and an invaluable networking opportunity. They weren't disappointed.
12/23/2022 | Multicircuits
Michael Thiel, VP of Operations at Multicircuits announced recently that the company, in their continued commitment to purposeful automation, selected and installed a new Orbotech Sprint 200 Legend Printer.
12/07/2022 | Multicircuits
Michael Thiel, VP of Operations at Multicircuits, announced the installation of a new Orbotech 600 LDI with Technosystem automation.
10/27/2022 | Happy Holden -- Column: Happy's Tech Talk
It is hard to believe we have had direct imaging for 40 years, starting with Excellon's introduction of its DIS-2000 argon laser imager. Since then, companies in 11 countries, ranging from Israel to Norway1, have developed various digital direct imagers. Karl Dietz wrote about this technology several times in his columns2, noting early on the skepticism that laser direct imaging would hit a Golden Age. So, where are we at now?