I-Connect007 Editor's Choice: Five Must-Reads for the Week
November 4, 2022 | Andy Shaughnessy, Design007 Magazine
Estimated reading time: 2 minutes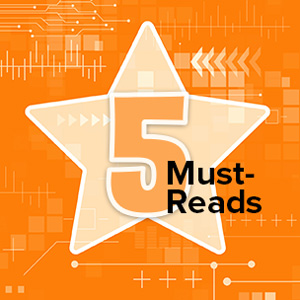 We're officially in show season and Managing Editor Nolan Johnson just got back from SMTA International. As he says in his review, the show drew a sizeable crowd this year. With the pandemic in the rear-view window, let's hope our trade shows are getting back to normal.
This week, we have articles about everything from the first flexible circuit patent to the CHIPS Act, a growing PCB broker, and a look at whether manufacturers believe that we're in a recession or not (Hint: We are officially in a recession.). 
Check back for more show coverage.
Flexible Thinking: The Chameleon of Interconnection Technologies
Published November 3
In this column, Joe Fjelstad discusses the earliest flexible circuit patent, which dates to 1903. The patent for "Improvements in, or Connected with, Electric Cables and the Joining of Same" was originally designed for the new telephone industry, but as Joe explains, flex is quite a chameleon.
American Made Advocacy: The CHIPS Act is Just the Beginning
Published November 3
As Travis Kelly explains in this column, the CHIPS and Science Act is really just the first step of a long marathon. The U.S. now only manufactures 4% of the PCBs in the world, down from 30% a few decades ago, and that number will continue to head further south unless we take some definite action, and now.
SMTAI: Like a Tesla in a Drag Race
Published November 3
Nolan Johnson spent the last few days at SMTA International, back for its second year in Minneapolis. Now that the pandemic is over, SMTAI is back, and as Nolan, reports, even the weather cooperated. If you couldn't make it to the show, check out our video coverage of SMTAI on our Real Time with… SMTAI site.
IPC: One-Fourth of Electronics Manufacturers Believe We are in a Recession
Published November 1
It doesn't feel like a recession. But it's not exactly a state secret that we are in a recession, which is officially defined as two back-to-back quarters of negative GDP. We've had that, but as one company owner told me recently, "If this is a recession, I'll take it." 
Millennium Circuits on The Move
Published October 31
I recently met with Daniel Thau, CEO and founder of PCB broker Millennium Circuits. In this interview, Daniel gives us the background on this company that founded at the tender age of 21, and the company's focus on providing complex PCBs very quickly.
---
Suggested Items
12/01/2023 | Nolan Johnson, I-Connect007
This week's news items taught me a few things I didn't know. For instance, there's news about the new equipment for THT work, governmental support for advanced packaging technologies, an upcoming webinar from iNEMI on counterfeits, an interview with U.S. Rep. Blake Moore, one of the sponsors of the bipartisan Protecting Circuit Boards and Substrates Act, and columnist Tim Haag, using Star Trek to illustrate why simplicity is, ahem, paramount.
11/30/2023 | PRNewswire
VPT, Inc., a HEICO company, VPT, Inc., a trusted provider of power conversion solutions for aerospace and defense, proudly announces its latest achievement of obtaining SAE AS9100 Revision D certification. SAE AS9100 Revision D enhances VPT's existing suite of certifications, including MIL-PRF-38534, MIL-STD-883, J-STD-001 (Space), IPC-A-610, and IPC-A-600, further cementing our commitment to excellence in quality and reliability.
11/29/2023 | TRI
Test Research, Inc. (TRI), the industry's leading provider of Test and Inspection systems for the electronics manufacturing industry, is pleased to announce the expansion of its Malaysian office, which opened in 2010.
11/29/2023 | Dana Korf -- Column: Dana on Data
November's issue of Design007 Magazine had an excellent theme that evolved around design simplification. There were exceptionally good articles about how to reduce over-constrained or needlessly complex designs. One significant time-consuming category is the creation of many design files and drawings which lead to lengthy creation and interpretation time along with the considerable time to resolve conflicting or erroneous information.
11/27/2023 | IPC
IPC welcomes the actions outlined today by the U.S. Government "to strengthen supply chains critical to America's economic and national security."