DownStream Flexes in Rigid-Flex
November 14, 2022 | Andy Shaughnessy, Design007 Magazine
Estimated reading time: 2 minutes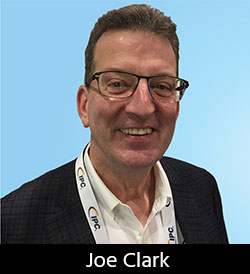 During PCB West, I caught up with DownStream Technologies co-founder Joe Clark and Senior Product Marketing Manager Mark Gallant. We discussed some of their latest tool updates, including a greater focus on bringing post-processing functionality, such as inter-layer analysis capability, to rigid-flex circuits. Joe also offered a look at global design trends going into 2023, as more engineers take on PCB designer roles while senior designers are retiring.
Andy Shaughnessy: Joe, give us an update on what's been going on with DownStream for the last year.
Joe Clark: Last year was a record year for us, where we experienced over 10% growth even in the middle of COVID. We're on track to repeat that again in 2022. Much of that is driven by our major customers adopting design-for-manufacturing and intelligent design formats. A lot of the analysis that used to be done at the end of the design process has been moving "upstream," and that has implications on the tool capabilities, i.e., it's got to be easy to use and have low cost of ownership. It's hard to believe that we've been doing this for 20 years.
Shaughnessy: Who knew 2002 was a great time to start a company?
Clark: It was actually the worst time to start a company. But our vision was that design-for-manufacturing analysis would become a mainstream mission-critical requirement, and that the analysis would naturally move upstream. If you remember back when we were PADS, we acquired HyperLynx because our belief was that designers should be doing signal integrity checks during the design creation cycle, not at the end; we were right. We then spun out of Innoveda, took the CAM350 product with us, and added DFM analysis capabilities along with support for intelligent formats (ODB++, IPC-2581) to support in-cycle DFM analysis. We were right again.
Also, as we worked with customers, it became clear to us that another mission-critical part of the process not being addressed was the designers' need to create detailed documentation for their PCB designs. At the time, they all used their CAD tools, but they were not created to do documentation. PCB documentation is not a "nice to do" thing; it is a necessary thing to do as part of a good new-product design process. Working with customers, and again taking advantage of the shift to neutral intelligent design formats, we developed BluePrint to address the needs for creating quality, adaptable PCB documentation.
Shaughnessy: Most designers love doing layout, but they hate post-processing and documentation creation.
Clark: They hated doing it, especially documentation, in large part due to the nature of the existing tools. They were simply too difficult to use in the design cycle. We focused on providing tools of high functionality combined with ease of use. For PCB documentation, we developed a tool to automate it, to leverage the intelligence of the design to allow users to create, in a very automated way, comprehensive PCB documentation to their particular requirements. Believe me when I say that PCB doc requirements vary greatly company to company and often even division to division. Our BluePrint tool is fully customizable.
Shaughnessy: What is your focus as we head into 2023?
Clark: There are new trends coming, and our most recent focus is on rigid-flex. Working with companies like Microsoft, we realized that there are really no tools to address a host of new challenges: multiple stackup regions, the potential problems from bending a circuit, inter-layer dependencies, and other such technological obstacles.
To read this entire conversation, which appeared in the November 2022 issue of Design007 Magazine, click here.
---
Suggested Items
12/07/2023 | Matt Stevenson -- Column: Connect the Dots
It makes sense to optimize your board using design for manufacturability (DFM) techniques. But applying DFM best practices can be confusing without formal training. The results are designs that are often incomplete, poorly designed, or too complex. When these issues arise, your PCB manufacturing partner rejecting the design can be considered a best-case scenario because it means they have your back. If your design is simply dropped into an automated queue without concern for manufacturability, the output can be a batch of unusable boards.
12/07/2023 | Siemens
Siemens Digital Industries Software announces availability of a new process design kit (PDK) from Samsung Foundry that helps mutual customers boost the reliability, quality and robustness of their next-generation integrated circuit (IC) designs manufactured using the foundry's latest processes.
12/05/2023 | PRNewswire
Siemens Digital Industries Software announced that the RS Group plc, a global provider of product and service solutions to more than 1.1 million industrial customers, has selected Siemens as its strategic electronic design automation (EDA) provider for its new, cloud native, DesignSpark Circuit Simulator tool – empowering users to streamline the design process.
12/04/2023 | EMA Design Automation
EMA Design Automation, the world's premier EDA VAR, is spinning off their IP, content, and services group as a new company named Accelerated Designs, LLC with a focus on CAD agnostic solutions.
12/04/2023 | PRNewswire
SINBON Electronics, a provider of integrated solutions for electronic component design and manufacturing, recently obtained UL certification for its NACS (The North American Charging Standard) AC/DC charging cable. SINBON is the first electronic design service provider in Greater China to obtain this certification, and the first batch of charging cable orders has been shipped this week.