Web vs. Direct Imaging
November 22, 2022 | I-Connect007 Editorial Team
Estimated reading time: 3 minutes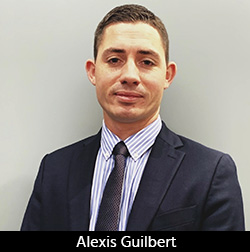 As flexible printed circuits (FPC) continue making waves in PCB manufacturing, the Altix team of Alexis Guilbert, Damien Boureau, and Alexandre Camus look at today's use cases for FPCs, and detail the finer points of roll-to-roll technology vs. direct imaging. For example, how long can a flexible circuit be? Which technology works best with extremely long circuits, and how does a customer know which one to use? The I-Connect007 Editorial Team explores these trending topics and what it means for PCB manufacturers.
Nolan Johnson: We're here to learn more about Altix's continued work on roll-to-roll technologies. What do you see as the market drivers for roll-to-roll?
Alexis Guilbert: One booming market is automotive. More specifically, it's the electric vehicle battery manufacturing market, which is enjoying tremendous growth. One report I read mentioned a $7 billion growth in market size by this year. I believe the flexible printed circuit segment is growing in the industry because it replaces wires, for example, which used to always be wire harnesses. Now it's FPC, which saves assembly time and space as well as space and weight in the vehicle. You divide those by approximately two compared to normal wires. Of course, it's an FPC, so you will have data like temperature, voltage, and everything else.
Alexandre Camus: The main drivers will be, for example, battery packs, interconnects, some sensors, and wire harness replacements. I want to stress that for battery pack interconnects, it will mostly be for electric vehicles but there will always be more FPC in traditional ICE vehicles. The EV and autonomous vehicles are growing domains. It's a really dynamic market.
Johnson: For the automotive sector specifically, it sounds like this is replacing some wire harnesses.
Guilbert: Yes, it's basically a wire harness replacement. That's one of the main drivers for both our roll-to-roll contact printers and direct imager (DI).
Johnson: What's the value-add for moving to flex over the wire harness? Why is flex better than a traditional wire harness?
Guilbert: It saves space and reduces weight. For a vehicle, that's tremendously important as those are critical features. It saves part count and assembly time. In electric vehicles, it gives data to the battery management system (BMS), such as the temperatures or voltage. If I go a bit deeper, you have a thermal management system for the batteries, and you need to send this data as well to the BMS. A lot of data needs to be transmitted—and not only to the BMS as you have the communication between the BMS and the dashboard. This is incorporated for the driver to look at.
Johnson: By using flex circuits, in this case, you can get more data channels into a smaller space?
Camus: It's a win-win because you save space, and you get more out of the product. It's a clear upgrade. No downsides.
Barry Matties: Is there an advantage for eliminating crosstalk or noise compared to the wire harness?
Guilbert: Yes. There is less noise concern when you have an FPC compared to a wire harness. That is also true.
Matties: That's probably one of the big advantages in design as well. We're talking automotive, but are you seeing any trends into perhaps the commercial or military aircraft spaces as well?
Camus: Yes. I've definitely seen cases for unmanned aerial vehicles (UAVs) in both military and civilian applications. We haven't seen the end of the market yet. It's still growing.
Matties: With the roll-to-roll technology, there's no limit to the length, correct?
Guilbert: That's correct.
Damien Boureau: In fact, this is part of what we are bringing together with our contact printer or direct machine units in roll-to-roll. We can bring options to help our customer produce something like an unlimited flexible circuit. We added some functions, like stitching images all together over the web, or clipping a very long image so that we can recompose it at the end.
To read this entire conversation, which appeared in the October 2022 issue of PCB007 Magazine, click here.
---
Suggested Items
09/20/2023 | I-Connect007 Editorial Team
Panasonic's Darren Hitchcock spoke with the I-Connect007 Editorial Team on the complexities of moving toward ultra HDI manufacturing. As we learn in this conversation, the number of shifting constraints relative to traditional PCB fabrication is quite large and can sometimes conflict with each other.
09/19/2023 | Anaya Vardya -- Column: Standard of Excellence
In my last column, I discussed cutting-edge innovations in printed circuit board technology, focusing on innovative trends in ultra HDI, embedded passives and components, green PCBs, and advanced substrate materials. This month, I'm following up with the products these new PCB technologies are destined for. Why do we need all these new technologies?
09/18/2023 | ViTrox
ViTrox, which aims to be the world's most trusted technology company, is excited to announce that our trusted Sales Channel Partner (SCP) in Mexico, SMTo Engineering, S.A. de C.V., will be participating in SMTA Guadalajara Expo & Tech Forum. They will be exhibiting in Booth #911 from the 25th  to the 26th of October 2023,  at the Expo Guadalajara in Jalisco, Mexico.
09/18/2023 | Intel
Intel announced one of the industry's first glass substrates for next-generation advanced packaging, planned for the latter part of this decade.
09/18/2023 | Aidan Salvi -- Column: Facing the Future
I have been in and around circuit boards most of my life. I started 20 years ago in my family's PCB shop, leaving after a couple of years to start my own software company. About a year ago, I returned to the family business, and the first thing I noticed was that nothing had really changed. We were doing the same things in the same way as the day I left. After talking to several experts in the industry, I realized it was worse than that: The manufacturing of PCBs had not changed in 70 years.