Flexible Electronics Spark PhD Student's Interest
November 28, 2022 | Binghamton University
Estimated reading time: 3 minutes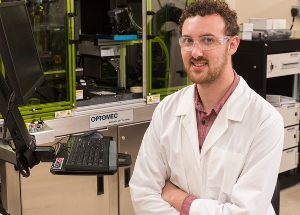 A Binghamton University doctoral student aims to make innovative technology more accessible through the use of flexible hybrid electronics.
Dylan Richmond, a fourth-year doctoral student in the Materials Science and Engineering Program, conducts research focused on identifying innovative materials and processes to produce reliable, low-cost, low-waste flexible electronic devices. His research group prints and builds circuits onto adaptable plastic materials.
"My favorite part of this work is definitely printing the materials and making something go from a design to an actual circuit and then building upon that and making the whole device," Richmond said.
He has worked with Binghamton's Center for Advanced Microelectronics Manufacturing, or CAMM lab, for two-and-a-half years. The laboratory is directed by Mark Poliks, a SUNY distinguished professor of systems science and industrial engineering. Richmond works alongside Poliks on several projects.
"Dylan is a highly motivated individual who is always willing to accept new and challenging responsibilities," Poliks said. "It has been my privilege to see him develop into an independent professional scientist."
The CAMM produces devices that are made to withstand high temperatures and large influxes of energy. They can flex onto virtually any curved surface seamlessly, all while adopting the flexibility of a Band-Aid.
In traditional electronics manufacturing, copper or another conductive metal coats the entire plate and excess materials are etched away to leave behind the circuit. However, the CAMM focuses on printing through additive manufacturing. This process reduces waste and is a cost-effective alternative.
"In additive manufacturing, you only print what you need," Richmond said. "So you print just the design of the circuit."
While growing up in Owego, Richmond favored the complex nature of math and science over all other elementary subjects. His initial curiosity and appreciation paved the way for his future as an engineer.
During his final year at SUNY Oswego, where he received his bachelor's degree in physics, Richmond had an opportunity to conduct research at the University of Nebraska-Lincoln on perovskite solar cells. Perovskite is a low-cost, high-energy material that can be used to power electronic devices.
Flexible hybrid electronics combine printed electronic circuits and the flexibility of plastic materials with the efficiency of thinned semiconductor devices to produce a new form of electronics.
"Flexible electronics should be able to adapt to locations and environments where they are needed. The key word here is adapting," Richmond said. "You want them to not be a nuisance to you. You want to barely notice that they're on you. So the challenge is making them so thin, so lightweight, so that you barely notice that you're wearing them and they're not getting in the way of your daily activities."
Printed electronics remain novel and fundamental work still needs to be done. As the field of materials science gains more traction, Richmond says that he is less interested in competition and more interested in sharing his knowledge with like-minded peers in the engineering community.
"There's a lot of people who are interested in this right now, and I just want to contribute to it," he said.
The influence of the Green Revolution has motivated Richmond to hope for a future in the renewable energy sector. He aspires to combine his knowledge and experience in materials science with his passion for printing and green energy, to create his own renewable energy company in the future. 
"Many of our projects involve collaboration with colleagues at major corporations and other universities," Poliks said. "Dylan has had the opportunity to develop the skills needed to work in a complex team environment. As a result he is now well prepared to work in a highly competitive research and development laboratory."
---
Suggested Items
12/05/2023 | HANZA
HANZA AB has signed an agreement to acquire all shares in Orbit One AB, a Swedish company that offers contract manufacturing of electronics and electromechanics. Orbit One has annual sales of approximately SEK 1.1 billion with an operating profit (EBITA) of approximately SEK 70 million.
12/05/2023 | IPC
Electronics industry sentiment improved during November with demand sentiment also taking a solid step up over the last 30 days per IPC's November 2023 Global Sentiment of the Electronics Supply Chain Report.
12/05/2023 | Robert Erickson and Lorena Villanueva, IPC
About 200 kilometers (125 miles) north of Mexico City lies Queretaro, an area rich in history, with stone streets and public squares, and which twice has been the country's capital. But it's also quickly becoming a global capital of electronics manufacturing, especially aeronautics, and was the location for the first IPC Day Mexico this past June.
12/04/2023 | USPAE
Seven microelectronics firms received nearly $10 million in combined funding to commercialize technologies of interest to the U.S. military services as winners of the Defense Business Accelerator (DBX) Microelectronics Challenge. This groundbreaking initiative is funded by the Department of Defense (DoD) and led by the U.S. Partnership for Assured Electronics (USPAE).
11/30/2023 | BUSINESS WIRE
Nordson Electronics Solutions, a global leader in electronics manufacturing technologies, is pleased to announce the release of the new ASYMTEK Select Coat® SL-1040 conformal coating system.