I-Connect007 Editor's Choice: Five Must-Reads for the Week
December 2, 2022 | Nolan Johnson, I-Connect007
Estimated reading time: 2 minutes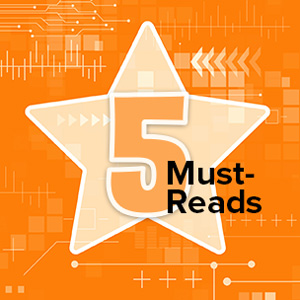 Normally, the holiday season is a slow(ish) news time, but this year just feels different. My opinion is that the technology industry banked up a whole bunch of innovations and new products during the pandemic disruptions, which are coming to market as quickly as possible. The November/December news is full of technology discussion, as my selections this week clearly demonstrate.
We have a discussion on additively manufactured electronics, as well as a high-level look at fabrication for the UHDI market—both emerging markets. I also noticed that our readers were quite interested in industry reports on U.S. semiconductor industry challenges, and a forward look at the drivers in the flexible PCB fabrication market, so I was sure to include the links again. Finally, I thought I'd share the news item about a new missile guidance system prototype test that caught reader attention and which has garnered quite a bit of attention.
3D Electronic Devices With Additive Manufacturing 
Published November 29
In the news on Dec. 1, Nano Dimension issued a press release announcing Q3 2022 results where the company shares that it is on track to increase revenue by 10X over 2020's results. That news shines a spotlight on this article from Shavi Spinzi discussing the possibilities of additively manufactured electronics.
Global Flexible PCB Market Report 2022: Rising Use in the Aerospace and Aviation Sector Boosts Growth 
Published November 25
My recent conversations with flex manufacturers all have a familiar tone: "We're really busy, capacity is maxed out." Well, this quote from the Flexible PCB Marketplace Report news release corroborates what I'm hearing: "The [flex] market is expected to surge in the coming years due to the rising use of flexible printed circuit boards in consumer electronics, especially smartphones, laptops, displays, and other electronic devices. According to official industrial sources, around 1.5 billion smartphones were sold in the year 2019." The article discusses automotive, aviation and aerospace.
Understanding the UHDI Market 
Published November 28
This interview with Meredith LaBeau and Todd Brassard from Calumet Electronics included this in the setup to the conversation, "The more we investigate UHDI in the current market, the more advanced packaging becomes a part of the conversation. The two emerging technologies lean on each other for their overall success. UHDI is the method by which state-of-the-art advanced packaging will be fabricated; substrates are creating a market for UHDI capabilities." In many ways, Calumet is blazing the trail for nimble PCB fabricators to move forward into capabilities that support advanced packaging. Clearly, readers were interested this week in what LaBeau and Brassard had to say.
New Report Identifies Challenges to Continued U.S. Leadership in Semiconductor Design, Innovation 
Published November 30
This report from the Semiconductor Industry Association (with Boston Consulting Group) identifies three key areas the U.S. must address in the administration of the CHIPS Act in order to maintain a leadership position: Design and R&D investment needs are on the rise, there is a shortage of domestic design talent, and open access to global markets is under pressure. Take a read and see if you agree.
PAC-3 Intercepts Target In Successful Test of Lockheed Martin Remote Interceptor Guidance
Published November 25
Lockheed Martin announced that their new missile communication device connected with a U.S. Army PAC-3 missile in flight. This prototype system is seen as a step forward in missile guidance systems.
---
Suggested Items
09/28/2023 | Nolan Johnson, I-Connect007
The practical question around CHIPS Act development and electronics assembly is, "Will this change how we do business?" Indium Corporation's Dr. Andy Mackie sat down with Nolan Johnson to share what he sees as emerging answers to that question from his perspective as an expert in electronics assembly and packaging, and as a participant in standards development through IPC, JEDEC, and SEMI.
09/28/2023 | ZESTRON
ZESTRON is happy to announce that Senior Application Engineer, Ravi Parthasarathy, will be presenting "Revolutionizing PCB Assembly Cleaning:
09/28/2023 | IPC
IPC continues to collaborate with the electronics manufacturing industry to meet their current and future workforce training needs.
09/28/2023 | IPC
Though product demand weakened this month with Orders and Backlog Indexes slipping, overall electronics industry operations remain healthy per IPC's September 2023 Global Sentiment of the Electronics Supply Chain Report.
09/27/2023 | AT&S
AT&S is working on the EECONE (European ECOsystem for greeN Electronics) project to develop new technologies to make electronics production in Europe more sustainable.