Books

Featured Books

smt007 Magazine

Latest Issues

Current Issue

Chips Don't Float

In Europe and the U.S., legislation is under way to revitalize PCB fabrication and packaging. What is the status of this work, and how specifically does this change the industry landscape for EMS companies? What will help keep us afloat?

Flying High With Digital Twin

The opportunity to use manufacturing simulation as a test bed for job planning and process optimization brings continuous improvement into the modern age. This may be an all-or-nothing type of project, but it's worth the investment.

Artificial Intelligence

In this issue, we (and AI) explored how and when artificial intelligence plays a role in manufacturing today. Whether on the factory floor, or in the front office, AI applications are emerging and changing how we approach planning, processes and problem solving.

Columns

Latest Columns

||| MENU
Trailblazing Substrates in PCB Fabrication
December 6, 2022 | Nolan Johnson, I-Connect007
Estimated reading time: 2 minutes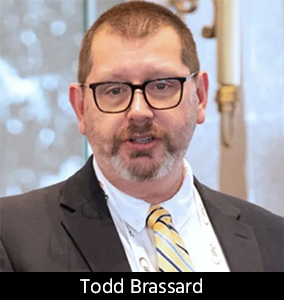 Todd Brassard, vice president and COO at Calumet Electronics, participated not only in the IPC Advanced Packaging Symposium in Washington, D.C., Oct. 11-13, but also met with congressional staffers at the Capitol during his visit. Todd does not back down from a challenge, and the one in front of him is no different. It's why his company is at the forefront of the conversation, and he plans to keep it that way.
Nolan Johnson: Calumet is showing up repeatedly in the conversation around advanced packaging; you're established as a company at the forefront. Meredith LaBeau, your chief technology officer, was mentioned and sat on a panel here. You've been talking to Senate staff on the Hill as well. That's a lot of activity. What's your takeaway?
Todd Brassard: This is the first time IPC has done a microelectronics symposium; today was a new venture for them. There seems to be more than 100 companies here. I am pleasantly surprised and encouraged by the conversations, the depth of the information and the insights that are being shared, and the uniformity of the problem. We've seen discussion from the most advanced technologies right down to the fundamentals, and the messaging is consistent: We need to do it in the U.S., and we need to do it fast. There are potentially imminent threats developing, and we must be capable of producing the technologies that keep the country safe and keep the country competitive.
Johnson: It seems like the motivation is strong to ask Calumet how this works and how to get there. You are blazing a trail.
Brassard: If you listen to the dialogue, you hear a variety of "PCB shops can participate or PCB shops can't participate. They should; they shouldn't." We feel that maybe it's not for every PCB shop, but it's certainly not out of the bounds for those PCB shops that want to advance. Where substrates are today, that's where PCBs will be a decade from now. Miniaturization will continue. Things will get smaller. Maybe someday the substrate won't be the interposer, but the PCB will be the interposer. Because everything is built at the microelectronic scale and the PCB just scales it up to interface with the system. There are many reasons for a PCB shop to explore what they're interested in.
Johnson: Excellent. Thanks.
Brassard: Thank you, Nolan.
To read more about this symposium, click here.
---
Suggested Items
09/18/2023 | IPC
IPC Day France: Aerospace Electronics is an aerospace-focused networking event featuring key industry experts from NASA and Airbus and will take place on October 2, 2023 . 
09/15/2023 | TRI
Test Research, Inc. (TRI), the leading test and inspection systems provider for the electronics manufacturing industry, will join productronica 2023, which will be held at Messe München Center from November 14 – 17, 2023.
09/13/2023 | I-Connect007 Editorial Team
For this month's issue on rigid-flex design, we spoke with instructor Kris Moyer, who teaches the IPC class "PCB Design for Flex and Rigid-Flex Boards." In this wide-ranging interview, Kris breaks down the hurdles facing rigid-flex designers and offers a variety of solutions for rigid board designers taking on their first rigid-flex circuits. He also provides a few horror stories to illustrate what happens if you don't follow sound design practices, rules, and standards. And, as Kris points out, "Your fabricator is your friend."
09/13/2023 | IPC
In conjunction with NEPCON Vietnam 2023, IPC hosted its popular IPC Hand Soldering and Rework Competition in Hanoi, Vietnam on September 6-8, 2023.
09/13/2023 | Hentec Industries/RPS Automation
Hentec Industries/RPS Automation, a leading manufacturer of selective soldering, lead tinning and solderability test equipment, is pleased to announce that Sinclair Manufacturing has purchased Pulsar solderability testing and Photon steam aging systems for installation in their Chartley, Massachusetts facility.