Raytheon Intelligence & Space Awarded Missile Track Custody Development Contract
January 4, 2023 | Raytheon Technologies
Estimated reading time: 1 minute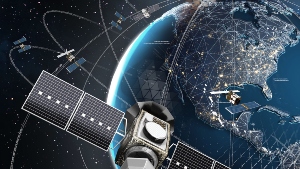 Raytheon Intelligence & Space has been awarded a prime contract to develop a prototype Missile Track Custody system for the U.S. Space Force. MTC is the service's first Medium Earth Orbit missile tracking system.
Under this contract, Raytheon Intelligence & Space will serve as the prime contractor, developing and delivering a space vehicle, hosting a state-of-the-art missile tracking mission payload and ground-based command and control and mission-data processing elements. This system was developed using model-based systems engineering significantly increasing the speed of development, while reducing cost.
Raytheon Intelligence & Space will also deliver the command and control and real-time mission- data processing elements for MTC. The ground system will use the Future Operationally Resilient Ground Evolution Mission Data Processing Application Framework (FORGE MDPAF). Raytheon's FORGE MDPAF is a ground system framework that collects and processes data from satellites, including Overhead Persistent Infrared (OPIR) space vehicle data from both Space Force's Space-Based Infrared System (SBIRS) constellation and the future Next-Generation OPIR constellation. 
"This is an advanced solution to counter emerging missile threats facing our country," said Roger Cole, executive director, Strategic Systems programs, Raytheon Intelligence & Space. "From its MEO perch, our system will enable Space Force to accurately detect and track adversarial hypersonic weapons with precision accuraRaytheon Intelligence & Space's mission payload, which passed critical design review in November 2022, will be integrated onto an LM400 satellite bus. The LM400, part of Lockheed Martin's modernized family of satellite designs, emphasizing commonality, rapid production speed, and reduced costs, includes SmartSat,™ software-defined satellite capabilities that allow it to adapt to changing mission needs and deploy new capabilities to stay ahead of evolving threats.
"Lockheed Martin is excited to provide our mid-sized, rapidly-producible LM400 bus to Raytheon, supporting our customer's mission to deliver initial warfighting capability with Missile Track Custody Epoch 1," said Mike Corriea, vice president, Lockheed Martin's Overhead Persistent Infrared mission area. "Lockheed Martin will leverage a full suite of digital engineering tools to produce satellites that are dramatically more responsive and flexible, at a fraction of the cost and delivery time for our customers."
The team plans to complete a system critical design review in 2023, followed by a build, integration, and test campaign to deliver capability to orbit by 2026. Work for this program will be executed in El Segundo, California, and Aurora, Colorado.
---
Suggested Items
09/28/2023 | Technica USA
Technica USA announced it has reached a Master Distribution Agreement with SAA to promote and support automation systems & technology offered by SAA.
09/27/2023 | Keysight Technologies, Inc.
Keysight Technologies, Inc. introduces Keysight EDA 2024, a tightly integrated suite of electronic design automation (EDA) software tools that ensures first pass success.
09/27/2023 | Transition Automation, Inc.
Transition Automation, Inc. has improved the unique Paste Retainer System that is included in the company's line of squeegee holder systems.
09/26/2023 | Kirk Thompson, Isola Group
Despite being a leader in R&D investment in semiconductors and packaging with greater than $50 billion per year, the U.S. has seen its market share decrease to less than 3% in areas like advanced packaging and advanced substrates. The cause for this market share erosion was a laser focus in Asian countries to attract semiconductors and advanced packaging investment through ecosystem development and incentives. If the U.S. is serious about changing the momentum to onshore advanced packaging and advanced substrates, an ecosystem approach to innovation and manufacturing incentives must be employed. It is not enough to have the most innovative technology if the supply chain and manufacturing economics do not deliver competitive commercial opportunities.
09/26/2023 | Airbus
During the German National Aviation Conference in Hamburg, Airbus Helicopters unveiled the PioneerLab, its new twin-engine technology demonstrator based on the H145 platform.