Satcom Direct Installs Prototype Terminal for Inmarsat's Jet ConneX Inflight Broadband Service
January 5, 2023 | Inmarsat
Estimated reading time: 1 minute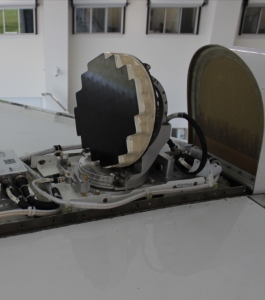 Satcom Direct, the business aviation solutions provider, has completed the installation of the first Plane Simple Ka-band antenna on the company's SD Gulfstream G550. The prototype terminal, consisting of only two line-replaceable units (LRUs) - the tail-mount antenna and SD Modem Unit – is testing the advanced technology hardware's compatibility with Inmarsat's Jet ConneX inflight broadband service, powered by its Global Xpress constellation.
The antenna is functioning under an aircraft-specific supplemental type certificate (STC). Terminal validation will be conducted during regular flight operations, and the data collected will be used to finalise the design for optimised functionality.
Chris Moore, Satcom Direct's President, said "Owners and operators depend on us to deliver reliable and consistent service, and our Plane Simple antenna systems satisfy this demand. …With the validation of the Ka-band terminal, we're adding more value to our offering to meet the needs of our customers. We have a long-standing relationship with Inmarsat, having evolved numerous connectivity services together to deliver superior experiences to users.  We are excited to begin on-wing testing with them."
Kai Tang, Inmarsat's Head of Business Aviation, said, "Like SD, our aim is to give customers best-in-class consistent, global coverage, now and in the future. We anticipate that SD hardware technology, combined with our enhanced next-generation satellite network, will reinforce our position as the premium connectivity experience for SD customers. We are looking forward to validating this through the testing process."
Testing has already begun, with customer in-service evaluation scheduled to commence in Q4 2023 and subsequent STCs also to be confirmed by the end of 2023. When fully functional, the Ka-band antenna will support high-speed data transfer for teleconferencing, video streaming and multiple digital applications for high volumes of users travelling on mid to large-size jets.
---
Suggested Items
09/28/2023 | Technica USA
Technica USA announced it has reached a Master Distribution Agreement with SAA to promote and support automation systems & technology offered by SAA.
09/26/2023 | Cadence Design Systems, Inc.
Cadence Design Systems, Inc. announced the expansion of its node-to-node design migration flow based on the Cadence® Virtuoso® Studio, which is compatible with all TSMC advanced nodes, including the latest N3E and N2 process technologies.
09/25/2023 | Q Source
Q Source, a provider of custom solutions for the Bio-Medical, Electronic, Pharmaceutical Manufacturing industries, is excited to announce its strategic partnership with XDry Corporation, a renowned dry cabinet manufacturer.
09/22/2023 | Qualcomm Technologies, Inc.
Charter Communications, Inc. and Qualcomm Technologies, Inc., today announced a collaboration to deliver the next-generation Advanced Wi-Fi router that will bring Wi-Fi 7 and 10 Gbps Wi-Fi capabilities to Spectrum Internet users, helping support and enhance the converged connectivity experience for residential and small and medium-sized business customers. Advanced Wi-Fi routers with Wi-Fi 7 are expected to be available to Spectrum customers in 2024.
09/21/2023 | Dymax
Dymax, a leading manufacturer of light-curing materials and equipment, will exhibit in booth 1526 at SMTA International 2023 in Minneapolis, MN, from October 10-11.