Books

Featured Books

pcb007 Magazine

Latest Issues

Current Issue

The Registration Sweet Spot

Registration is underrated and underappreciated. The key is to ensure proper registration from layer to layer across the entire printed circuit board. It's a holistic process requiring anticipation, prediction, precise attention at each step, and detailed data tracking and monitoring.

High-reliability Fabrication

In this month's issue, our expert contributors discuss the latest in technologies, trends, complexities and resources regarding high-reliability fabrication.

Finding Ultra

New demands on PCB fabrication, namely advanced packaging, ultra high density interconnect (UHDI), and new specialty materials, are converging, changing the landscape of our business. Is it time to start paying close attention to this convergence?

Columns

Latest Columns

||| MENU
Classes and Meetings Under Way at IPC APEX EXPO
January 23, 2023 | Andy Shaughnessy, Design007 Magazine
Estimated reading time: 1 minute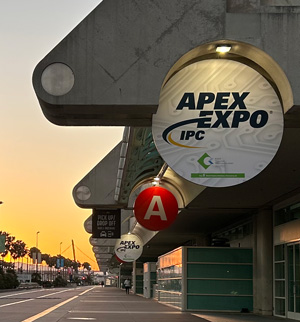 IPC APEX EXPO 2023 doesn't officially kick off until Tuesday, but there's plenty of action going on here at the San Diego Convention Center. 
Booths are sprouting up on the show floor, and exhibitors are starting to arrive. Upstairs, committee meetings have been taking place all weekend; the IPC-J-STD-001 and IPC-A-610 Joint Task Group, and IPC-A-600 and IPC-6012 Joint Task Group meetings, were abuzz with activity.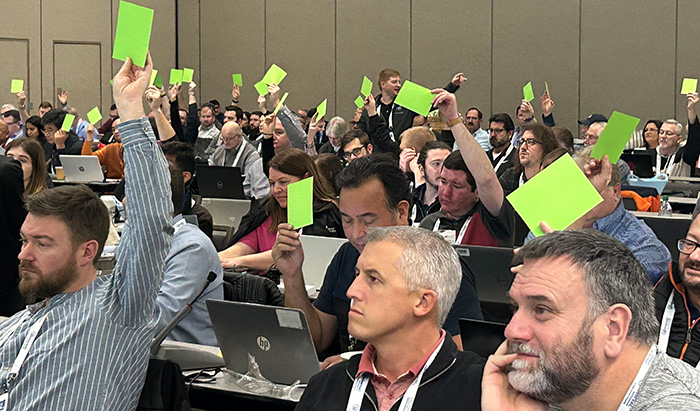 The members of the 001-610 group boasted 168 people, and they really seemed to enjoy what could have been a boring day looking at standards minutiae. The voting process was something to see, with members waving green cards of approval for changes. It was all very democratic. I heard far more laughter than I had expected. If you'd like to get involved with the standards development process, the committee chairs would welcome your help.
The Professional Development classes began on Sunday, covering everything from design through assembly processes, flex and rigid-flex, and technologies of the future. We interviewed some of the committee members and class attendees, including a few first-time attendees, and we'll have these interviews published soon.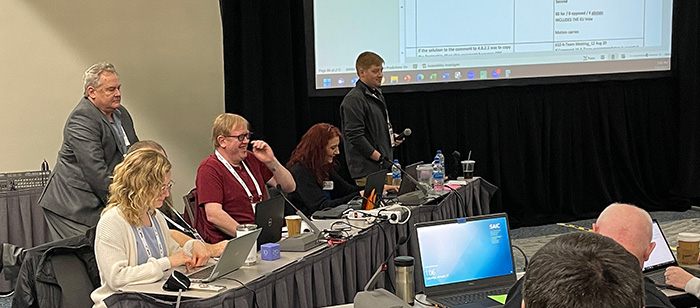 We're starting to see groups of engineers walking around the Gaslamp District with their show badges, but the real crowds won't be here until tomorrow. A few people I spoke with said they think this show marks the return to a pre-pandemic state of mind, and very few people are wearing masks here. With no rain in the forecast, the week is looking good.
---
Suggested Items
12/05/2023 | Robert Erickson and Lorena Villanueva, IPC
About 200 kilometers (125 miles) north of Mexico City lies Queretaro, an area rich in history, with stone streets and public squares, and which twice has been the country's capital. But it's also quickly becoming a global capital of electronics manufacturing, especially aeronautics, and was the location for the first IPC Day Mexico this past June.
12/01/2023 | Nolan Johnson, I-Connect007
This week's news items taught me a few things I didn't know. For instance, there's news about the new equipment for THT work, governmental support for advanced packaging technologies, an upcoming webinar from iNEMI on counterfeits, an interview with U.S. Rep. Blake Moore, one of the sponsors of the bipartisan Protecting Circuit Boards and Substrates Act, and columnist Tim Haag, using Star Trek to illustrate why simplicity is, ahem, paramount.
11/30/2023 | PRNewswire
VPT, Inc., a HEICO company, VPT, Inc., a trusted provider of power conversion solutions for aerospace and defense, proudly announces its latest achievement of obtaining SAE AS9100 Revision D certification. SAE AS9100 Revision D enhances VPT's existing suite of certifications, including MIL-PRF-38534, MIL-STD-883, J-STD-001 (Space), IPC-A-610, and IPC-A-600, further cementing our commitment to excellence in quality and reliability.
11/29/2023 | TRI
Test Research, Inc. (TRI), the industry's leading provider of Test and Inspection systems for the electronics manufacturing industry, is pleased to announce the expansion of its Malaysian office, which opened in 2010.
11/29/2023 | Dana Korf -- Column: Dana on Data
November's issue of Design007 Magazine had an excellent theme that evolved around design simplification. There were exceptionally good articles about how to reduce over-constrained or needlessly complex designs. One significant time-consuming category is the creation of many design files and drawings which lead to lengthy creation and interpretation time along with the considerable time to resolve conflicting or erroneous information.