Books

Featured Books

pcb007 Magazine

Latest Issues

Current Issue

Finding Ultra

New demands on PCB fabrication, namely advanced packaging, ultra high density interconnect (UHDI), and new specialty materials, are converging, changing the landscape of our business. Is it time to start paying close attention to this convergence?

Developing a Strategy

A solid strategy is a critical part of success. This month, we asked some of the top industry leaders and business strategy "gurus" to share their thoughts on developing strategies.

Winning With TQM

In this issue, we explore how TQM has entered the DNA of continuous improvement disciplines, and the role leadership transformation plays in this. If you've ever competed against a TQM company, you understand their winning advantage.

Columns

Latest Columns

||| MENU
NIST Resources for CHIPS Act Participants
January 27, 2023 | Nolan Johnson, I-Connect007
Estimated reading time: 1 minute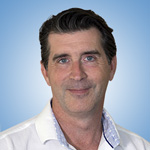 At the recent IPC Advanced Packaging Symposium, Dr. Frank W. Gayle, deputy director of the Advanced Manufacturing National Program Office, an interagency team with core staff hosted at the U.S. National Institute of Standards and Technology (NIST), gave a presentation on the work NIST has recently undertaken in support of both the semiconductor and R&D sectors, and the CHIPS and Science Act. 
In Gayle's presentation, he said the vision for the CHIPS and Science Act (also known as the CHIPS Act) is to develop and preserve three key areas: economic security, national security, and future innovation. 
He emphasized that the CHIPS Act is about more than just the semiconductor chips, reserving an entire slide for that point alone. While NIST acknowledges that the U.S. holds an impressive 85% stake in the semiconductor design market, only 3% of the global packaging industry resides within the U.S.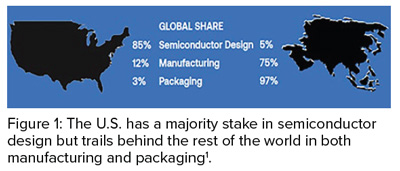 In support of this mission, Gayle drew attention to a series of resources that are now available on NIST.gov:
Metrology and Standards
"Strategic Opportunities for U.S. Semiconductor Manufacturing: Facilitating U.S. Leadership and Competitiveness through Advancements in Measurements and Standards," August 2022. 
Stakeholder Input on CHIPS Act
"Incentives, Infrastructure, and Research and Development Needs to Support a Strong Domestic Semiconductor Industry: Summary of Responses to Request for Information," August 2022. 


Commerce Strategy for Implementation
"A Strategy for the CHIPS for America Fund," September 2022. 
Semiconductor Supply Chain RFI Findings
"Results from Semiconductor Supply Chain Request for Information," January 2022.
Gayle concluded that the Incentives Program application process will be announced in February 2023 with funding proposals considered on a rolling basis. Learn more about the CHIPS Act at nist.gov. 
References
Data courtesy of the U.S. Department of Defense and IPC.
This article originally appeared in the January 2023 issue of SMT007 Magazine.
---
Suggested Items
09/18/2023 | IPC
IPC Day France: Aerospace Electronics is an aerospace-focused networking event featuring key industry experts from NASA and Airbus and will take place on October 2, 2023 . 
09/15/2023 | TRI
Test Research, Inc. (TRI), the leading test and inspection systems provider for the electronics manufacturing industry, will join productronica 2023, which will be held at Messe München Center from November 14 – 17, 2023.
09/13/2023 | I-Connect007 Editorial Team
For this month's issue on rigid-flex design, we spoke with instructor Kris Moyer, who teaches the IPC class "PCB Design for Flex and Rigid-Flex Boards." In this wide-ranging interview, Kris breaks down the hurdles facing rigid-flex designers and offers a variety of solutions for rigid board designers taking on their first rigid-flex circuits. He also provides a few horror stories to illustrate what happens if you don't follow sound design practices, rules, and standards. And, as Kris points out, "Your fabricator is your friend."
09/13/2023 | IPC
In conjunction with NEPCON Vietnam 2023, IPC hosted its popular IPC Hand Soldering and Rework Competition in Hanoi, Vietnam on September 6-8, 2023.
09/13/2023 | Hentec Industries/RPS Automation
Hentec Industries/RPS Automation, a leading manufacturer of selective soldering, lead tinning and solderability test equipment, is pleased to announce that Sinclair Manufacturing has purchased Pulsar solderability testing and Photon steam aging systems for installation in their Chartley, Massachusetts facility.