Printed Circuit Boards Have Champions on Capitol Hill
February 14, 2023 | Nolan Johnson, I-Connect007
Estimated reading time: 1 minute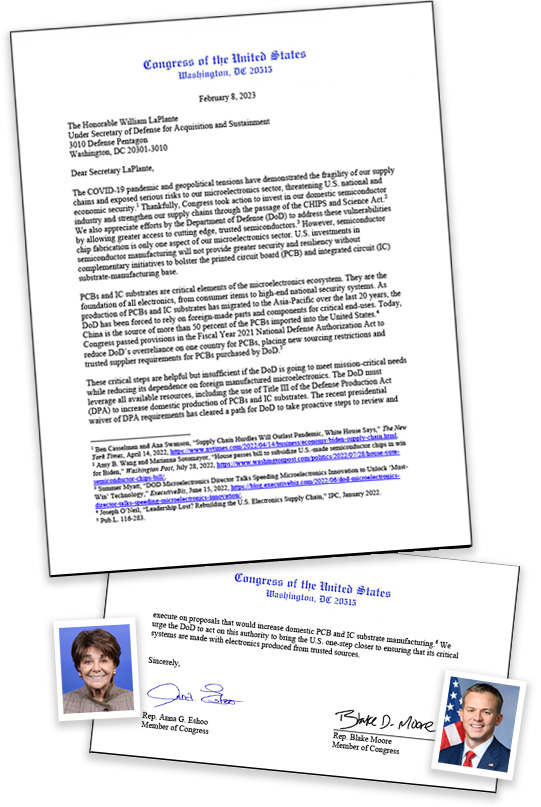 House Resolution 7677 from the 2021/22 Congressional session may have run out of time before the election cycle, but that hasn't ended the effort to help fund the printed circuit board industry alongside the semiconductor industry.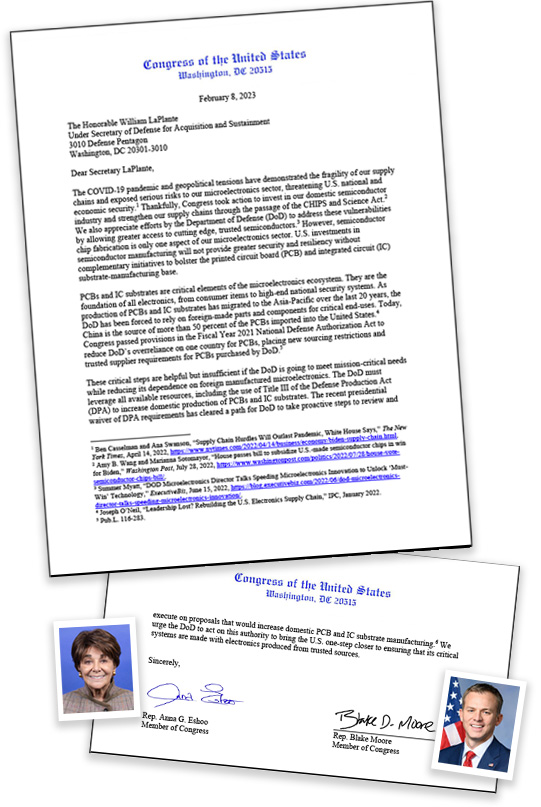 IPC vice president of global government relations, Chris Mitchell, shared this letter, sent to DOD on Wednesday by Reps. Anna Eshoo (D-CA) and Blake Moore (R-UT), which insists DOD must "leverage all available resources, including the use of Title III of the Defense Production Act (DPA), to increase domestic production of PCBs and IC substrates." 
"U.S. investments in semiconductor manufacturing will not provide greater security and resiliency without complementary initiatives to bolster the printed circuit board (PCB) and integrated circuit (IC) substrate-manufacturing base," they stated in their letter. 
"Thanks to Reps. Anna Eshoo and Blake Moore for urging DoD to leverage the Defense Production Act and other programs to support a resurgence in U.S. production of printed circuit boards," said Mitchell in response to this letter. He continued, "Rebuilding this base is important to U.S. defense needs and supply chain resiliency but also to achieving the goals laid out in the CHIPS and Science Act. Silicon drives changes across the electronics manufacturing industry, and thus investments in silicon must be paired with investments in other strategically important segments of the electronics industry, including printed circuit board fabrication and assembly." 
---
Suggested Items
09/28/2023 | Technica USA
Technica USA announced it has reached a Master Distribution Agreement with SAA to promote and support automation systems & technology offered by SAA.
09/28/2023 | GlobalFoundries
GlobalFoundries (GF) announced the official opening of a new hub facility in Penang, Malaysia.
09/28/2023 | IPC
IPC continues to collaborate with the electronics manufacturing industry to meet their current and future workforce training needs.
09/26/2023 | GlobalFoundries
GlobalFoundries (GF) announced it has applied for U.S. CHIPS and Science Act Funding, with two full applications submitted to the CHIPS Program Office of the U.S. Department of Commerce.
09/22/2023 | GlobalFoundries
The U.S. Department of Defense (DoD) has awarded GlobalFoundries (Nasdaq: GFS) (GF) a new 10-year contract for a supply of securely manufactured, U.S.-made semiconductors for use across a wide range of critical aerospace and defense applications.