EIPC Winter Conference 2023: Day 1 Review
February 27, 2023 | Pete Starkey, I-Connect007
Estimated reading time: 18 minutes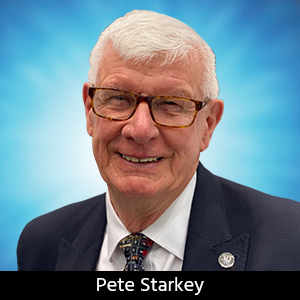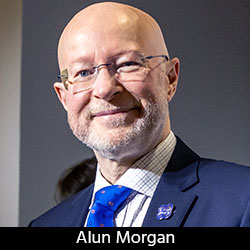 The EIPC Winter Conference returned to the Metropolis of Lyon in eastern France this month. In 2018, the venue was Villeurbanne in the Auvergne-Rhône-Alpes region. Five years later the setting was the Groupama Stadium in Décines-Charpieu, and leaders of the European printed circuit community gathered in expectation of a spectacular programme of 16 presentations, a visit to a nuclear power station, and an invaluable networking opportunity. They weren't disappointed.
EIPC President Alun Morgan welcomed a packed house, acknowledged the support of the sponsoring organisations, and remarked that the Institute had gained 13 new member companies during 2022. 
Energy security and supply continue to be issues of great concern to EIPC and its members; Morgan's opening presentation focused on global energy consumption, alternative energy sources and renewable technologies. He commented upon the significance of decarbonisation in energy evolution, but remarked that existing fossil fuels must be displaced much more rapidly in the energy mix to achieve meaningful progress in meeting future demands. 
In Europe, France has established its own energy security by actively developing nuclear technology and is one of the most nuclear-powered countries in the world, typically producing over 75% of its electricity from its 56 reactors; it provides about 15% of Europe's total power through exports. Ongoing, there is a trend toward small and simpler units for generating electricity from nuclear power, and the International Atomic Energy Agency continues to facilitate the development and deployment of small modular reactors.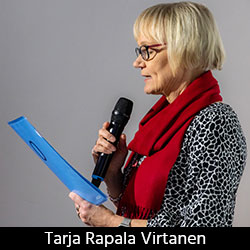 Morgan concluded with the observation that the alternative to nuclear power is not forests and green meadows but less efficient and far more polluting conventional power plants. The risks of nuclear power generation must be balanced against the well-understood and certain harms from the use of fossil fuels. 
It is a long-standing tradition that the conference programme begins with Custer Consulting Group's business outlook on the global electronics industry (with emphasis on Europe). The Keynote Session was moderated by EIPC Technical Director Tarja Rapala-Virtanen, who invited Alun Morgan to return to deliver the presentation on Jon Custer's behalf.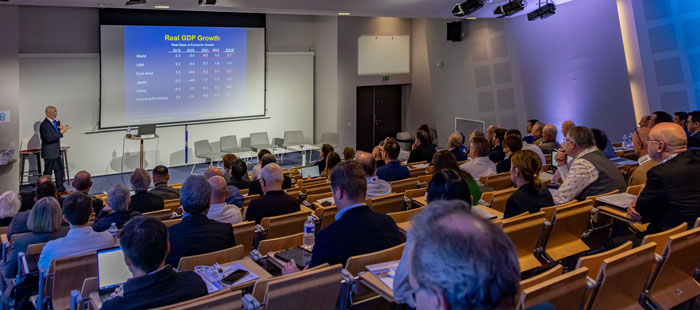 Although 2022 started strongly, there were serious global economic consequences: the Russian invasion of Ukraine which, together with inflation and the Omicron variant that closed Shanghai, caused worsening supply chain disruptions. Food prices soared, the economy rocked housing markets worldwide, and work on many large projects in China stopped. Inflation in many countries hit levels not seen since the 1980s and the IMF warned that the world could soon be "teetering on the edge of a global recession." 
Global Outlook
Meanwhile, there were major gains in electric vehicles and advancements in automation and robotics. The number of PCB manufacturers in Europe fell to 173 in 2021, with revenues of 1.648 million euro. Michael Gasch had estimated that 2022 revenues would be in the range 1760–1810 million euros.
What was the global outlook for 2023? There was a great deal of uncertainty regarding global economic policy:Average oil prices are expected to remain above $90 per barrel and will contribute to relatively high global inflation. The U.S. dollar is expected to remain close to its current level, although this will be affected by geopolitical tensions and Federal Reserve policies relative to those of other central banks. The U.S. will likely suffer a textbook-style recession, and China might pay a high price for its procrastination in implementing a "living with COVID" approach.
Analysts expect Europe's economic momentum to diminish in 2023 with tightening monetary policy, and the United Kingdom to record the weakest performance of any European economy. Inflation is expected to be highest in central and southern Europe. It will be lower by comparison in northern and western Europe, but still high by historical standards. Page 1 of 4
---
Suggested Items
09/28/2023 | Nolan Johnson, I-Connect007
The practical question around CHIPS Act development and electronics assembly is, "Will this change how we do business?" Indium Corporation's Dr. Andy Mackie sat down with Nolan Johnson to share what he sees as emerging answers to that question from his perspective as an expert in electronics assembly and packaging, and as a participant in standards development through IPC, JEDEC, and SEMI.
09/27/2023 | Nihon Superior Co. Ltd.
Nihon Superior Co. Ltd. is pleased to announce that Keith Sweatman, the company's Senior Technical Advisor, will deliver a presentation titled "A Path to Ductile Low-Temperature Solders for Mass Production of Electronic Assemblies" at the upcoming SMTA International conference and exposition.
09/27/2023 | Hentec Industries/RPS Automation
Hentec Industries/RPS Automation, a leading manufacturer of selective soldering, lead tinning and solderability test equipment, is pleased to announce that Kyocera International has finalized the purchase of a Hentec/RPS Odyssey 1325 robotic hot solder dip component lead tinning machine. 
09/26/2023 | Conecsus Metals México
Conecsus Metals México, an innovative environmental technology and recycling company, will exhibit at the SMTA Foro Tecnico & Expo, Guadalajara, Jalisco, México, on Wednesday, October 25, 2023, beginning at 11:00 a.m.
09/21/2023 | Thermaltronics USA, Inc.
Thermaltronics USA, Inc., a globally acclaimed manufacturer of Precision Soldering Robots and innovative Curie point soldering systems, is excited to announce its participation in the highly anticipated SMTA Guadalajara Expo & Tech Forum, scheduled to take place from October 25-26, 2023.