Mapping the Future of Flexible and Printed Electronics
March 2, 2023 | OE-A
Estimated reading time: 2 minutes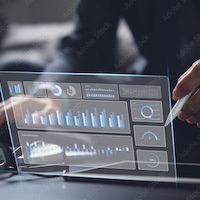 "The last couple of years since the release of the previous Roadmap have seen continued innovation regarding the adoption of printed, flexible, and hybrid electronics in a wide range of products and markets," states Stan Farnsworth, Chair of the OE-A Board and Chief Marketing Officer at PulseForge. This 9th edition of the Roadmap published by the OE-A (Organic and Printed Electronics Association), a working group within VDMA, is presented today at LOPEC 2023 and outlines the present status, current and future opportunities for the industry.
Major Trends in Key Markets
The "OE-A Roadmap for Flexible, Organic and Printed Electronics" white paper provides a close look into the advancing maturity of the industry. In addition to updates on key technologies and capabilities, more than 100 industry experts have contributed detailed short, medium, and long-term forecasts for markets including Automotive, Consumer Electronics, Healthcare, Printing and Packaging, Smart Building, and Internet of Things.
In the automotive sector, where the use of the technology has already been widely adopted for rear lights, OLED lighting has now reached the car interior. Use of OLED displays for curved displays, lighting concepts and touch sensors inside the car are anticipated to see continuing growth. When considering trends in consumer electronics the roadmap focuses
A Working Group Within
on HMI, as increasingly touch sensors are replacing mechanical knobs and buttons. Smart phones with foldable displays are growing in popularity. The use of printed electronics in the healthcare industry and packaging market was accelerated by Covid. Smart patches for monitoring body functions are more widespread, and tracking of environmental parameters such as temperature and shock is of growing importance. The seamless integration of printed electronics into objects is of special relevance for the Internet of Things. RFID and NFC labels, smart tags, which can now also include integrated GPS, are working as a strong driver. For the Smart Building industry, the increasing need of improved sustainability has led to significant innovations. Organic and large area printed photovoltaic installations on roofs are becoming more widely used, while the need for advanced sensors is opening opportunities for printed electronics in building monitoring and control. 
Printed electronics drives sustainability
"Printed electronics technologies have a lot to offer when it comes to sustainable production processes and materials. Printing, as an additive process, consumes less material and energy, and reduces the amount of waste. Printing plus related advanced processing enables broader use of recycled or eco-friendly materials to support product lifecycle circularity." explains Stan Farnsworth.
What is afoot?
The trend is towards more stretchable materials which fit for applications in medical, sports and for clothing. The mobility sector, via electric cars and autonomous driving, offers new possibilities such as printed sensors, integrated control and interface systems, and evolved battery-related technologies. "Product development must think printed electronics by design. Printed and hybrid electronics do present opportunities for incremental product improvements, but even more so the opportunities are deeper. In our experience, manufacturers are ready," explains Farnsworth.
---
Suggested Items
09/29/2023 | Dixon
Dixon wholly owned subsidiary- Padget Electronics Private Limited enters into an Agreement with Xiaomi to carry out manufacturing of smart phones and other related products for Xiaomi.
09/29/2023 | USPAE
In a major initiative to innovate how the Department of Defense (DoD) spurs commercial technology development, the U.S. Partnership for Assured Electronics (USPAE) and DoD launched a Defense Business Accelerator (DBX) to open doors for industrial base growth and stimulate private investment.
09/28/2023 | KYZEN'
KYZEN, the global leader in innovative environmentally friendly cleaning chemistries, is proud to announce that it is sponsoring the Women's Leadership Program Connection Reception to be held at SMTA International.
09/28/2023 | Nolan Johnson, I-Connect007
The practical question around CHIPS Act development and electronics assembly is, "Will this change how we do business?" Indium Corporation's Dr. Andy Mackie sat down with Nolan Johnson to share what he sees as emerging answers to that question from his perspective as an expert in electronics assembly and packaging, and as a participant in standards development through IPC, JEDEC, and SEMI.
09/28/2023 | ZESTRON
ZESTRON is happy to announce that Senior Application Engineer, Ravi Parthasarathy, will be presenting "Revolutionizing PCB Assembly Cleaning: