I-Connect007 Editor's Choice: Five Must-Reads for the Week
March 3, 2023 | Andy Shaughnessy, Design007
Estimated reading time: 2 minutes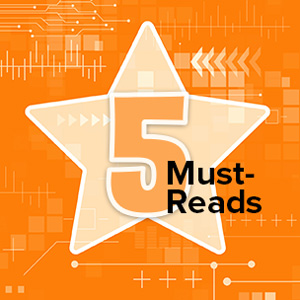 It's been a busy week in our industry. We have a duke's mixture of news and columns in this week's Editor's Choice, starting off with some good news for the American electronics manufacturing industry. In his State of the Union speech, President Biden signaled his support for the CHIPS Act and the U.S. electronics industry, and he promised that Washington would put its money where its mouth is this time. Is it going to happen? Don't bet the rent money.
But as more American politicians go on the record in support of our industry and the U.S. electronics industry in general, it's becoming almost impossible for them to avoid supporting this industry—not just with empty promises, but with action. 
We start off with an interview with PCBAA Executive Director David Schild, who dissects the SOTU speech and explains why it's so important for Washington to—finally—begin supporting this industry. We also have a variety of news and columns that you won't want to miss.
How can it be March already? See you next time!
Time to 'Finish the Job' on PCB Funding
Published March 2
Maybe we're getting their attention after all. When President Biden gave his annual State of the Union speech, he gave his support to the CHIPS Act and other issues that are important to American electronics manufacturers. The executive director of PCBAA shares his thoughts on the speech, and the need for Washington to support—and fund—the U.S. electronics industry.
A New Chapter: Step Up and Volunteer
Published March 2
This week, columnist Hannah Nelson explains why we should all have a "new year, new me" mentality and volunteer to work in our industry. As she points out, there is a serious need for volunteers to work on standards and STEM advocacy, and there's no better time than the present to get involved.
Hexagon, Altium Partner to Improve the Sustainability of the Electronics Industry
Published March 3
Everyone talks about sustainability. Now, Hexagon has partnered with Altium to address sustainability through the company's Nexus platform and Altium 365. The partnership begins with a focus on reducing electronic waste through carbon dioxide impact tracking, and will expand over the next few years.
Knocking Down the Bone Pile: 2023's Top Challenges in BGA Rework
Published March 1
Seven years ago, columnist Bob Wetterman outlined the top challenges in BGA rework. How have things changed since then? This week, he puts a "fresh coat of paint" on that list and offers this revised look at the biggest hurdles in BGA rework. Check it out.
IPC Issues February Economic Outlook Report: Economic Data Provides a Mixed View of the Economy
Published March 2
IPC's February Economic Outlook is out, and it paints a mixed view on the global economy. But I'll take a "mixed view" any day. The manufacturing sectors in the U.S., China, and Europe may be contracting, but the economy has added half a million new jobs, which is a welcome sign at the beginning of a possible recession. As a manager told me at a recent trade show, "If this is a recession, I'll take it."
---
Suggested Items
09/28/2023 | KYZEN'
KYZEN, the global leader in innovative environmentally friendly cleaning chemistries, is proud to announce that it is sponsoring the Women's Leadership Program Connection Reception to be held at SMTA International.
09/28/2023 | Nolan Johnson, I-Connect007
The practical question around CHIPS Act development and electronics assembly is, "Will this change how we do business?" Indium Corporation's Dr. Andy Mackie sat down with Nolan Johnson to share what he sees as emerging answers to that question from his perspective as an expert in electronics assembly and packaging, and as a participant in standards development through IPC, JEDEC, and SEMI.
09/28/2023 | ZESTRON
ZESTRON is happy to announce that Senior Application Engineer, Ravi Parthasarathy, will be presenting "Revolutionizing PCB Assembly Cleaning:
09/28/2023 | IPC
IPC continues to collaborate with the electronics manufacturing industry to meet their current and future workforce training needs.
09/28/2023 | IPC
Though product demand weakened this month with Orders and Backlog Indexes slipping, overall electronics industry operations remain healthy per IPC's September 2023 Global Sentiment of the Electronics Supply Chain Report.