A Week-long Industry Extravaganza
March 3, 2023 | Happy Holden, I-Connect007
Estimated reading time: 2 minutes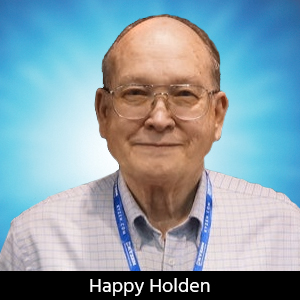 We were back in San Diego, maybe for a "long vacation," as IPC APEX EXPO is in Anaheim next year. Before we get to Anaheim, though, let's talk about the show: It was a great week.
I spent Sunday and Monday visiting some excellent Professional Development courses. As you know, this is a fast-changing industry, and we have to keep learning to stay ahead. On Monday, I attended the Microvia Weak Interface/Reliability subcommittee, and on Tuesday, the Ultra-HDI Technology Committee. These turned out to be popular, as over 90 people showed up to the Microvia Reliability meeting and around 85 at the UHDI meeting. Those committees may have many new members soon.
Tuesday's keynote, given by Emily Calandrelli, was particularly inspiring, and you can read more about it here.
On Wednesday, I attended the "DoD Executive Agent for PCB and Interconnect Technology" (PrCB EA) Programs Update. This was very informative, with speakers updating everyone on the various activities of PrCB EA, the Defense Production Act Title III, the Defense Microelectronics Cross-Functional Team, and Marc Carter's EMTE education outreach. IPC's Chris Mitchell and Chris Peters of USPAE provided updates on how both organizations are facilitating government/industry cooperation and projects.
Joe O'Neill, Randy Cherry, David Bergman, and Kelly Scanlon finished off this busy session.
I then ran over to listen to a few of the Technical Sessions. All were excellent; choosing which to listen to was difficult.
I finally got down to the show floor and saw some amazing new products and product improvements, including materials, fabrication processing equipment, and SMTA systems. I spent a lot of time at the new India Pavilion as I had once managed a number of computer automation projects for BHEL in India for HP.
Finally, the week was topped off by two new Thursday morning sessions that I can report were outstanding: Matt Kelly's Special Session on Advanced Packaging had over 100 in attendance (with standing room only) and offered many excellent and valuable presentations by some of the industry's most knowledgeable speakers and panelists.
The e-Mobility/EV Automotive special session, hosted by Brian O'Leary and Udo Welzel, was my second session highlight from Thursday. This session was divided into two sections: marketing trends and challenges, and building a supercomputer on wheels. Speakers highlighted the high recalls for EVs due to electronic problems, mainly due to public chargers that struggle in inclement weather, or design weaknesses.
The IPC standard A-610 is just the start, and EVs have different specs and components than cars with internal combustion engines. The technical challenges for EVS are temperature variation, heavy copper PCBs, density requirements, thermal dissipation, electromagnetics, and vibration/shaking requirements.
Happy Holden is a regular columnist for I-Connect007. To read past columns, click here.
---
Suggested Items
11/13/2023 | Global Newswire
The "Global Copper Clad Laminates Market (by Type, Application, Reinforcement Material, & Region): Insights and Forecast with Potential Impact of COVID-19 (2023-2028)" report has been added to ResearchAndMarkets.com's offering.
11/07/2023 | SCHMID Group
The SCHMID Group, a global solution provider for the high-tech electronics, photovoltaics, glass and energy systems industries, will be exhibiting at productronica in Munich from November 14 – 17, 2023.
11/01/2023 | Alex Stepinski, Stepinski Group
The topic of intrinsic copper structure has been largely neglected in discussions regarding the PCB fabrication quality control process. At face value, this seems especially strange considering that copper has been the primary conductor in all wiring boards and substrates since they were first invented. IPC and other standards almost exclusively address copper thickness with some mild attention being paid to surface structure for signal loss-mitigation/coarse properties. 
10/26/2023 | Andy Shaughnessy, Design007
At PCB West, I sat down for an interview with John Andresakis, the director of business development for Quantic Ohmega. I asked John to update us on the company's newest materials, trends in advanced materials, and the integration of Ticer Technologies, which Quantic acquired in 2021. As John explains, much of the excitement in materials focuses on laminates with lower and lower dielectric constants.
10/25/2023 | Preeya Kuray -- Column: Material Insight
Printed circuit board (PCB) reliability testing is generally performed by exposing the board to various mechanical, electrical, and/or thermal stimuli delineated by IPC standards, and then evaluating any resulting failure modes. Thermal shock testing is one type of reliability test that involves repeatedly exposing the PCB test board to a 288°C pot of molten solder for a specific time (typically 10 seconds) and measuring the number of cycles it takes for a board's copper layer to separate from the organic dielectric layer. If there is no delamination, fabricators can rest assured that the board will perform within expected temperature tolerances in the real world.