Nick Koop: A Commitment to Lifelong Learning
March 8, 2023 | Patty Goldman, I-Connect007
Estimated reading time: 1 minute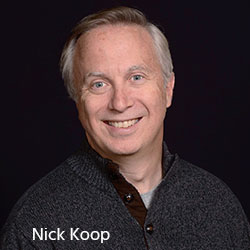 Nick Koop, director of flex technology at TTM Technologies, reflects on the powerful impact the electronics manufacturing industry has had on the world, as well as the many learning opportunities offered by actively participating in IPC. Nick urges aspiring young professionals to reach out and create the lasting connections that will guide them throughout their careers.
Patty Goldman: Nick, nice to be talking with you. Congratulations on the Dieter Bergman IPC Fellowship Award.
Nick Koop: Thank you. It was a surprise. I'll jokingly say I didn't think I was that old yet.
Goldman: That creeps right up on you.
Koop: Yeah, a bit of a surprise and humbling. Why me vs. so many other well-deserving folks doing quality work on a regular basis? It's quite an honor to be considered someone who has had a positive impact in the industry. I will say that it's been great to work for TTM. The company values its IPC participation and likes us to be part of this. We invest in it. We like to say that if you're really active, you get more out of it than you put into it.
Goldman: This award is all about collaboration and hard work, which go hand-in-hand. What do you feel is important about collaboration when you're working on committees, and at IPC, in general?
Koop: Collaborating truly is a key part of being on a committee. I'm often pleasantly surprised—and sometimes amazed—by the fact that I may only know one piece of what's going on but someone else in the room is an expert. That's another humbling thing: The more you do this, the more you realize how little you know. Having the other folks there is key—that's part of getting to a better solution. It's very helpful when you get to see the whole picture. For example, if we collaborate and break down the tasks, we can have half the group propose a solution, and the rest of the group can talk it through. This works better than having 50 people trying to hash out one simple item. It's a way to be a little more efficient too.
To read this entire conversation, which appeared in the 2023 edition of Show & Tell Magazine, click here.
---
Suggested Items
09/20/2023 | I-Connect007 Editorial Team
Panasonic's Darren Hitchcock spoke with the I-Connect007 Editorial Team on the complexities of moving toward ultra HDI manufacturing. As we learn in this conversation, the number of shifting constraints relative to traditional PCB fabrication is quite large and can sometimes conflict with each other.
09/19/2023 | Anaya Vardya -- Column: Standard of Excellence
In my last column, I discussed cutting-edge innovations in printed circuit board technology, focusing on innovative trends in ultra HDI, embedded passives and components, green PCBs, and advanced substrate materials. This month, I'm following up with the products these new PCB technologies are destined for. Why do we need all these new technologies?
09/18/2023 | ViTrox
ViTrox, which aims to be the world's most trusted technology company, is excited to announce that our trusted Sales Channel Partner (SCP) in Mexico, SMTo Engineering, S.A. de C.V., will be participating in SMTA Guadalajara Expo & Tech Forum. They will be exhibiting in Booth #911 from the 25th  to the 26th of October 2023,  at the Expo Guadalajara in Jalisco, Mexico.
09/18/2023 | Intel
Intel announced one of the industry's first glass substrates for next-generation advanced packaging, planned for the latter part of this decade.
09/18/2023 | Aidan Salvi -- Column: Facing the Future
I have been in and around circuit boards most of my life. I started 20 years ago in my family's PCB shop, leaving after a couple of years to start my own software company. About a year ago, I returned to the family business, and the first thing I noticed was that nothing had really changed. We were doing the same things in the same way as the day I left. After talking to several experts in the industry, I realized it was worse than that: The manufacturing of PCBs had not changed in 70 years.