Rogers Features Advanced Materials Technology, Capabilities for Defense Electronic Systems at GOMACTech 2023
March 13, 2023 | Rogers Corporation
Estimated reading time: 1 minute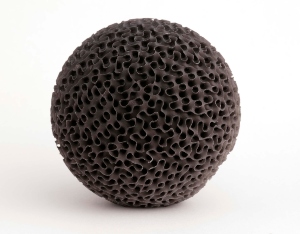 Rogers Corporation will exhibit at the GOMACTech 2023 conference at Town & Country in San Diego, CA (Booth #509), March 21—22, highlighting laminate and film materials for use in the advanced packaging industry, used in C4ISR applications in the Ground, Air, Sea and Space domains.
GOMACTech is a premier event focused on developments in microcircuit applications for government systems.
Some of Rogers' products being highlighted include:
Recently introduced Radix 3D Printable Dielectrics family of products, is the first available material featuring a dielectric constant of 2.8 and low loss characteristics at microwave frequencies. These printable dielectric materials give radio frequency (RF) designers unprecedented design freedom in creating new components, eliminating the need to consider typical manufacturing design constraints.
Radix3D Printable Dielectrics are proprietary composite materials designed for Digital Light Processing (DLP) 3D printing, enabling a scalable, high-resolution printing process for end-use RF dielectric component manufacturing. Rogers Corporation's first Radix 3D Printable Dielectric material has a targeted dielectric constant of 2.8 and a dissipation factor of 0.0043 at 10 GHz when cured. 
MAGTREX 555 High Impedance Laminates: The first commercially available low loss laminate with controlled permeability and permittivity, enabling antenna designers to expand the trade-space of their antenna design, enabling design flexibility and optimization. 
Rogers technical staff will be available to discuss your most demanding applications from Build-Up materials for advanced packaging solutions, Phase Array Radar solutions, high frequency magneto-dielectric materials, ablative Radome materials, and metallized-shaped/3D ADM dielectric solutions.
---
Suggested Items
09/29/2023 | Andy Shaughnessy, I-Connect007
This week's must-reads cover a little bit of everything: advanced packaging substrates, rigid-flex design, the potential loss of tribal knowledge, ultra HDI processing, and the need for fabricators to begin utilizing Smart systems. In a few weeks, we'll be attending SMTA International in Minneapolis, and then productronica in Munich. We hope to see you on the road!
09/29/2023 | Siemens
Siemens Digital Industries Software announced new certifications and collaborations with longtime partner TSMC, resulting in the successful qualification of multiple industry-leading Siemens EDA product lines for the foundry's latest process technologies.
09/29/2023 | Cadence Design Systems, Inc.
Cadence Design Systems, Inc. announced the availability of new system prototyping flows based on the Cadence® Integrity™ 3D-IC Platform that support the 3Dblox 2.0 standard.
09/28/2023 | TSMC
TSMC announced the new 3Dblox 2.0 open standard and major achievements of its Open Innovation Platform (OIP) 3DFabric Alliance at the TSMC 2023 OIP Ecosystem Forum.
09/28/2023 | Keysight Technologies, Inc.
Keysight Technologies, Inc., Synopsys, Inc., and Ansys announced a new reference flow for the TSMC N4PRF, the world's leading semiconductor foundry's advanced 4 nanometer (nm) radio frequency (RF) FinFET process technology.