Rogers Features Advanced Materials Technology, Capabilities for Defense Electronic Systems at GOMACTech 2023
March 13, 2023 | Rogers Corporation
Estimated reading time: 1 minute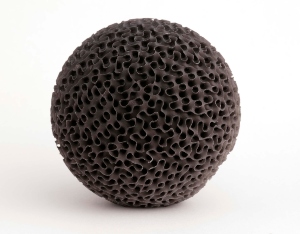 Rogers Corporation will exhibit at the GOMACTech 2023 conference at Town & Country in San Diego, CA (Booth #509), March 21—22, highlighting laminate and film materials for use in the advanced packaging industry, used in C4ISR applications in the Ground, Air, Sea and Space domains.
GOMACTech is a premier event focused on developments in microcircuit applications for government systems.
Some of Rogers' products being highlighted include:
Recently introduced Radix 3D Printable Dielectrics family of products, is the first available material featuring a dielectric constant of 2.8 and low loss characteristics at microwave frequencies. These printable dielectric materials give radio frequency (RF) designers unprecedented design freedom in creating new components, eliminating the need to consider typical manufacturing design constraints.
Radix3D Printable Dielectrics are proprietary composite materials designed for Digital Light Processing (DLP) 3D printing, enabling a scalable, high-resolution printing process for end-use RF dielectric component manufacturing. Rogers Corporation's first Radix 3D Printable Dielectric material has a targeted dielectric constant of 2.8 and a dissipation factor of 0.0043 at 10 GHz when cured. 
MAGTREX 555 High Impedance Laminates: The first commercially available low loss laminate with controlled permeability and permittivity, enabling antenna designers to expand the trade-space of their antenna design, enabling design flexibility and optimization. 
Rogers technical staff will be available to discuss your most demanding applications from Build-Up materials for advanced packaging solutions, Phase Array Radar solutions, high frequency magneto-dielectric materials, ablative Radome materials, and metallized-shaped/3D ADM dielectric solutions.
---
Suggested Items
12/07/2023 | Matt Stevenson -- Column: Connect the Dots
It makes sense to optimize your board using design for manufacturability (DFM) techniques. But applying DFM best practices can be confusing without formal training. The results are designs that are often incomplete, poorly designed, or too complex. When these issues arise, your PCB manufacturing partner rejecting the design can be considered a best-case scenario because it means they have your back. If your design is simply dropped into an automated queue without concern for manufacturability, the output can be a batch of unusable boards.
12/07/2023 | Siemens
Siemens Digital Industries Software announces availability of a new process design kit (PDK) from Samsung Foundry that helps mutual customers boost the reliability, quality and robustness of their next-generation integrated circuit (IC) designs manufactured using the foundry's latest processes.
12/05/2023 | PRNewswire
Siemens Digital Industries Software announced that the RS Group plc, a global provider of product and service solutions to more than 1.1 million industrial customers, has selected Siemens as its strategic electronic design automation (EDA) provider for its new, cloud native, DesignSpark Circuit Simulator tool – empowering users to streamline the design process.
12/04/2023 | EMA Design Automation
EMA Design Automation, the world's premier EDA VAR, is spinning off their IP, content, and services group as a new company named Accelerated Designs, LLC with a focus on CAD agnostic solutions.
12/04/2023 | PRNewswire
SINBON Electronics, a provider of integrated solutions for electronic component design and manufacturing, recently obtained UL certification for its NACS (The North American Charging Standard) AC/DC charging cable. SINBON is the first electronic design service provider in Greater China to obtain this certification, and the first batch of charging cable orders has been shipped this week.