Multicircuits Adds Two More atg Flying Probe Test Systems
March 14, 2023 | atg Luther & Maelzer
Estimated reading time: Less than a minute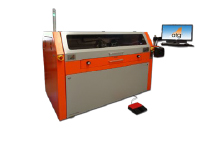 atg Luther & Maelzer GmbH and IEC USA confirm an order for high-speed bare board testing technology from Multicircuits, a leading supplier of advanced PCBs serving diverse markets with specialties in commercial, military and aerospace products.
The atg A7a, 8 head, double-sided, high speed, auto-load/unload system, for true "lights-out" operation has been ordered and installed at Multicircuits Inc., Oshkosh, WI facility. This is their second automatic atg flying probe test system. The company has added a manual atg A7 system as well.
atg's A7a and A7 (auto-load/unload) testers utilize 8 flying probe test heads, multiple optical recognition systems, and a wide variety of advanced, high-speed electrical test measurement techniques to electrically test all types of PCBs for continuity and isolation. Board sizes of 24" x 21' (or larger), with small pad/fine pitch technology can be tested quickly and easily. Special options, such as, 4-wire Kelvin tests, Hi-pot test, Latent defect test, and others can be provided.

For more information on atg's products, visit them online at atg-lm.com or International Electronic Components (IEC) at www.ieccan.com.
---
Suggested Items
11/29/2023 | TT Electronics
TT Electronics, a global provider of custom power solutions and engineered technologies, has announced that its Power and Control business has officially opened its new state-of-the-art research, development and manufacturing facility.
11/27/2023 | HyRel
HyRel Technologies, a global provider of quick turn semiconductor modification solutions, announces the achievement of International Traffic in Arms Regulations (ITAR) registration.
11/20/2023 | MIT
MIT's Department of Aeronautics and Astronautics (AeroAstro) recently hosted the 2023 Future Leaders in Aerospace Symposium, inviting women and underrepresented minorities in aerospace fields to campus for a two-day program.
11/14/2023 | NEO Tech
NEOTech, a leading provider of electronic manufacturing services (EMS), design engineering, and supply chain solutions in the high-tech industrial, medical device, and aerospace/defense markets, is thrilled to welcome James Doyle to the team as Chief Executive Officer of NEOTech's Aerospace & Defense division, effective immediately.
11/06/2023 | PRNewswire
Vuzix Corporation, a leading supplier of smart glasses and Augmented Reality (AR) technology and products, announced it has completed delivery against a follow-on order from a Tier-1 aerospace and defense contractors with which it has been working with.