Books

Featured Books

pcb007 Magazine

Latest Issues

Current Issue

The Registration Sweet Spot

Registration is underrated and underappreciated. The key is to ensure proper registration from layer to layer across the entire printed circuit board. It's a holistic process requiring anticipation, prediction, precise attention at each step, and detailed data tracking and monitoring.

High-reliability Fabrication

In this month's issue, our expert contributors discuss the latest in technologies, trends, complexities and resources regarding high-reliability fabrication.

Finding Ultra

New demands on PCB fabrication, namely advanced packaging, ultra high density interconnect (UHDI), and new specialty materials, are converging, changing the landscape of our business. Is it time to start paying close attention to this convergence?

Columns

Latest Columns

||| MENU
Paige Fiet: Forging a New Path
March 15, 2023 | Patty Goldman, I-Connect007
Estimated reading time: 3 minutes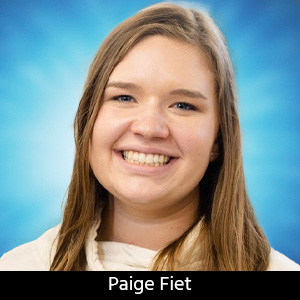 As a young industry professional, Paige Fiet, a process engineer at TTM Logan, sees mentorship as a formative component of her success in IPC. Alongside the support and guidance of her mentors, Paige has distinguished herself as an emerging leader who brings a fresh perspective to the many topics currently of interest to the industry.
Patty Goldman: Paige, you're now a Rising Star with IPC. Congratulations. Do you have any special mentors who have helped you through your journey with IPC and perhaps in your career, in general?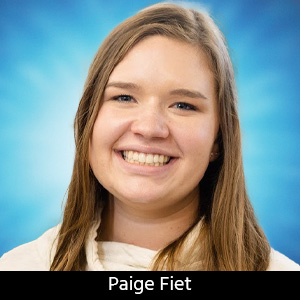 Fiet: Yes, I had a mentor in college, Dr. Chris Middlebrook. He was one of my college professors and we're still pretty close, talking every other week. He started my involvement with IPC by helping me join the IPC student chapter at my college and then later recommending me for the student liaison position on the IPC Board of Directors. He's been very pivotal in getting me started in my career. He's been a voice of reason through everything, whenever I need him.
Goldman: Is there anyone at IPC meetings who helped you learn the ropes?
Fiet: Dr. Milea Kammer of Honeywell was the chair of a few of the larger committees, and she's just a handful of years older than me; I really look up to her. I like to see what she's done to know where I can go. She's also mentoring me right now as a chair of the committee.
Goldman: What technologies in our industry have you most excited?
Fiet: I think that finer spaces and traces and getting into substrates is really fascinating and I can't wait to see where that takes off.
Goldman: There's been a lot of talk about advanced packaging. I'm sure that is of great interest to you.
Fiet: It is, yeah.
Goldman: You'll be in the thick of it. How has IPC helped you with your career?
Fiet: I think it's really helped me understand what I do every day. I work in manufacturing, and I use the standards every single day. I love being part of the groups that make them because I use them.
Goldman: Has it been a learning experience? This is probably an understatement.
Fiet: That's a huge understatement. I feel like I was staring into the deep end of a pool and I'm learning how to swim again. There is so much to be involved with; I'm never bored.
Goldman: How would you like to see your involvement with IPC going forward?
Fiet: I'd love to continue being an active member in the committee meetings. I'm currently co-chairing a couple of committees and I hope to do more of that in the future. I also want to keep attending IPC APEX EXPO and SummerCom, and to keep networking.
Goldman: Which committees are you involved with?
Fiet: I am vice chair of the 5-33B Solder Mask Performance Task Group and co-chair of the 7-24A Printed Board Process Effects Handbook Task Group.
Goldman: I started out on the troubleshooting guide and chaired that myself for quite a long time. You learn so much working on documents.
Fiet: Full circle moment.
Goldman: Any other final thoughts and your fresh perspective?
Fiet: The industry has changed so much in the past 40 or 50 years, so I can't imagine what I will see in my lifetime in my career—that's exciting.
Goldman: Thank you so much for your time. Congratulations again and I think you'll find that no matter where you work, you'll probably always be involved with IPC.
Fiet: Yes, that's the plan.
This interview originally appeared in the 2023 edition of Real Time with... IPC APEX EXPO Show & Tell Magazine.
---
Suggested Items
12/06/2023 | Indium Corporation
Indium Corporation is proud to announce the addition of Sales Engineer Meik Fratzel to its European team.
12/04/2023 | Transition Automation
Transition Automation, Inc. recently received a large order for Advanced Holder and Blade Assemblies compatible with DEK printers from Rotec BV in Belgium.
11/30/2023 | AIM
AIM Solder, a leading global manufacturer of solder assembly materials for the electronics industry, is pleased to announce its new NC259FPA Ultrafine No Clean Solder Paste, which it revealed recently during the Productronica Germany trade show.
11/27/2023 | Real Time with...productronica
Koh Young's Harald Eppinger talks about the company's technology for the semiconductor and advanced packaging market and how they address the challenges introduced by reflective components and micro solder deposits.
11/27/2023 | HyRel
HyRel Technologies, a global provider of quick turn semiconductor modification solutions, announces the achievement of International Traffic in Arms Regulations (ITAR) registration.