Bending 2D Nanomaterial Could 'Switch On' Future Technologies
March 15, 2023 | Rice University
Estimated reading time: 2 minutes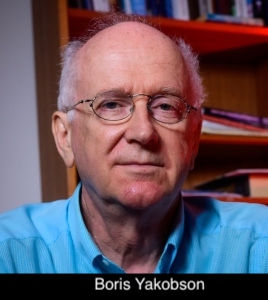 Rice University materials scientist Boris Yakobson and collaborators uncovered a property of ferroelectric 2D materials that could be exploited as a feature in future devices.
Because they bend in response to an electrical stimulus, single-layer ferroelectric materials can be controlled to act as a nanoscale switch or even a motor, according to the study published in ACS Nano.
Single-layer or 2D materials are typically made up of a single layer of atoms, meaning they are only a few nanometers thick. They have received significant attention in recent years due to their physical, electrical, chemical and optical properties, which makes them useful in applications ranging from consumer electronics to medical and industrial technologies.
"2D materials are very thin and very flexible," Yakobson said. "In single-layer ferroelectrics, this produces an unexpected spontaneous, active bending behavior."
"The novelty we found in this study is that there is a connection or coupling between the ferroelectric state and the bending or flexing of the material. This work combines the discovery or prediction of a fundamental property of a class of 2D materials with a practical application angle."
Ferroelectrics are materials made up of negative and positive ions that can shift to produce spontaneous polarization, meaning the ions segregate based on their electrical charge.
"The interesting thing is that the atoms are not identical," explains Jun-Jie Zhang, a Rice postdoctoral research associate and lead author on the study. "Some of them are larger, and some are smaller, so the layer symmetry is broken."
Polarization drives the larger atoms to one side of the 2D-material layer and the smaller atoms to the other side. This asymmetrical distribution of the atoms or ions causes the material surface to bend in ferroelectric state.
"So instead of remaining flat, in ferroelectric state the material will bend," Yakobson said. "If you switch the polarization – and you can switch it by applying electrical voltage – you can control the direction in which it will bend. This controllable behavior means you have an actuator.
"An actuator is any device that translates a signal – in many cases an electrical signal, but it can be a different kind of signal – into mechanical displacement or, in other words, movement or work."
The study looked at 2D indium phosphide (InP) as a representative of the class of ferroelectrics for which it predicts this property.
"This new property or flexing behavior has to be tested in a laboratory for specific substances," Yakobson said. "Its most likely use will be as a type of switch. This behavior is very fast, very sensitive, which means that with a very tiny local signal you can maybe switch on a turbine or electrical engine, or control adaptive-optics telescopes' mirrors. That's basically the essence of these actuators.
"When you drive your car, you have a lot of knobs and switches and it makes everything really easy. You don't have to crank open your car window anymore, you can just turn on a switch."
Yakobson is Rice's Karl F. Hasselmann Professor of Materials Science and NanoEngineering. Taif University chemist Tariq Altalhi is a co-author on the study.
---
Suggested Items
09/21/2023 | Dymax
Dymax, a leading manufacturer of light-curing materials and equipment, will exhibit in booth 1526 at SMTA International 2023 in Minneapolis, MN, from October 10-11.
09/20/2023 | I-Connect007 Editorial Team
Panasonic's Darren Hitchcock spoke with the I-Connect007 Editorial Team on the complexities of moving toward ultra HDI manufacturing. As we learn in this conversation, the number of shifting constraints relative to traditional PCB fabrication is quite large and can sometimes conflict with each other.
09/20/2023 | Andy Shaughnessy, Design007
Z-zero founder Bill Hargin has been studying stackup design techniques for years. He developed the company's PCB stackup planning software, and he wrote an I-Connect007 eBook, The Printed Circuit Designer's Guide to… Stackups: The Design within the Design. In this interview, Bill shares his thoughts on designing rigid-flex stackups, the challenges they bring, and what rigid board designers need to know about designing stackups in 3D. "Flexperts" Mark Finstad of Flexible Circuit Technologies and Nick Koop of TTM Technologies also offer insight into the many tradeoffs that rigid-flex designers face.
09/19/2023 | Nolan Johnson -- Column: Nolan's Notes
When I stop to consider the dynamics in our industry at this moment, I keep coming back to the idea of "convergence." Aspects of our industry historically thought of as distinct and separate are blurring the lines and overlapping. As I look back on our coverage in the past five years, I see convergence taking place, moving like a glacier—slow and steady but with formidable force. In this issue of PCB007 Magazine, the three areas of convergence we consider are materials, advanced packaging, and UHDI.
09/19/2023 | Anaya Vardya -- Column: Standard of Excellence
In my last column, I discussed cutting-edge innovations in printed circuit board technology, focusing on innovative trends in ultra HDI, embedded passives and components, green PCBs, and advanced substrate materials. This month, I'm following up with the products these new PCB technologies are destined for. Why do we need all these new technologies?