The Summit View of the Marketplace
March 21, 2023 | Nolan Johnson, I-Connect007
Estimated reading time: 2 minutes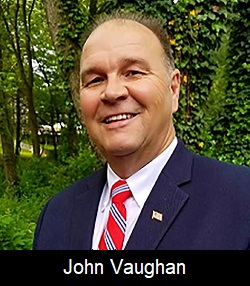 Investments, staffing, cybersecurity, and a peek into his crystal ball—John Vaughan, vice president of strategic markets at Summit Interconnect, sits down with Nolan Johnson to talk about it all. Business is good, by the way, thanks to Summit's portfolio of military contracts, and he has sound advice to offer for smaller shops in the United States, and their real ability to make a difference in PCB fabrication.
Nolan Johnson: John, I'd like to address several topics with you: How are you approaching investments and facilities? Where does cybersecurity fit in? How are you handling staffing and training? How do you view the marketplace, and what are your regional concerns?
John Vaughan: Although we're widely recognized for the breadth of military programs we support—that's our core market—we're more diversified by virtue of acquisitions than you might realize. We touch heavily on test and measurement, industrial controls, EV automotive, and medical, among others. We have found growth prospects in all these markets but do note that the commercial sector is a little more challenging into 2023.
We continue to invest substantially across all eight Summit facilities to support our growth and the onboarding of many long-term defense programs.
The NDAA represents a plus-up of about 10% over last year's defense budget; we were anticipating closer to a 6% plus-up. That's good for us and others who are in that market. There are inflationary pressures across all inputs, including wage inflation, the cost of capital, raw materials, utilities, and transportation. Overall, the North American PCB industry itself is well positioned.
We pay close attention to the IPC book-to-bill ratios. The EMS numbers have been cruising up in the 1.50+ territory for a year. They're at 1.44 now, which means you're booking $1.44 for every dollar you're getting out the door; I lay much of that strong book of business at the doorstep of the component supply chain challenges, yet they have been able to book business, so the demand side is certainly there. It's tougher to get to the revenue for our EMS customers when they don't have the parts, so that certainly influences the book-to-bill ratio.
We've also certainly observed order phasing by the EMS providers. The conversation goes something like, "John, if I can't get the chips for 38 weeks, why do I need to buy circuit boards that you deliver in four to six weeks?" So, they time phase those orders. We can see that trend, particularly with the EMS customers. On the PCB side, the overall PCB industry book-to-bill is running close to parity right now. It's a 0.94 book-to-bill ratio, so the industry overall is a little challenged to build backlog. I think that as the component flows stabilize through the EMS providers, the board bookings will follow for most, so I think you will see an uptick in PCB orders with more component availability.
To read this entire conversation, which appeared in the March 2023 issue of PCB007 Magazine, click here.
---
Suggested Items
09/20/2023 | I-Connect007 Editorial Team
Panasonic's Darren Hitchcock spoke with the I-Connect007 Editorial Team on the complexities of moving toward ultra HDI manufacturing. As we learn in this conversation, the number of shifting constraints relative to traditional PCB fabrication is quite large and can sometimes conflict with each other.
09/19/2023 | Anaya Vardya -- Column: Standard of Excellence
In my last column, I discussed cutting-edge innovations in printed circuit board technology, focusing on innovative trends in ultra HDI, embedded passives and components, green PCBs, and advanced substrate materials. This month, I'm following up with the products these new PCB technologies are destined for. Why do we need all these new technologies?
09/18/2023 | ViTrox
ViTrox, which aims to be the world's most trusted technology company, is excited to announce that our trusted Sales Channel Partner (SCP) in Mexico, SMTo Engineering, S.A. de C.V., will be participating in SMTA Guadalajara Expo & Tech Forum. They will be exhibiting in Booth #911 from the 25th  to the 26th of October 2023,  at the Expo Guadalajara in Jalisco, Mexico.
09/18/2023 | Intel
Intel announced one of the industry's first glass substrates for next-generation advanced packaging, planned for the latter part of this decade.
09/18/2023 | Aidan Salvi -- Column: Facing the Future
I have been in and around circuit boards most of my life. I started 20 years ago in my family's PCB shop, leaving after a couple of years to start my own software company. About a year ago, I returned to the family business, and the first thing I noticed was that nothing had really changed. We were doing the same things in the same way as the day I left. After talking to several experts in the industry, I realized it was worse than that: The manufacturing of PCBs had not changed in 70 years.