Northrop Grumman Demonstrates Platform Agnostic In-Flight Connectivity for US Air Force
March 23, 2023 | Northrop Grumman
Estimated reading time: 1 minute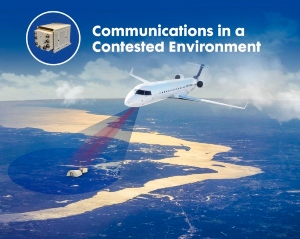 Northrop Grumman Corporation successfully demonstrated the technical capability to connect a full aircraft ecosystem. The company showcased its Software Programmable Open Mission Systems Compliant (SPOC) multifunction processor in a flight test for the U.S. Air Force, highlighting the ability to integrate existing and future platforms using advanced data links.
"With the maturity of our technology, we have the solutions today that will provide unparalleled mission effectiveness," said Jenna Paukstis, vice president, communications solutions, Northrop Grumman. "We are connecting platforms that will benefit the joint force and provide them with real-time battlespace awareness across air, space, land and sea."
Advancing technology in solutions like SPOC provide the Air Force with a low size, weight and power radio that is scalable, upgradable and flexible to fit in any platform. The SPOC design also provides an integration environment for next generation communications that can reduce cost, risk and time to deploy.
Flown on Northrop Grumman's flying test bed at Naval Air Station Patuxent River in Maryland, SPOC connected with a ground station in a live, over-the-air test using advanced waveforms. This flight test is part of a contract with the Air Force to develop and demonstrate a solution to help define the Air Force's next generation radio approach. Developing SPOC using Northrop Grumman's software development kit and open architecture will allow the Air Force to introduce new capabilities at speed to meet evolving threats.
---
Suggested Items
09/25/2023 | NASA
The same facility that provided valuable testing for NASA missions to low-Earth orbit and the Moon is now helping the agency prepare to launch the first rocket from Mars.
09/25/2023 | CACI International Inc.
CACI International Inc announced that it successfully completed Optical Communication Terminal (OCT) Interoperability Testing (OIT) of its CrossBeam® OCT for the Space Development Agency's (SDA) Tranche 1 data relay and tracking network
09/22/2023 | Keysight Technologies, Inc.
Keysight Technologies, Inc. and Synopsys, Inc. are partnering to provide internet of things (IoT) device makers with a comprehensive cybersecurity assessment solution to ensure consumers are protected when devices are shipped to market. Under the arrangement, the Synopsys Defensics® fuzzing tool will be embedded as an option into the Keysight IoT Security Assessment solution. 
09/21/2023 | PRNewswire
Sharp Imaging and Information Company of America (Sharp) is announcing that it will be showing its new digital press technologies at the Printing United Expo, in Atlanta, Georgia from October 18 – 20, 2023.
09/21/2023 | Takaya
TEXMAC/Takaya, the pioneering developer of flying probe testing systems for assembled Printed Circuit Board Assemblies (PCBAs), announces the launch of FastTrack ODB++, the Takaya Program Generator, a Takaya-developed conversion software program that simplifies and streamlines communication between machines when generating APT testing programs.