I-Connect007 Editor's Choice: Five Must-Reads for the Week
March 24, 2023 | Nolan Johnson, I-Connect007
Estimated reading time: 2 minutes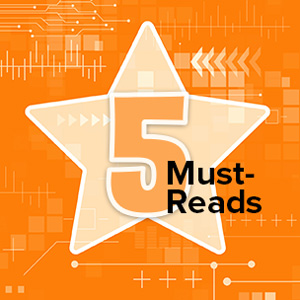 It's almost as if upheaval is the new normal. We often describe slow-moving but unstoppable change as moving in "geologic time." But occasionally–like an earthquake–geology shifts suddenly. Here in my office, tracking the news of the industry, things are moving faster than geologic time, but more slowly than the jolt of an earthquake. The wave seems almost surfable, where before it seemed overwhelming.  In this week's list, we bring news from five different, high-vibration areas in our industry. If you read nothing else this week, these five items will keep you informed.  
The Big Picture: A New Globalization 
Published March 20, 2023 
I-Connect007 columnist, Mehul Davé takes a step back to consider nationalism, globalism and their teeter-totter relationship, the "paradox mindset" as a unifying worldview, the advent of AI, and the implications all these dynamics bring to the world in which we do business. No wonder this column got so much attention. 
Darwin AI Evolving the Islands of Automation 
Published March 20, 2023 
Speaking of the effect of artificial intelligence applications on our industry, we recently had the opportunity to interview Darwin AI's CEO and founder, Sheldon Fernandez. Darwin AI is focused on bringing AI to electronics assembly. Learn what he has to say here. 
Foxconn Announces FY2022, 4Q22 Financial Results 
Published March 20, 2023 
As one of the largest electronics assembly companies on the planet, Foxconn's 2022 revenues equal nearly $218 billion. How did the rest of the financial numbers turn out? Seems plenty of readers wanted to know.  
NextFlex Launches $4.4M Funding Opportunity to Strengthen U.S. Electronics Manufacturing, Advance Adoption of Hybrid Electronics 
Published March 22, 2023 
From the press release, "NextFlex, America's Flexible Hybrid Electronics (FHE) Manufacturing Institute, released Project Call 8.0 (PC 8.0), the latest call for proposals that seek to fund projects that further the development and adoption of FHE while addressing key challenges in advanced manufacturing that support Department of Defense priorities. The total PC 8.0 project value is expected to exceed $9.4M (project value/investment figures include cost-sharing), bringing the total anticipated investment in advancing FHE since NextFlex's formation to $134M." If this is a program you can take advantage of, read on here. 
The Summit View of the Marketplace 
Published March 21, 2023 
Investments, staffing, cybersecurity, and a peek into his crystal ball—John Vaughan, vice president of strategic markets at Summit Interconnect, sits down with Nolan Johnson to talk about it all. Business is good, by the way, thanks to Summit's portfolio of military contracts, and he has sound advice to offer for smaller shops in the United States, and their real ability to make a difference in PCB fabrication.
---
Suggested Items
09/28/2023 | KYZEN'
KYZEN, the global leader in innovative environmentally friendly cleaning chemistries, is proud to announce that it is sponsoring the Women's Leadership Program Connection Reception to be held at SMTA International.
09/28/2023 | Nolan Johnson, I-Connect007
The practical question around CHIPS Act development and electronics assembly is, "Will this change how we do business?" Indium Corporation's Dr. Andy Mackie sat down with Nolan Johnson to share what he sees as emerging answers to that question from his perspective as an expert in electronics assembly and packaging, and as a participant in standards development through IPC, JEDEC, and SEMI.
09/28/2023 | ZESTRON
ZESTRON is happy to announce that Senior Application Engineer, Ravi Parthasarathy, will be presenting "Revolutionizing PCB Assembly Cleaning:
09/28/2023 | IPC
IPC continues to collaborate with the electronics manufacturing industry to meet their current and future workforce training needs.
09/28/2023 | IPC
Though product demand weakened this month with Orders and Backlog Indexes slipping, overall electronics industry operations remain healthy per IPC's September 2023 Global Sentiment of the Electronics Supply Chain Report.