BAE Systems to Provide Electric Drive Systems for First Fleet of Hydrogen Fuel Cell Buses in Rochester, New York
March 29, 2023 | Business Wire
Estimated reading time: 1 minute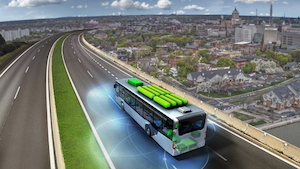 BAE Systems, a leader in heavy-duty electric propulsion, will supply its next-generation electric power and propulsion systems for three hydrogen fuel cell buses in Rochester, New York, allowing them to run free of emissions. The company will provide its Gen3 electric drive system for ElDorado National (California)'s Axess® EVO-FC™ hydrogen fuel cell bus. This technology will advance Rochester-Genesee Regional Transportation Authority's goal of reducing its carbon footprint and transitioning to a zero-emission fleet.
The order is funded by Federal Transit Administration's Low or No Emission Vehicle Grant Program, which aims to support the transition to low- and zero-emission public transit fleets. It is also the first hydrogen fuel cell bus order to benefit from BAE Systems' Gen3 electric drive system.
BAE Systems' electric propulsion system is integrated with a 125kW Progen hydrogen fuel cell engine from Plug Power to deliver a comprehensive, efficient, and reliable emission-free solution. Plug will also provide fueling infrastructure to support the project. BAE Systems and Plug's collaboration enables turnkey hydrogen solutions for transit agencies looking to deploy fuel cell electric buses.
"We are proud to accelerate Rochester's clean energy goals with turnkey hydrogen solutions using technology made right here in New York," said Steve Trichka, vice president and general manager of Power & Propulsion Solutions at BAE Systems. "Our Gen3 system will deliver highly efficient and sustainable transportation operations through advanced clean hydrogen innovation."
The Gen3 Series-H system includes an electric motor, energy storage system, and modular power electronics to create a clean mode of transportation for the buses. BAE Systems' latest technology uses advanced materials with lightweight, compact components to increase electrical efficiency for extended drive range. Its flexible design allows for a simplified approach to system integration for best-in-class vehicle power and performance.
BAE Systems has been at the forefront of commercializing hydrogen fuel cell technology since first integrating fuel cell powered buses in 1998. Building on 25 years of innovation and proven technology, the company has more than 15,000 propulsion systems in service on transit buses around the globe. 
The Gen3 systems will be produced at the company's state-of-the-art manufacturing facilities in Endicott, New York, which support more than 1,300 high-tech jobs in the state.
---
Suggested Items
09/25/2023 | StenTech
StenTech Inc., the leading multinational SMT Printing Solutions company, is pleased to announce plans to exhibit at the SMTA Guadalajara Expo, scheduled to take place Oct. 25-26, 2023 at the Expo Guadalajara in Guadalajara, Jalisco, Mexico.
09/22/2023 | ACN Newswire
Nanofiber Quantum Technologies Inc. raised $8.5m from leading venture capital investors. Phoenix Venture Partners (PvP) in the US, and Japan's JAFCO Group Co Ltd, SPARX Group Co Ltd, Keio Innovation Initiative, Inc. (KII), and Waseda University Ventures (WUV) financed the round through convertible notes.
09/21/2023 | ViTrox
ViTrox, which aims to be the world's most trusted technology company, is pleased to announce the addition of Hayden Dalton to our team as a Field Support Engineer who based in Milwaukee, WI, effective August 21, 2023.
09/20/2023 | Qualcomm Technologies, Inc.
Qualcomm Technologies, Inc. is ushering in a new era of home connectivity, and new opportunities for service providers, with the introduction of the Qualcomm® 10G Fiber Gateway Platform and its signature feature, Qualcomm® Service Defined Wi-Fi technology.
09/19/2023 | Mirtec
MIRTEC, 'The Global Leader in Inspection Technology', is pleased to announce its participation in the upcoming SMTA Guadalajara Expo on Wednesday, Oct. 25, 2023.