DEEP Robotics Makes Breakthrough in Autonomous Search Using Quadrupedal Robots
March 29, 2023 | PRNewswire
Estimated reading time: 1 minute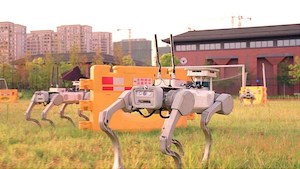 DEEP Robotics Co., a global pioneer in the development and industrial application of quadrupedal robots, today announced that a team of five Jueying X20 robots successfully completed a series of autonomous collaborative searches in a trial using eight different scenarios across an unknown environment of 3,000 square meters.
In simulated emergency searches, the robots were tasked to retrieve inflammable and explosive items, as well as rescue injured people. To do this, the five X20 robots were each fitted with a high-resolution panoramic camera, along with a LiDAR and Mesh network. They then coordinated with each other to cover different search areas and complete the tasks.
"Teams working on emergency searches or for site exploration commonly face challenges such as insufficient site data and risks to their personal safety. That's where these robots can provide valuable assistance," said Wei Tang, Head of Algorithm Engineering at DEEP Robotics.
Using laser technology for a synchronous mapping and positioning algorithm, the location environment is mapped. This allows for each robot to be independently allocated different exploration areas and targets in real-time through a collaborative mechanism. The robots can then complete the cluster search of a large range of unknown areas with autonomous navigation and routing.
Wei Tang added: "The success of this trial paves the way for the future adoption of quadrupedal robots in difficult and high-risk environments, supporting or replacing humans in doing life-threatening tasks, while increasing the speed and accuracy during emergency rescue operations."
The breakthrough trial was made possible by DEEP Robotics' advanced algorithm for autonomous coordinated multi-robot exploration. The highly efficient data traffic flow and movement between the five X20 robots means they can navigate in very dynamic environments and are able to choose autonomously the most efficient path while calculating alternatives routes.
Details of the trial and the research findings have been published by the Institute of Electrical and Electronics Engineers.
The X20 is the latest edition in the DEEP Robotics Jueying series, which was designed and has been successfully deployed for industrial use since its launch in 2021. The tasks it undertakes include power inspections, emergency rescues, public safety inspections, tunnel, mining and industrial site inspections, and construction site exploration.
---
Suggested Items
11/21/2023 | Pete Starkey, I-Connect007
Productronica 2023 played host to the IPC World Hand Soldering Competition, bringing talented regional solder champions from all over the globe to compete for the title of World Champion. Each competitor was given sixty minutes to assemble a complex printed circuit board with their performance judged in accordance with IPC-A-610 Class 3 criteria. Each competitor's efforts were rated on the merits of the results achieved, scored on the quality of the assembly process, the electrical functionality of the assembly and the speed at which the assembly was produced.
11/08/2023 | Barry Matties, I-Connect007
There are negative stereotypes and a general lack of awareness about manufacturing and viable career paths among today's emerging workforce. To help change that perception and introduce young minds to modern manufacturing, Schweitzer Engineering Laboratories (SEL) hosts thousands of K-12 students to tour and experience its manufacturing facilities. The outreach goes beyond the students—this effort also raises awareness with educators. In this interview, John Cassleman, program manager for K-12 outreach, says this effort is working and providing hope for the future.
10/31/2023 | PVA
PVA, a global supplier of automated dispensing and coating equipment, is pleased to announce a strategic partnership with Altus Group Ltd., a renowned distributor with over two decades of experience in supplying premium electronics production equipment and services.
10/12/2023 | IFR
The total number of service robots sold for professional use hit 158,000 units in 2022 - an increase of 48%. Shortage of staff is a strong driver for companies to automate.
10/10/2023 | I-Connect007 Editorial Team
Historically, engineering teams using some types of insulated metal substrates in high-performance LED applications have noted the formation of solder cracks after prolonged thermal cycles. Solder cracks, as the name suggests, are discontinuities in the solder joint, usually caused by excessive mechanical stress. This stress typically results from a mismatch between the coefficients of thermal expansion (CTE) of each of the joined components.