DEEP Robotics Makes Breakthrough in Autonomous Search Using Quadrupedal Robots
March 29, 2023 | PRNewswire
Estimated reading time: 1 minute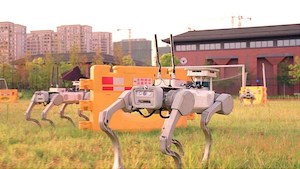 DEEP Robotics Co., a global pioneer in the development and industrial application of quadrupedal robots, today announced that a team of five Jueying X20 robots successfully completed a series of autonomous collaborative searches in a trial using eight different scenarios across an unknown environment of 3,000 square meters.
In simulated emergency searches, the robots were tasked to retrieve inflammable and explosive items, as well as rescue injured people. To do this, the five X20 robots were each fitted with a high-resolution panoramic camera, along with a LiDAR and Mesh network. They then coordinated with each other to cover different search areas and complete the tasks.
"Teams working on emergency searches or for site exploration commonly face challenges such as insufficient site data and risks to their personal safety. That's where these robots can provide valuable assistance," said Wei Tang, Head of Algorithm Engineering at DEEP Robotics.
Using laser technology for a synchronous mapping and positioning algorithm, the location environment is mapped. This allows for each robot to be independently allocated different exploration areas and targets in real-time through a collaborative mechanism. The robots can then complete the cluster search of a large range of unknown areas with autonomous navigation and routing.
Wei Tang added: "The success of this trial paves the way for the future adoption of quadrupedal robots in difficult and high-risk environments, supporting or replacing humans in doing life-threatening tasks, while increasing the speed and accuracy during emergency rescue operations."
The breakthrough trial was made possible by DEEP Robotics' advanced algorithm for autonomous coordinated multi-robot exploration. The highly efficient data traffic flow and movement between the five X20 robots means they can navigate in very dynamic environments and are able to choose autonomously the most efficient path while calculating alternatives routes.
Details of the trial and the research findings have been published by the Institute of Electrical and Electronics Engineers.
The X20 is the latest edition in the DEEP Robotics Jueying series, which was designed and has been successfully deployed for industrial use since its launch in 2021. The tasks it undertakes include power inspections, emergency rescues, public safety inspections, tunnel, mining and industrial site inspections, and construction site exploration.
---
Suggested Items
09/22/2023 | IPC
Join fellow EMS leaders in the region on Oct 5, 2023, 4:30 - 8:00pm EDT, to share industry pain points and solutions. Our focus for this meeting is how companies profitably reach the next level of revenue. Following a presentation on the current EMS market and revenue tiers in the industry, participants will discuss how to reach the next level and grow their business. Discussion will pull from direct experience, questions, and ideas. From there, the conversation goes where you, the leaders, take it. Every roundtable ends in unique takeaways.  
09/18/2023 | Nan Ya Printed Circuit Board Corp.
Nan Ya Printed Circuit Board Corp. (Nan Ya PCB), a manufacturer of single-sided PCBs, HDI PCBs, and rigid-flex PCBs based in Taiwan, has posted unaudited sales of NT$3.37 billion ($105.52 million at $1=NT$31.97) for August 2023, up by 1.2% from the previous month, but down by 41.4% year-on-year.
09/06/2023 | Dan Beaulieu, D.B. Management Group
So often when I talk to PCB shop owners, they ask me how they can be outstanding. How can they position their own company to stand out from the crowd? That's because one of the issues PCB shops face these days is they all seem to be alike. While they used to be judged and differentiated based on performance, now they all have very good quality.
08/29/2023 | IDC
The road to recovery for personal computers (PCs) has been challenging coming off explosive years in 2020 and 2021, but signs of growth are finally returning. According to the International Data Corporation (IDC) Worldwide Quarterly Personal Computing Device Tracker, PC shipments are forecast to grow 3.7% year over year in 2024 reaching 261.4 million shipments.
08/28/2023 | Nordson Test & Inspection
Nordson TEST & INSPECTION announced its participation in SEMICON Taiwan, one of the most anticipated events in the semiconductor industry.