Aegis Combat System Successfully Intercepts Target During Flight Test
April 5, 2023 | Lockheed Martin
Estimated reading time: 1 minute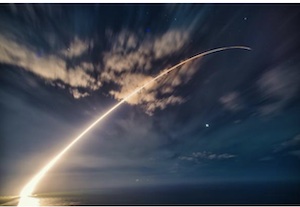 USS Daniel Inouye (DDG 118) successfully intercepted a Medium Range Ballistic Missile (MRBM) target using upgraded Aegis software during a recent flight test. This marks the first Aegis Baseline 9.C2.0 (BMD 5.1) intercept of an MRBM target using the  Standard Missile–6 Dual II with software upgrade, bringing improved performance against evolving threats.
Supported by the United States Navy, Missile Defense Agency, Lockheed Martin (NYSE: LMT), and other partners, FTM-31 E1a deployed a real-world scenario to test the Aegis Weapon System, which was able to better target, identify and intercept the threat due to the software update.
"The shield and spear of the fleet, Aegis has evolved to counter air, ballistic missiles and evolving threats across multiple domains from all regions, ranges and during all phases of flight," said Joe DePietro, vice president and general manager of Naval Combat and Missile Defense Systems at Lockheed Martin. "We realize it is critical to develop capabilities that allow the United States, its partners and allies to quickly adapt to constantly-changing mission needs."
New Missions, Increased Worldwide Security
Lockheed Martin has a long history of success applying its combat system expertise worldwide to deliver complex weapon and sensor capability through the Common Source Library, a permanent library for all Aegis system computer programs that allows customers to access software required to meet mission requirements. Aegis can rapidly deliver new capabilities, including solutions that integrate both SPY-1 and solid-state radars, and the growing SPY-7 family of radars. Due to its open architecture, Aegis delivers capability today and is flexible to grow with the demands of an ever-changing environment.
---
Suggested Items
09/28/2023 | Technica USA
Technica USA announced it has reached a Master Distribution Agreement with SAA to promote and support automation systems & technology offered by SAA.
09/27/2023 | Keysight Technologies, Inc.
Keysight Technologies, Inc. introduces Keysight EDA 2024, a tightly integrated suite of electronic design automation (EDA) software tools that ensures first pass success.
09/27/2023 | Transition Automation, Inc.
Transition Automation, Inc. has improved the unique Paste Retainer System that is included in the company's line of squeegee holder systems.
09/26/2023 | Kirk Thompson, Isola Group
Despite being a leader in R&D investment in semiconductors and packaging with greater than $50 billion per year, the U.S. has seen its market share decrease to less than 3% in areas like advanced packaging and advanced substrates. The cause for this market share erosion was a laser focus in Asian countries to attract semiconductors and advanced packaging investment through ecosystem development and incentives. If the U.S. is serious about changing the momentum to onshore advanced packaging and advanced substrates, an ecosystem approach to innovation and manufacturing incentives must be employed. It is not enough to have the most innovative technology if the supply chain and manufacturing economics do not deliver competitive commercial opportunities.
09/26/2023 | Airbus
During the German National Aviation Conference in Hamburg, Airbus Helicopters unveiled the PioneerLab, its new twin-engine technology demonstrator based on the H145 platform.