PCBAA Reacts to Implications of Biden's PCB Determination
April 5, 2023 | Nolan Johnson, I-Connect007
Estimated reading time: 6 minutes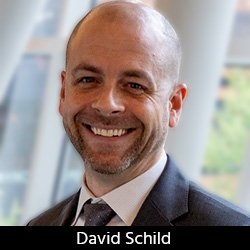 Hot on the heels of the news that U.S. President Biden signed a presidential determination in support of the printed circuit board industry, I-Connect007's Nolan Johnson spoke with David Schild, executive director of the Printed Circuit Board Association of America, about some of the expected implications. David points out, among other things, that this signals increased momentum with government and defense to support U.S.-based printed circuit manufacturing, and the possibility that a renewed interest in the industry by private financing could possibly follow. 
Audio Transcript:
Nolan Johnson: Hi, Nolan Johnson here for Real Time with… I-Connect007 and I'm speaking right now with David Schild from the PCBAA. David, welcome.
David Schild: Thanks, Nolan. Great to be here.
Johnson: Just this Monday, March 27, we saw the release of a presidential determination that speaks to printed circuit board technology and its strategic importance to the U.S. economy. Talk to me about that.
Schild: It's just a huge win for American microelectronics and printed circuit board technology. Specifically, this is something that we, as part of a joint coalition with our friends at IPC, have been pushing for over a number of months. You've seen leaders on the Hill, specifically Rep. Anna Eshoo from California and Rep. Blake Moore from Utah pushing for the recognition that printed circuit boards are part of a critical microelectronics supply chain that our Department of Defense absolutely relies on. So to see the president of the United States joining the prime minister of Canada, making that declaration last Friday, and then to see the formal presidential determination really bringing the Defense Production Act into force for our industry—that's just a huge win.
Johnson: From the perspective of someone who heads up a sales and marketing organization in electronics manufacturing, what does this mean to them?
Schild: That's a great question. So of course, much like the CHIPS Act, once you see that there's a government policy in place, a natural first question is going to be, "OK, what can I do for my business to benefit from this policy?" There is, to be clear, additional legislative and policy actions that we think need to be taken for the industry. But the presidential determination here, the use of the Defensive Production Act, drops a lot of red tape. It speeds acquisition authority and it puts the purchase, the investment, in print circuit board technologies on a fast track at the Department of Defense. 
We are eager to learn more about the details around the $50 million that was announced and additional monies that might be forthcoming. We're waiting on details for the FY24 budget that we don't have yet, but what I would say to members of our industry is that I think there will be opportunities to apply for funding and actually seek out opportunities to build new technology, introduce new product via this determination.
Johnson: All right. So, with this momentum now within the government, does that change the banking institutions' financial approach to this in a private sense?
Schild: If your question is, "Do we now have indications that government policy is going to exist and might private sector money follow that?" I'm cautiously optimistic and I base that optimism on what you saw when the CHIPS Act passed. Of course, the CHIPS Act pledges $52 billion for the semiconductor industry. By some estimates as much as $420 billion in private money got off the sidelines when we saw the CHIPS Act finally become law. Public policy guides and steers and is a sort of weathervane for private action. I would love to see the same thing in the PCB industry, but of course there's more to do over the next couple of months.
Johnson: In your organization, what are the next steps for you?
Schild: I'm glad you asked. We're a growing organization with new members every week, and we're putting those members to work. We have two additional policy initiatives: getting the presidential determination was one of three for this year and we need to continue to fight for language in the National Defense Authorization bill. That's the bill that basically, you know, authorizes the Pentagon to spend money and direct DoD policy. We need to protect the language instituted in FY21 that says that the Department of Defense has to secure and vouch for its microelectronic supply chains extending into the commercial off-the-shelf technology (COTS) realm. That language is a "keep sold" for us. We've got to protect it every year through the implementation date in 2027. The next priority after that is going to be a standalone piece of legislation in the last Congress; we called it the Supporting American Printed Circuit Boards Act. I'm hoping it'll get a catchier name and a new number, but we anticipate that it will be reintroduced with bipartisan support soon. Then we need to go out with our members as part of a coalition approach; we need to build support and we need to get co-sponsors. We need to generate a new Senate bill and hopefully shepherd this bill in the same way that the CHIPS Act was shepherded.
Johnson: This momentum has a strong foundation in Department of Defense and military spending defense infrastructure. It's the follow-on legislation you were just mentioning that seems to really push this even further into more commercial consumer grade markets.
Schild: That's absolutely right. The defense market alone is not enough to grow and, I think in the long term, sustain U.S. manufacturing. What we need to do is, I think, two things, right? We need to redefine the word "critical" when it comes to technology applications. Our chairman, Travis Kelly, who is also the CEO of Isola, talks a lot about how we ought to take an expanded view of critical infrastructure, not just limited to the F-35, right? Or the future submarine or the wearable tech that a soldier might have, you know, as they as they go into battle. We need to think about things like the energy grid. We need to think about things like the banking infrastructure, and telecommunications. If you define those things as critical and then say you want to have trusted and reliable sourcing for the microelectronics that power those technology sets, now we're talking about a very, very strong commercial demand.
That's the first part of it, redefining what's critical. The second part, I think, is a real incentive on the demand side. Why should I buy an American board or an American IC substrate if foreign-sourced boards are so much cheaper? The answer comes in the form of a tax credit. We need to incentivize; we need to essentially have a "Buy America" provision that says we can get cost competitive with American produced technologies. That, in addition to some direct funding, is really the second, and I think, most important part of the standalone legislation we just discussed.
Johnson: Well, there certainly is a bunch of momentum.
Schild: I think that, starting two or three years ago when we were seeing shortfalls, when we were seeing empty shelves, when we were seeing people unable to deliver trucks for lack of microelectronics, it focused the nation's attention on just how extended our supply chains are. Just how, in many cases, they're not resilient, they don't have redundancy. They stretch into places we might not want them to stretch, and thus policymakers—and I think this is a bipartisan move—said, "Wow, there's real incentive now for the consumer, for our national security, for our economic strength, to build more things here in America." And of course, it extends beyond microelectronics. But yeah, we're absolutely riding this wave, and I think it's going to continue for some time.
Johnson: Well, David, thank you for taking the time to give us an update on what's happening on Capitol Hill with this presidential determination. There is a lot going on for sure.
Schild: A very busy time. Always great to chat with you, Nolan, thank you.
Johnson: Here for I-Connect007's Real Time with…, I'm Nolan Johnson. Thanks for listening.
---
Suggested Items
09/28/2023 | Anaya Vardya, American Standard Circuits
There has always been pressure to reduce line and space as we have seen the bleeding edge technology go from 8 mils to 5 mils and then to 3 mils. The difference between "then" and "now" is that the prior advancements, for the most part, used the same processes, chemistry and equipment going from 8 mils to 3 mils. But going from 3 mil to sub 1 mil trace and space is a quantum leap in printed circuit board (PCB) technology that requires a whole new set of processes and materials.
09/28/2023 | PNNL
Pacific Northwest National Laboratory is collaborating with leading technology companies Microsoft Corp. and Micron Technology to make computational chemistry—a challenging subject but one with far-reaching significance for our lives—broadly available to applied researchers and industrial users.
09/28/2023 | SIA
The Semiconductor Industry Association (SIA) announced Geoff Martha, chairman and CEO of healthcare technology leader Medtronic, will be the keynote presenter at the 2023 SIA Awards Dinner on Thursday, Nov. 16 in San Jose, Calif.
09/26/2023 | Kirk Thompson, Isola Group
Despite being a leader in R&D investment in semiconductors and packaging with greater than $50 billion per year, the U.S. has seen its market share decrease to less than 3% in areas like advanced packaging and advanced substrates. The cause for this market share erosion was a laser focus in Asian countries to attract semiconductors and advanced packaging investment through ecosystem development and incentives. If the U.S. is serious about changing the momentum to onshore advanced packaging and advanced substrates, an ecosystem approach to innovation and manufacturing incentives must be employed. It is not enough to have the most innovative technology if the supply chain and manufacturing economics do not deliver competitive commercial opportunities.
09/25/2023 | StenTech
StenTech Inc., the leading multinational SMT Printing Solutions company, is pleased to announce plans to exhibit at the SMTA Guadalajara Expo, scheduled to take place Oct. 25-26, 2023 at the Expo Guadalajara in Guadalajara, Jalisco, Mexico.