I-Connect007 Editor's Choice: Top Five Must-Reads for the Week
April 7, 2023 | Nolan Johnson, I-Connect007
Estimated reading time: 3 minutes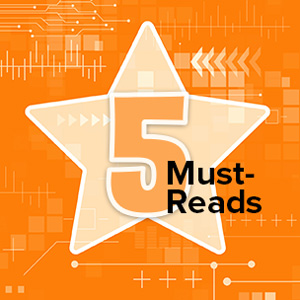 The adage about spring weather in Northern temperate climates is, "April showers bring May flowers." This is, of course, on the heels of March, when the weather comes "In like a lion, out like a lamb." The suggestion for March is that whatever way the month starts, it will end just the opposite. But we're in the first week of April, where things are expected to settle into a steady state of preparation for an abundance just over the horizon. Sound a bit like our business climate right now, doesn't it? 
This week my editor's picks include news of abundance: SMTC goes private, Flex gets kudos from General Motors, Zentech's leadership changes, and local expos seem to be thriving—at least in Texas. Last but not least, this week we combine two interviews into a single news item covering the Presidential Determination that directly affects the electronics manufacturing industry. If you're not sure what that is, never fear. These two interviews below will give you clarity. 
SMTC Corporation Announces Completion of Investment by H.I.G. Capital
Published April 4
SMTC, a major player in the EMS sector on a global scale, has just gone private with this purchase transaction with H.I.G. Capital. The deal is reported to have a transaction price of $43 billion. For many companies in a dynamic market with a shifting competitive landscape, going private can be an advantage. SMTC's move to private equity fits that trend. 
Zentech Appoints Mike Buseman as President & CEO
Published April 5 
Mike Buseman officially takes the helm from Zentech President and CEO Steve Pudles on April 10. In the announcement, Buseman said, "These are extraordinary times for U.S. manufacturing, and I am excited about our next stage of growth. Together with the team, we will continue to partner with our customers as a trusted source to deliver their mission critical manufacturing solutions. There are many opportunities ahead and we will double-down to drive even higher performance for our customers, our employees, and our stakeholders." Mike, these an interesting times for our industry, and we wish you much success.
Serving up SMTA—Texas Style
Published April 3 
Last week, Barry Matties attended the SMTA Dallas Expo and the SMTA Houston Expo. In this report from the file, Barry shares his impressions of this "Texas Two Step" of industry gatherings, including plenty of photographs and a video. Catch up with what an SMTA local chapter expo looks like. 
Flex Recognized as a 2022 Supplier of the Year by General Motors
Published April 6
"Each year, GM's Supplier of the Year recipients are selected by a global, cross-functional GM team for their performance in criteria such Product Purchasing, Global Purchasing and Manufacturing Services, Customer Care and Aftersales and Logistics." This news piece announces that Flex has indeed been recognized as a 2022 GM Supplier of the Year. With all the supply chain and other challenges, supplying the "just in time" auto manufacturers can be a challenge.  
And finally, a two-fer: 
Deciphering the Presidential Determination
Published April 3 
PCBAA Reacts to Implications of Biden's PCB Determination
Published April 5
My final pick is not a single news item, but rather a single story with two complementary reports. On March 27, 2023, U.S. President Joe Biden issued a Presidential Determination recognizing the printed circuit industry as important to U.S. strategic defenses. This determination changes some of the rules of engagement between U.S. DoD and the electronics manufacturing industries. These two interviews discuss the implications of this change with representatives from PCAA and IPC. I believe as you listen to these two conversations, you'll get a clearer picture about how this affects our industry.
---
Suggested Items
09/28/2023 | Technica USA
Technica USA announced it has reached a Master Distribution Agreement with SAA to promote and support automation systems & technology offered by SAA.
09/28/2023 | GlobalFoundries
GlobalFoundries (GF) announced the official opening of a new hub facility in Penang, Malaysia.
09/28/2023 | IPC
IPC continues to collaborate with the electronics manufacturing industry to meet their current and future workforce training needs.
09/26/2023 | GlobalFoundries
GlobalFoundries (GF) announced it has applied for U.S. CHIPS and Science Act Funding, with two full applications submitted to the CHIPS Program Office of the U.S. Department of Commerce.
09/22/2023 | GlobalFoundries
The U.S. Department of Defense (DoD) has awarded GlobalFoundries (Nasdaq: GFS) (GF) a new 10-year contract for a supply of securely manufactured, U.S.-made semiconductors for use across a wide range of critical aerospace and defense applications.