Steven Bowles: Taking a Stand
April 7, 2023 | Patty Goldman, I-Connect007
Estimated reading time: 2 minutes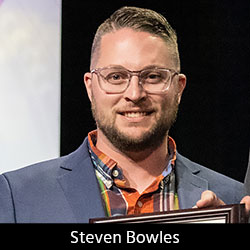 Steven Bowles, an associate fellow at Lockheed Martin Space, talks about his journey as a leader in IPC, beginning with the unexpected opportunity that launched his leadership career across a range of professional committees. True progress, Steven says, requires input from a diverse set of perspectives alongside the passion that drives our industry forward.
Steven, congratulations on receiving the IPC President's Award. As you know, this award is about leadership, so why do you feel it's important to be a leader at IPC?
It's important to lead within IPC for a couple of reasons. One of the primary reasons that I enjoy leadership within the standards development committees is to ensure that the standards we release are keeping up with modern technology and that they benefit both user and supplier. It's a really good idea for us to lead within these groups, to usher in the next generation of IPC participants—the ones who will be writing our technical standards and developing requirements for our industry going forward.
How do you get into this? Did you raise your hand? [laughs]
I kind of got into leadership by accident. About 15 years ago, I was still relatively early in my career, and I joined committees just to learn. I joined IPC T-50, which is terms and definitions, and IPC-6012, which is the performance specification for rigid printed boards. I really liked the T-50 committee because we were determining and defining industry terms that supported electronics. We had two very good committee chairs. When one committee member, Mike Green from Lockheed, announced he was retiring and stepping down, some individuals on the committee commented that it would be good to have some younger leadership. I spoke up and said that I was probably the youngest person in the group and that I would do it. So, I co-led that group with Vicka Hammill of Honeywell for about eight years. From there, it just flourished. I enjoyed leading that group, and subsequently joined several other committees supporting different documents where I started taking on some leadership roles. I'm now chairing six different groups and at least one general committee.
When Vicka retired from Honeywell, she stepped down from leadership of IPC T-50 and we brought on my Emerging Engineer mentee, Aaron Kennedy of Summit, as my vice chair. Now I have stepped down as chair of IPC T-50 this past year and I recommended my internal-to-Lockheed mentee, David Caputa, to be my replacement. Both individuals were actively supporting the group prior to that. It's pretty cool to see two people who I'm currently mentoring are now holding leadership roles in IPC T-50. I was named Chair Emeritus of that group, so I'm still helping to guide them.
To read this entire conversation, which appeared in the 2023 edition of Show & Tell Magazine, click here.
---
Suggested Items
09/28/2023 | KYZEN'
KYZEN, the global leader in innovative environmentally friendly cleaning chemistries, is proud to announce that it is sponsoring the Women's Leadership Program Connection Reception to be held at SMTA International.
09/28/2023 | TSMC
TSMC announced the new 3Dblox 2.0 open standard and major achievements of its Open Innovation Platform (OIP) 3DFabric Alliance at the TSMC 2023 OIP Ecosystem Forum.
09/28/2023 | SIA
The Semiconductor Industry Association (SIA) announced Geoff Martha, chairman and CEO of healthcare technology leader Medtronic, will be the keynote presenter at the 2023 SIA Awards Dinner on Thursday, Nov. 16 in San Jose, Calif.
09/28/2023 | GlobalFoundries
GlobalFoundries (GF) announced the official opening of a new hub facility in Penang, Malaysia.
09/27/2023 | HyRel
HyRel Technologies, a global provider of quick turn semiconductor modification solutions, is proud to announce that Brian Watson, the company's Founder and President, will be a featured presenter at SMTA International. The event is scheduled to take place on Tuesday, October 10.