BAE Systems, Microsoft Join Forces to Equip Defence Programmes with Innovative Cloud Technology
April 14, 2023 | BAE Systems
Estimated reading time: 2 minutes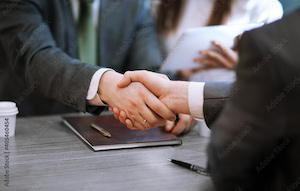 BAE Systems and Microsoft have signed a strategic agreement aiming to support faster and easier development, deployment and management of digital defence capabilities in an increasingly data centric world. The collaboration brings together BAE Systems' knowledge of building complex digital systems for militaries and governments with Microsoft's approach to developing applications using its Azure Cloud platform.
As well as helping partners collaborate on large multinational defence projects, such as the Future Combat Air System, cloud technology could be used to more easily combine and analyse different sources of data during military operations.
Air, land and maritime platforms face constantly changing threats, so their digital systems need to be regularly updated to recognise and counter them. As part of this collaboration, BAE Systems and Microsoft have used the Azure Cloud approach to accelerate software design, development and testing of a system that can deploy new software on to an Uncrewed Air Vehicle during flight. This approach to using the cloud could in future speed up the deployment of software to operational military platforms. Modern fighter jets, for example, can require up to 24 million lines of code to function effectively, so using the cloud to deploy updates could make the process quicker and help retain a competitive advantage over adversaries.
The two companies have also explored how to reduce the time it takes for an innovative idea to move into production. Digital design and manufacturing have been at the heart of BAE Systems for decades, but given the growth in data volumes and complexity, using cloud technology can help perform data analysis and simulation. Azure Cloud also provides digital engineering capabilities that can help get the most out of data by digitally connecting the design, manufacture and operation of products throughout their life.
The agreement is underpinned by a commitment from both organisations to develop technology using open architecture digital tools, enabling customers to more easily work with third parties.  This could help BAE Systems collaborate with small businesses and partners without compromising security, by only allowing access to very specific areas of work. Using this approach makes it easier for smaller companies to meet rigorous defence security standards.
Since starting the collaboration, BAE Systems and Microsoft have worked on three successful initiatives, highlighting the benefits of modern cloud software in the defence sector. These projects included enhancing real-time tactical naval intelligence through access to more dynamic data sources; development of secure software to deliver real-time updates to air platforms; and the creation of a digital thread to support the maintenance of maritime platforms from concept to disposal.
"The data available to the defence sector and armed forces is often highly complex and comes from hundreds of thousands of sources, whether that's satellite and radar feeds, intelligence gathered by ships at sea or even social media. Our innovative agreement with Microsoft will give us easier access to tools that help us make sense of this information for our customers - allowing armed forces to stay ahead of rapidly evolving threats, whilst maintaining the highest levels of security," said Julian Cracknell, Chief Technology and Information Officer at BAE Systems.
"This strategic agreement will enable defence organisations to use data more effectively. This will help them promote stability and security for residents, nations and multinational alliances. By working together, delivering agile, secure and reliable software, BAE Systems and Microsoft are already delivering tangible results to our customers. These results mean they can modernise environments, protect information domains and optimise operations," said Clare Barclay, CEO, Microsoft UK.
---
Suggested Items
09/22/2023 | Boeing
Boeing has announced a $10 million investment in the George W. Bush Presidential Center to support its museum and Veterans and Military Families programs. 
09/15/2023 | Northrop Grumman
Northrop Grumman Corporation's multi-intelligence MQ-4C Triton uncrewed aircraft achieved a declaration of initial operating capability (IOC) by the U.S. Navy.
09/14/2023 |
BAE Systems signed a contract with the Swedish Defence Materiel Administration (FMV) worth approximately $500 million for 48 new ARCHER artillery systems for the Swedish Army.
09/14/2023 | John Watson -- Column: Elementary, Mr. Watson
Electronics are continually evolving, driven by innovations in printed circuit board technology. Flexible PCBs have emerged as a revolutionary force, reshaping the PCB industry and influencing the design and functionality of countless electronic devices. Some believe that flexible PCBs are a relatively newer technology, but as we will see, that is not true. Since I'm an instructor, here's a short history lesson on how we got here and what we can expect.
09/13/2023 | Hentec Industries/RPS Automation
Hentec Industries/RPS Automation, a leading manufacturer of selective soldering, lead tinning and solderability test equipment, is pleased to announce that Sinclair Manufacturing has purchased Pulsar solderability testing and Photon steam aging systems for installation in their Chartley, Massachusetts facility.