I-Connect007 Editor's Choice: Five Must-Reads for the Week
April 21, 2023 | Nolan Johnson, I-Connect007
Estimated reading time: 4 minutes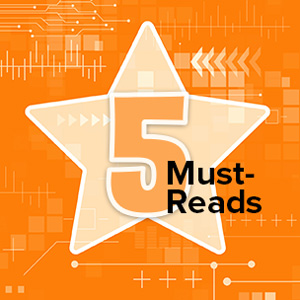 SpaceX is back in the news and in a big, powerful, let's-blow-up-a-rocket-because-we-can kind of way. The company had scheduled a test launch on Monday, April 17 for the SpaceX Starship, only to scrub that launch until this past Thursday. Well, the results from the launch were less than desirable—or were they? While Starship ultimately exploded just prior to stage separation, simply clearing the launchpad was considered a major milestone by SpaceX.
Elon Musk posted a series of related tweets, such as, "With a test like this, success comes from what we learn, and today's test will help us improve Starship's reliability as SpaceX seeks to make life multi-planetary." He also said, "Success is not what should be expected…That would be insane." CNN reported, "Musk congratulated the team on 'an exciting test launch' and said they 'learned a lot for next test launch in a few months.'" Especially in our business, this mindset is what drives us to always reach higher.
By all accounts, Starship can lay claim to being the largest rocket vehicle ever built by humans. It got me thinking about what the specs were like on that rocket to the moon more than 50 years ago. This chart compares Starship and the U.S.-developed Saturn V booster. (Source: orbitaltoday.com)

We've come a long way in rocket design over the last 50 years, that's for sure. Just to put this into perspective, in the 50 years prior to the Saturn V, aerospace moved from wood-and-fabric biplanes to putting a man on the Moon. One could say that our progress has slowed somewhat.
Happy Friday! Here are some other great items in the news this week, sure to blow at least your socks off. 
Majority Sale of Schweizer China Confirmed by WUS Shareholders 
Published April 18
It's this passage from the announcement that makes this news particularly interesting: "Both companies have agreed to significantly expand this cooperation model. Schweizer will thus significantly widen its range of competitive and high-technology PCBs globally. The core of the strategy remains the plant in Schramberg, Germany… improving supply chain resilience for European and American customers." They also state that "the joint venture in China, with focus on ensuring high production volumes of chip embedding technology." 
Panel Discussion: CMMC and Cybersecurity 
Published April 18
If cybersecurity and CMMC are on your mind (and they should be) then this is a valuable read. At the recent EMS Leadership Summit, held during IPC APEX EXPO 2023 in January, a panel discussion discussed the details and intricacies of CMMC compliance, and how it can affect a business. The experts shared their insights into the challenges that businesses in the sector are likely to face, the specific requirements tied to CMMC compliance, and the steps that businesses can take to ensure that they are adequately protected and able to achieve compliance within the framework. This article summarizes portions of the discussion from the summit event.  
Cicor Achieves Sales Growth of 24.8% in Q1 of 2023 
Published April 17
Cicor attributes this growth in part to their ability to "win several important new business deals with existing and new customers ramping up production in the current financial year." Cicor also states that they have the capacity to handle this growth thanks to their newly opened production site in Thuan An City, Vietnam. There is clearly room to grow as supply chain adjustments continue. 
BAE Systems, Microsoft Join Forces to Equip Defence Programmes with Innovative Cloud Technology 
Published April 14
From the announcement, "BAE Systems and Microsoft have signed a strategic agreement aiming to support faster and easier development, deployment and management of digital defence capabilities in an increasingly data centric world. The collaboration brings together BAE Systems' knowledge of building complex digital systems for militaries and governments with Microsoft's approach to developing applications using its Azure Cloud platform." Learn more about what exactly this means by clicking on the title. 
BTU's New Profile Tracer Wins 2023 EM Innovation Award 
Published April 14 
BTU received a 2023 EM Innovation Award in the category of Software – Process Control for its new Profile Tracer. The award was announced at a ceremony that took place April 14, 2023 during productronica China in Shanghai. Profile Tracer is a next-generation thermal profiling tool providing real-time data acquisition for oven optimization. Learn more about why Profile Tracer received this award by following the link.
Bonus pick: 
Spring Issue of IPC Community Now Available for Download 
Published April 17
The spring issue of IPC Community magazine is now available for download and it's another home run for this collaboration between IPC and I-Connect007. Here's a peek of what's inside: Detailed information on how shipping costs will affect your business this year, efforts in Mexico to make a play on the world stage of electronics manufacturing, the unique partnership between a mentor and mentee, the impact of IPC-1791 for defense manufacturers, an image gallery from WHMA's 30th annual conference, and so much more. This quarterly magazine was created with you in mind. It's interesting, colorful, and captures the success that so many companies and individuals are having today. Don't miss it!
---
Suggested Items
09/26/2023 | GlobalFoundries
GlobalFoundries (GF) announced it has applied for U.S. CHIPS and Science Act Funding, with two full applications submitted to the CHIPS Program Office of the U.S. Department of Commerce.
09/25/2023 | HyRel
HyRel Technologies, a global provider of quick turn semiconductor modification solutions, proudly announces that it earned the prestigious AS9100 certification.
09/18/2023 | RTX
RTX business Collins Aerospace has been selected by BAE Systems as the provider for Large Area Display technology to be integrated into the cockpits of future Eurofighter Typhoon aircraft.
09/18/2023 | IPC
IPC Day France: Aerospace Electronics is an aerospace-focused networking event featuring key industry experts from NASA and Airbus and will take place on October 2, 2023 . 
09/14/2023 | CONFIDEE
CONFIDEE, a leading PCB partner, proudly announces its recent achievement of AS9120 certification. This prestigious certification highlights the company's commitment to excellence, quality, and customer satisfaction, making it a preferred choice for all defence and aerospace needs.