Books

Featured Books

pcb007 Magazine

Latest Issues

Current Issue

Finding Ultra

New demands on PCB fabrication, namely advanced packaging, ultra high density interconnect (UHDI), and new specialty materials, are converging, changing the landscape of our business. Is it time to start paying close attention to this convergence?

Developing a Strategy

A solid strategy is a critical part of success. This month, we asked some of the top industry leaders and business strategy "gurus" to share their thoughts on developing strategies.

Winning With TQM

In this issue, we explore how TQM has entered the DNA of continuous improvement disciplines, and the role leadership transformation plays in this. If you've ever competed against a TQM company, you understand their winning advantage.

Columns

Latest Columns

||| MENU
Rogers Corporation Reports First Quarter 2023 Results
April 28, 2023 | Rogers Corporation
Estimated reading time: 2 minutes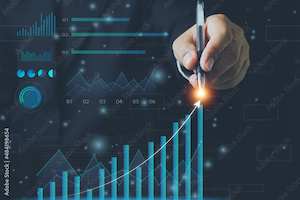 Rogers Corporation announced financial results for the first quarter of 2023.
"First quarter sales and gross margin exceeded the high end of our guidance as a result of improved market demand and continued execution of our cost improvement plans," stated Colin Gouveia, Rogers' President and CEO. "Sales in the ADAS, general industrial and renewable energy markets all contributed to the higher revenue versus the prior quarter. While we are pleased with the improved profitability in the first quarter, we remain intently focused on realizing the full benefit of the previously announced cost improvement actions, including achieving 34% gross margin in the second quarter. As outlined at our recent Investor Day, we will continue to execute on the Restore phase of our multi-year strategy as we also focus on leveraging our innovative technologies and application expertise to drive towards our 2025 growth targets."
Q1 2023 Summary of Results
Net sales of $243.8 million increased 9.0% versus the prior quarter resulting from higher ADAS, general industrial and renewable energy market revenues, and favorable currency exchange rate fluctuations. AES net sales increased by 8.4% primarily related to higher ADAS and renewable energy revenues and favorable currency exchange rates, partially offset by lower EV/HEV revenues following strong fourth quarter sales. EMS net sales increased by 9.1% primarily from stronger general industrial revenues, partially offset by lower portable electronics market revenues. Currency exchange rates favorably impacted total company net sales in the first quarter of 2023 by $6.0 million compared to prior quarter net sales.
Gross margin improved to 32.7%, compared to 31.8% in the prior quarter due to higher sales volumes, improved factory utilization and lower logistics costs, partially offset by unfavorable product mix.
Selling, general and administrative (SG&A) expenses increased by $5.8 million from the prior quarter to $60.1 million. The higher SG&A expense was due primarily to an increase in professional service fees, variable compensation costs and sales and marketing expenses.
GAAP operating margin of (0.1)% decreased from 37.0% in the prior quarter. The decline in operating margin was due to lower other operating income and an increase in SG&A, partially offset by a reduction in restructuring and impairment charges. Other operating income decreased significantly due to the receipt of a $142.1 million regulatory termination fee, net of transaction expenses in the fourth quarter. Restructuring and impairment charges declined to $10.5 million in the first quarter from $65.4 million in the prior quarter. Adjusted operating margin of 10.5% increased by 120 basis points versus the prior quarter.
GAAP earnings per diluted share were $(0.19), compared to earnings per diluted share of $3.58 in the previous quarter. The decrease in GAAP earnings per diluted share was due to lower operating income, partially offset by a decrease in tax expense. On an adjusted basis, earnings were $0.87 per diluted share compared to adjusted earnings of $1.04 per diluted share in the prior quarter.
Ending cash and cash equivalents were $193.7 million, a decrease of $42.7 million versus the prior quarter. First quarter net cash used in operating activities was $1.8 million. Also in the quarter, the Company had capital expenditures of $16.4 million and made a principal payment of $25.0 million on the outstanding borrowings under the Company's revolving credit facility.
---
Suggested Items
09/28/2023 | ICAPE Group
ICAPE Group, a global technology distributor of printed circuit boards (PCB), announced its half-year results for the first half of 2023, ended on June 30, 2023, and approved by the Board of Directors on September 26, 2023.
09/28/2023 | TrendForce
TrendForce projects that shipments of smartphone display panels (smartphone panels) will reach approximately 1.85 billion pieces in 2023, reflecting a YoY increase of 8.7%.
09/22/2023 | Zhen Ding
Zhen Ding Technology Holding Ltd, a Taiwan-based company engaged in the design, development, and manufacturing of printed circuit board (PCBs) including rigid PCBs, flex PCBs, HDIs, substrate-like PCBs (SLP), and rigid-flex PCBs, has posted sales of NT$13.78 billion ($429.15 million at $1:NT$32.12) for August 2023, up by 33.7% from the previous month. Year-on-year, the company's August revenue was down by just 16.65%. 
09/22/2023 | Boeing
Boeing has announced a $10 million investment in the George W. Bush Presidential Center to support its museum and Veterans and Military Families programs. 
09/21/2023 | IDC
Global shipments for wearable devices returned to growth in the second quarter of 2023 (2Q23) reversing two quarters of decline, according to new data from the International Data Corporation (IDC) Worldwide Quarterly Wearable Device Tracker.