First Pair of Terran Orbital-Developed Spacecraft Operate in the GEO Belt
May 3, 2023 | Business Wire
Estimated reading time: 1 minute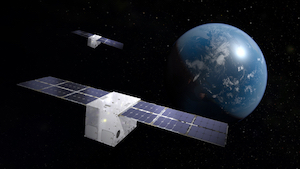 Terran Orbital Corporation), a global leader in satellite-based solutions primarily serving the aerospace and defense industries, announced mission success for the first pair of Terran Orbital-developed spacecraft operating in or around the geosynchronous orbit (GEO) belt. The two spacecraft were built for Lockheed Martin and successfully completed their on-orbit demonstration of the Lockheed Martin In-space Upgrade Satellite System, otherwise known as LM LINUSS™.
The two spacecraft, each consisting of a custom 12U solution based on Terran Orbital's heritage trestles platform, were successfully dispensed into orbit by Terran Orbital deployers in January, and have since been operating in the GEO belt region. Each spacecraft is equipped with a low-toxicity thruster system, a Lockheed Martin built electro-optical payload deck, and fully redundant critical bus subsystems to ensure the safety of flight during Rendezvous and Proximity Operations (RPO).
"With LM LINUSS operating near GEO, CAPSTONE orbiting the moon, and a fleet of Terran Orbital-developed low-earth-orbit spacecraft, we have proven that Terran Orbital busses can operate essentially anywhere," said Terran Orbital Co-Founder, Chairman, and Chief Executive Officer Marc Bell. "Working with Lockheed Martin is always a pleasure, and we are beyond grateful for the numerous opportunities they have given us. Together, we are charting the path for building constellations at scale, and are thrilled Lockheed Martin selected a Terran Orbital bus to propel this journey."
LM LINUSS is one of several RPO missions Terran Orbital is supporting, including NASA's CPOD mission, which is currently conducting RPO experiments in orbit, and IPERDRONE, a Tyvak International mission for the Italian Space Agency (ASI).
"Spacecraft RPO is one of Terran's core competencies," said Alex Pertica, Vice President of Space Domain Awareness at Terran Orbital, "RPO requires very exacting standards, in hardware, software, and systems – and we have been building our bus platforms to bolster these standards since day one." 
LM LINUSS can be considered two of the most capable pair of CubeSat in geosynchronous Earth orbit today. This capability is driven by the high density of the Terran Orbital bus combined with the spacecraft's payload accommodation and on-orbit processing – all qualities that will enable revolutionary future missions.
---
Suggested Items
09/26/2023 | GlobalFoundries
GlobalFoundries (GF) announced it has applied for U.S. CHIPS and Science Act Funding, with two full applications submitted to the CHIPS Program Office of the U.S. Department of Commerce.
09/25/2023 | HyRel
HyRel Technologies, a global provider of quick turn semiconductor modification solutions, proudly announces that it earned the prestigious AS9100 certification.
09/18/2023 | RTX
RTX business Collins Aerospace has been selected by BAE Systems as the provider for Large Area Display technology to be integrated into the cockpits of future Eurofighter Typhoon aircraft.
09/18/2023 | IPC
IPC Day France: Aerospace Electronics is an aerospace-focused networking event featuring key industry experts from NASA and Airbus and will take place on October 2, 2023 . 
09/14/2023 | CONFIDEE
CONFIDEE, a leading PCB partner, proudly announces its recent achievement of AS9120 certification. This prestigious certification highlights the company's commitment to excellence, quality, and customer satisfaction, making it a preferred choice for all defence and aerospace needs.