I-Connect007 Editor's Choice: Five Must-Reads for the Week
May 5, 2023 | Nolan Johnson, I-Connect007
Estimated reading time: 3 minutes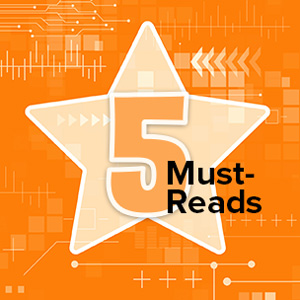 I'm not one to place bets, but I always feel better when the "universe" feels in alignment, such as this week's 5-5-5 (top five on the fifth month of the fifth day). Now, just for fun, did you know that the last day of this year will read 12/31/23—essentially, 123123? How's that for alignment? 
Well, there was a lot of semiconductor-related news this week, and we've posted several announcements in our industry-related news page here. I'd suggest searching for keywords, like advanced packaging, semiconductor, TSMC, and ASMC. You'll find plenty to slake your appetite for chips. While you're there, poke around and see all the other great content we're posting. 
This week, I'm identifying key news about EVs, orbital payloads, environmental sustainability, the state of the economy, and new executive leadership. I'd say it's a well-rounded selection of what's happening in the industry. I can't help but continue to be impressed by the pervasiveness of space commercialization. Satellites have a long history of being commissioned and operated by private business, but as commercial launch vehicles become more available, it seems that satellite launches are accelerating. Read on! 
BAE Systems, Eaton Collaborate on Electric Drive Solutions for Commercial Trucks 
Published May 2
Eaton and BAE are both major players in the EV component market, so a collaboration in commercial vehicles is not unexpected: "The companies will initially offer a solution for the medium-duty commercial truck platforms market, with a Class-7 pickup and delivery demonstration vehicle in development." EVs are a hot ticket, and we're not surprised to see collaboration among the component market, but how will this play out for consumers?
DuPont Publishes 2023 Sustainability Report 
Published May 1
In an announcement this week from DuPont's executive chairman and CEO, Ed Breen, the company outlines are number of sustainability initiatives it has implemented. "We are acting with urgency and are well-positioned to deliver the sustainable solutions needed today in the future," he said. Not only is this positive news to see a major supplier to our industry proactively taking such steps, their list of initiatives may trigger sustainability ideas for our readers as well. 
Cost Pressures Receding as Industry Expects Some Sector Growth in 2023 
Published May 2
This article's lead paragraph is a great summary: "Per IPC's April 2023 Global Sentiment of the Electronics Supply Chain Report, last month delivered a mixed bag of industry sentiment: cost pressures are receding; industry demand appears to be slowing; and industry expects growth in some sectors. "
Dig into the details that lead to this summary here.
Kenny Wilson Assumes CEO Role at Jabil 
Published May 1
For those who follow Jabil, the news that Kenny Wilson has officially assumed the role of CEO might be welcome news. Wilson is a long-time leader within Jabil and succeeds Mark Mondello who remains as executive chairman of the board.
Catching a Cool Vibe in Del Mar
Published May 4
We might all like to be feeling the soft ocean breeze of California's southern coast right about now, and that's why I'm highlighting the Del Mar Electronics & Manufacturing Show that took place in late April. We love the cool, relaxed feel of an electronics show inside the large tents of a fairgrounds. While parking was free, food trucks lined the venue, and you were more likely to see attendees dressed for casual Friday than a day at the corporate office, Del Mar still offers a spectacular opportunity to network. Don't discount these regional shows; they mean business.
First Pair of Terran Orbital-Developed Spacecraft Operate in the GEO Belt 
Published May 3
Finally, if you haven't heard, Terran Orbital successfully inserted two satellites into geosynchronous orbit. Based on a CubeSat type architecture, these are the first satellites developed by Terran Orbital, for Lockheed Martin. 
---
Suggested Items
09/28/2023 | KYZEN'
KYZEN, the global leader in innovative environmentally friendly cleaning chemistries, is proud to announce that it is sponsoring the Women's Leadership Program Connection Reception to be held at SMTA International.
09/28/2023 | Nolan Johnson, I-Connect007
The practical question around CHIPS Act development and electronics assembly is, "Will this change how we do business?" Indium Corporation's Dr. Andy Mackie sat down with Nolan Johnson to share what he sees as emerging answers to that question from his perspective as an expert in electronics assembly and packaging, and as a participant in standards development through IPC, JEDEC, and SEMI.
09/28/2023 | ZESTRON
ZESTRON is happy to announce that Senior Application Engineer, Ravi Parthasarathy, will be presenting "Revolutionizing PCB Assembly Cleaning:
09/28/2023 | IPC
IPC continues to collaborate with the electronics manufacturing industry to meet their current and future workforce training needs.
09/28/2023 | IPC
Though product demand weakened this month with Orders and Backlog Indexes slipping, overall electronics industry operations remain healthy per IPC's September 2023 Global Sentiment of the Electronics Supply Chain Report.