I-Connect007 Launches 'On the Line with...' Podcast with Series on Sustainability
May 12, 2023 | I-Connect007
Estimated reading time: 1 minute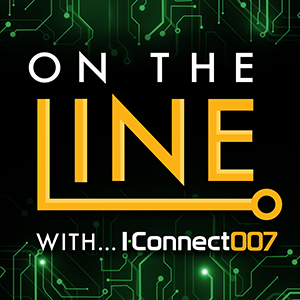 Expanding its avenues of content delivery, I-Connect007 is excited to announce the launch of our latest educational product, On the Line with..., available now on Spotify and coming soon on all major podcast platforms. In this podcast, we speak with industry experts to get the latest insights and perspectives on the most relevant topics in the electronics industry today.
The first series of On the Line with… features conversations on sustainability. Listeners can expect in-depth coverage as topic experts from Siemens explore the challenges and opportunities surrounding sustainability in manufacturing.
Join us for Episode 1, "Sustainability in PCB Design," as guests Patrick Hope and Pat McGoff discuss what sustainability means in the electronics manufacturing space. They'll set the agenda for the series and delve into key topics like design, validation, manufacturing, supply chain, and logistics.
The On the Line with... podcast series is the latest way I-Connect007 is committed to providing readers (and listeners) with a wide range of digital content and information to help them succeed in the industry. From magazines, books and newsletters to market reports and event coverage, we offer a variety of digital content to suit the needs of our reader community presented by the industry sector.
I-Connect007, part of IPC Publishing Group Inc., is the industry's longest-running media company and leading publisher of original, exclusive content for the global electronics industry. Our mission is to create original content to expand readers' knowledge to help them improve their businesses.
---
Suggested Items
09/28/2023 | KYZEN'
KYZEN, the global leader in innovative environmentally friendly cleaning chemistries, is proud to announce that it is sponsoring the Women's Leadership Program Connection Reception to be held at SMTA International.
09/28/2023 | Nolan Johnson, I-Connect007
The practical question around CHIPS Act development and electronics assembly is, "Will this change how we do business?" Indium Corporation's Dr. Andy Mackie sat down with Nolan Johnson to share what he sees as emerging answers to that question from his perspective as an expert in electronics assembly and packaging, and as a participant in standards development through IPC, JEDEC, and SEMI.
09/28/2023 | ZESTRON
ZESTRON is happy to announce that Senior Application Engineer, Ravi Parthasarathy, will be presenting "Revolutionizing PCB Assembly Cleaning:
09/28/2023 | IPC
IPC continues to collaborate with the electronics manufacturing industry to meet their current and future workforce training needs.
09/28/2023 | IPC
Though product demand weakened this month with Orders and Backlog Indexes slipping, overall electronics industry operations remain healthy per IPC's September 2023 Global Sentiment of the Electronics Supply Chain Report.