Northrop Grumman Advances the Frontier of Sensing Technology for Space Domain Awareness
June 1, 2023 | Northrop Grumman
Estimated reading time: 1 minute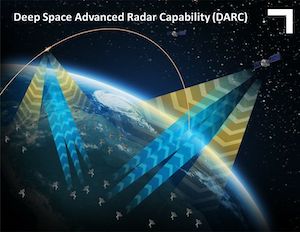 Northrop Grumman Corporation continues to advance the frontiers of sensing technology, successfully completing the Critical Design Review (CDR) and software demonstration for the U.S. Space Force's (USSF) Deep-Space Advanced Radar Capability Program (DARC).
Key milestones completed within 12 months of contract award include:
Preliminary Design Review
Critical Design Review
Initial software demonstration
Northrop Grumman Advances the Frontier of Sensing Technology for Space Domain Awareness
Artist Rendering (Credit: Northrop Grumman)
Expert:
"DARC will be the first to provide an all-weather, at all times capability in support of the space domain awareness mission that's critical to national and global security," said Pablo Pezzimenti, vice president, integrated national systems, Northrop Grumman. "The successful critical design review is demonstration of our ability to develop a complex, advanced system with agility and speed."
Details:
Following the completion of CDR, the program now turns its focus to the Factory Acceptance Testing of key subsystems starting later this year.
Current ground-based optical systems only operate at night and are impacted by weather conditions. DARC will deliver an all-weather, 24/7 capability to monitor the rapidly evolving geosynchronous orbital environment – providing the nation with enhanced space domain awareness. DARC will augment the military's space surveillance network as an additional sensor to monitor deep space objects, eventually providing full global coverage.
---
Suggested Items
09/28/2023 | TSMC
TSMC announced the new 3Dblox 2.0 open standard and major achievements of its Open Innovation Platform (OIP) 3DFabric Alliance at the TSMC 2023 OIP Ecosystem Forum.
09/28/2023 | Keysight Technologies, Inc.
Keysight Technologies, Inc., Synopsys, Inc., and Ansys announced a new reference flow for the TSMC N4PRF, the world's leading semiconductor foundry's advanced 4 nanometer (nm) radio frequency (RF) FinFET process technology.
09/27/2023 | Cherie Litson, CID+, Litson1 Consulting
Rigid-flex circuits are unique structures; part rigid board and part flex, they're increasingly working their way into many of the electronic devices we use every day. There have been many advances in rigid-flex lately as more companies find themselves exploring this technology. So, before I started writing this article about rigid-flex design, I double-checked a few things. Fortunately, there is plenty of rigid-flex information available on a variety of great websites that we all know and trust.
09/27/2023 | Brad Griffin, Cadence Design Systems
Another challenge for SerDes is losses within the channel design. At high speeds, dielectric material can be very lossy, making the appropriate selection of the right material, length, etc., critical for the channel. Many questions about stackup, trace widths, and height from the ground plane need to be defined up front. Simulating a signal with a topology explorer tool extracted from the design can be used to set up and run sweep parameters and push min/max length/spacing values into the Allegro schematic constraint manager (system capture).
09/27/2023 | Keysight Technologies, Inc.
Keysight Technologies, Inc. introduces Keysight EDA 2024, a tightly integrated suite of electronic design automation (EDA) software tools that ensures first pass success.