Siemens Collaborates with SPIL to Deliver a 3D Verification Workflow for Fan-out wafer-level Packaging
June 1, 2023 | Siemens
Estimated reading time: 1 minute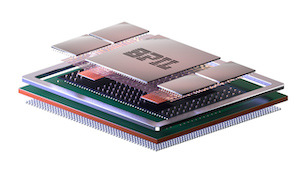 Siemens Digital Industries Software announced it has collaborated with leading Outsourced Assembly and Test (OSAT) company Siliconware Precision Industries Co., Ltd. (SPIL) to develop and implement a new integrated circuit (IC) package assembly planning and 3D layout vs. schematic (LVS) assembly verification workflow for SPIL's fan-out family of advanced IC packaging technologies. SPIL plans to deploy this differentiated capability across its 2.5D and fan-out package family technologies.
To meet ongoing global demand for ICs that deliver more performance and lower power consumption within ever smaller footprints, IC designs increasingly feature sophisticated packaging techniques such as 2.5D and 3D configurations. These techniques combine one or more ICs of different functionality with increased I/O and circuit density, which in turn requires the ability to create and review multiple assemblies and LVS, connectivity, geometry and component spacing scenarios. To help customers overcome challenges associated with deploying these advanced packaging technologies, SPIL selected Siemens' Xpedition™ Substrate Integrator software and Calibre® 3DSTACK software for package planning and 3D package assembly verification LVS for its advanced fanout family of package technologies.
"Our challenge was to develop and deploy a proven advanced packaging assembly planning and verification workflow that included comprehensive 3D LVS," said Dr. Yu Po Wang, vice president of CRD for Siliconware Precision Industries. "Siemens are a recognized leader in this space with a robust and proven workflow that we will use in production to validate our fan-out family of technologies."
SPIL's fan-out packaging family offers additional space for routing a higher number of I/O on top of the semiconductor's area and extending the package size with a fan-out process, which cannot be achieved with conventional advanced packaging technologies. 
"Siemens is pleased to collaborate with SPIL to define and deliver the workflow and technologies needed for their advanced packaging technologies," said AJ Incorvaia, senior vice president of Electronic Board Systems at Siemens Digital Industries Software. "As SPIL's customers continue to develop higher complexity designs, SPIL and Siemens stand ready to deliver the advanced workflows needed to bring these increasingly sophisticated designs to market."
---
Suggested Items
09/19/2023 | Andy Shaughnessy, Design007
Rigid-flex assembly brings its own set of issues, but designers can do quite a bit to make things easier on their downstream brethren. We asked IPC instructor Kris Moyer to give us the lowdown on DFA for rigid-flex circuitry.
09/07/2023 | Emerald EMS
Emerald EMS, an innovative solutions provider, is pleased to announce plans to exhibit in Booth #3815 at MD&M Minneapolis, scheduled to take place Oct. 10-11, 2023, at the Minneapolis Convention Center in Minneapolis, MN.
09/06/2023 | Yamaha Robotics
Yamaha Robotics will display the latest-generation 1 STOP SMART SOLUTION at A3.323 at Productronica 2023, bringing together the complete set of new YR series printers, surface-mounters and inspection machines.
09/06/2023 | ViTrox
ViTrox, which aims to be the world's most trusted technology company, is excited to announce that we will be participating in SMTA International (SMTAi), at Hall B, Booth #1316 at the Minneapolis Convention Center, MN, USA. SMTAi, the Midwest's Largest Electronics Manufacturing Event, will take place on the 10th and 11th of October 2023.
09/27/2023 | Michael Ford -- Column: Smart Factory Insights
The PCB has become a neglected component from the Smart assembly manufacturing perspective, wrongly regarded as just a "given" material. We need to put it right. PCB manufacturing needs to become Smart in order to make the local fabrication business model work as part of the holistic electronics' "smarter, secure, and sustainable" approach—what I'm calling the new three Ss of manufacturing.