Lumotive Partners with Hokuyo to Revolutionize 3D Lidar Sensing for Industrial Automation
June 1, 2023 | PRNewswire
Estimated reading time: 2 minutes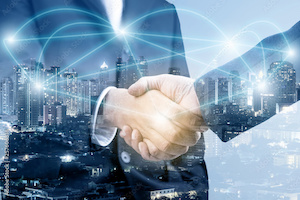 Lumotive, a company specializing in Light Control Metasurface (LCM) beam steering chips for advanced 3D optical sensors, and Hokuyo Automatic Co., Ltd., a worldwide producer of sensor and automation technology, have revealed a multi-year production contract. This partnership will expedite the deployment of essential sensor technology in robotics and autonomous systems applications.
Utilizing Lumotive's advanced truly solid-state beam steering chip, Hokuyo is preparing to produce a revolutionary 3D lidar sensor based on Lumotive's M30 reference design targeted for industrial applications. This trailblazing new product is expected to surpass conventional mechanical lidar and time of flight camera technology, fostering progress in Automated Guided Vehicles (AGV), Autonomous Mobile Robots (AMR), and other industrial applications. In addition, as part of this partnership, Hokuyo is using Lumotive's top-tier manufacturing partners and engineering expertise to bring their advanced sensing products to market faster.
Hokuyo Automatic is a global leader in manufacturing industrial automation sensors, including lidar sensors, which are used for robotics, material handling, and other industrial automation applications. Hokuyo Automatic chose Lumotive's LCM technology for its digital beam-steering capabilities, which enable the company to produce 3D sensing solutions that are more accurate, reliable, and cost-effective than current offerings.
Lumotive's patented technology, based on well-established semiconductor manufacturing technology, delivers the world's first solid-state metasurface beam steering chips ready for mass production. Lumotive's LCM chips enable unprecedented miniaturization, lower costs, and higher reliability compared to existing scanning lidar solutions. These advantages offer significant benefits across a wide range of applications in key industries including consumer electronics, industrial automation, and autonomous vehicles.
Lumotive-enabled solid-state 3D lidar sensors bring revolutionary advantages to real-world industrial automation. The large field of view and extended range in a compact form allows for seamless integration into diverse machinery, from robotics to conveyor systems. Its superior outdoor performance ensures reliable operations, even in expansive outdoor industrial sites or warehouses with challenging lighting conditions. The software-defined scan modes enable customization to specific tasks, such as precise object tracking on production lines or efficient navigation for AMRs. The system's ability to minimize interference and multipath effects results in better point cloud quality, which is crucial for accurate sensing in complex industrial environments.
"We are impressed with Lumotive's LCM optical semiconductor technology and believe that it will be a game-changer for the industrial automation market," said Hokuyo's President, Hitoshi Ozaki. "Lumotive's product delivers a new level of miniaturization, performance and reliability, which will enable us to expand our business with innovative 3D sensing solutions that could not be realized with conventional lidar scanning technology. We look forward to working with Lumotive to bring these solutions to market."
"Securing a design win of this stature is a notable accomplishment, and we are eager to move forward with Hokuyo Automatic in incorporating our LCM technology into our first industrial automation application," said Dr. Sam Heidari, CEO of Lumotive. "Hokuyo Automatic's expertise in industrial automation and sensor technology makes them an ideal partner to accelerate the adoption of our ground-breaking LCM semiconductor technology. This production supply agreement marks an important milestone for Lumotive, as we bring advanced 3D sensing solutions to the robotics and autonomous systems markets."
---
Suggested Items
09/26/2023 | Kirk Thompson, Isola Group
Despite being a leader in R&D investment in semiconductors and packaging with greater than $50 billion per year, the U.S. has seen its market share decrease to less than 3% in areas like advanced packaging and advanced substrates. The cause for this market share erosion was a laser focus in Asian countries to attract semiconductors and advanced packaging investment through ecosystem development and incentives. If the U.S. is serious about changing the momentum to onshore advanced packaging and advanced substrates, an ecosystem approach to innovation and manufacturing incentives must be employed. It is not enough to have the most innovative technology if the supply chain and manufacturing economics do not deliver competitive commercial opportunities.
09/25/2023 | StenTech
StenTech Inc., the leading multinational SMT Printing Solutions company, is pleased to announce plans to exhibit at the SMTA Guadalajara Expo, scheduled to take place Oct. 25-26, 2023 at the Expo Guadalajara in Guadalajara, Jalisco, Mexico.
09/22/2023 | ACN Newswire
Nanofiber Quantum Technologies Inc. raised $8.5m from leading venture capital investors. Phoenix Venture Partners (PvP) in the US, and Japan's JAFCO Group Co Ltd, SPARX Group Co Ltd, Keio Innovation Initiative, Inc. (KII), and Waseda University Ventures (WUV) financed the round through convertible notes.
09/26/2023 | Joe Fjelstad -- Column: Flexible Thinking
Despite what some seem to believe, rigid-flex circuits are not a new technology. In fact, they are more than a half-century old. At the time of the invention, my friend Thomas Sterns was working at Sanders Associates, the pioneering flex circuit manufacturer. Like many products in the first decades of printed circuit technology, they were working on a military application. The objective was to provide a reliable method for reducing the size, bulk, weight, and questionable reliability of wire harness assemblies while simultaneously reducing cost and assuring that human error might be minimized. These were all vitally important concerns for military and aerospace products.
09/21/2023 | ViTrox
ViTrox, which aims to be the world's most trusted technology company, is pleased to announce the addition of Hayden Dalton to our team as a Field Support Engineer who based in Milwaukee, WI, effective August 21, 2023.