Books

Featured Books

pcb007 Magazine

Latest Issues

Current Issue

Finding Ultra

New demands on PCB fabrication, namely advanced packaging, ultra high density interconnect (UHDI), and new specialty materials, are converging, changing the landscape of our business. Is it time to start paying close attention to this convergence?

Developing a Strategy

A solid strategy is a critical part of success. This month, we asked some of the top industry leaders and business strategy "gurus" to share their thoughts on developing strategies.

Winning With TQM

In this issue, we explore how TQM has entered the DNA of continuous improvement disciplines, and the role leadership transformation plays in this. If you've ever competed against a TQM company, you understand their winning advantage.

Columns

Latest Columns

||| MENU
AT&S Reports Milestones, Records in the Construction of New Microelectronics Centers
June 1, 2023 | AT&S
Estimated reading time: 3 minutes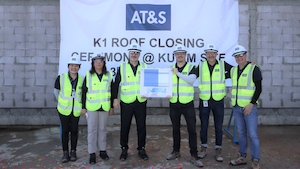 The big construction cranes in Leoben Hinterberg have disappeared and the view is unobstructed again. It is now easy to see which milestones and records AT&S has achieved within a very short period of time – not just at the headquarters in Leoben. The research and development center with its series production for IC substrate technology is in itself a lighthouse project.
"Setting up this technology outside of Asia and bringing an IC substrate production facility of this dimension to the western world for the first time is a one-of-a kind project in and for Europe," says project leader Nikolaus Bauer-Oeppinger and adds: "We are on schedule with the construction site and alongside the final exterior work, we started to move in the first production machines in April. Now there is nothing in the way of starting the qualification in the near future so that we can broaden our customer portfolio and supply our customers even faster and better."
The building envelope of the future R&D and IC substrate center, which will open as plant 3 alongside the two existing production facilities in Leoben Hinterberg, was put up in a record time of only 14 months. A mighty bridge made of glass and steel connects the new competence center with the existing plants.
Largest construction site in Styria
The figures associated with the 500-million-euro project are impressive and make it the largest construction site in Styria: at the peak of the activities in March and April, 1,100 people were working on the building site and the delivery of machines. 11,000 sqm of clean room production area were established and the gross floor area amounts to 39,000 sqm – that equals six soccer fields for microelectronics. 80,000 tons of concrete and 4,700 tons of steel were used. Enough cables were laid to span the distance from Leoben to Zagreb (270 km). Especially IC substrates – which are essential for the leading-edge applications in microelectronics – will be produced in Leoben from 2024 onwards: that is a first for Europe. AT&S thus underlines its role as an innovation driver and technology pioneer.
New machines of a completely different dimension will be used for this purpose: the special machinery and equipment required for the product miniaturization of future IC substrates allow us to advance to (printed circuit board) substrate structures 10 times thinner than a human hair.
Two and a half Eiffel Towers in Kulim
Another two key milestones have been achieved at the even bigger AT&S Kulim site as the key executives of AT&S from Austria and Malaysia celebrated the roof closing of its first production plant and the installation of first set of tools. Production will start in autumn 2024. The second production plant has been paused at the status wind and water tight. The ramp-up depends on how the market develops.
At AT&S Kulim site, there are approximately 5,000 construction workers performing different construction tasks at site to deliver the fast track construction progress. Here, the figures are extremely impressive, too: The Kulim project will have a clean room area of 120,000 sqm – this corresponds to an incredible size of 17 soccer fields. The 24,000 tons of steel would be enough to build 2.5 Eiffel Towers.
AT&S's Microelectronics Business Unit Executive Vice President Ingolf Schröder, comments: "I am tremendously delighted by the achievement of these two key milestones within 15 months after we broke the ground. They are victoriously accomplished after overcoming enormous health (pandemic), resources and logistical challenges." AT&S's Malaysia Managing Director Vittorio Villari, says: "The set-up of such a big plant has been achieved thanks to a pool of experienced talents and a matured electrical and electronics eco-system. AT&S collaborates with multinational corporations operating for more than 50 years in Malaysia, coupled with AT&S proprietary leading-edge high-end IC substrates technology."
With the Austrian-based new production and research center of competence at the headquarters in Leoben, the new plant in Kulim and the strong and established production sites in Chongqing, Shanghai (both China), Ansan (Korea) and Nanjangud (India) AT&S is convinced to be ahead of the game. With cutting-edge technology, quality and excellence in PCBs and IC substrates AT&S is part of the solution for the future.
---
Suggested Items
09/22/2023 | Dicro Oy
Dicro Oy is pleased to announce the expansion of Dicro into Narva, the third largest city in Estonia, where last week we started production in our new factory.
09/25/2023 | Don Ball -- Column: The Chemical Connection
If your HDI or UHDI production process is quality challenged, don't assume your etcher is to blame. Many factors impact the quality of the final product, so assess broadly, and you may find that the "the devil is in the details." Generally, the first place most people can get good product specification measurement is at the end of the etching process, It's natural and easy to blame quality shortcomings on the etcher. By all means, look at your etcher and invest some time trying to improve its performance but don't stop there. Other factors may be affecting the etch uniformity.
09/21/2023 | PRNewswire
Sharp Imaging and Information Company of America (Sharp) is announcing that it will be showing its new digital press technologies at the Printing United Expo, in Atlanta, Georgia from October 18 – 20, 2023.
09/21/2023 | ViTrox
ViTrox, which aims to be the world's most trusted technology company, is thrilled to announce its participation in NEPCON Asia 2023 after six years, at Booth #5D40 in Shenzhen World Exhibition & Convention Center from 11-13 October 2023.
09/18/2023 | ViTrox
ViTrox, which aims to be the world's most trusted technology company, is excited to announce that our trusted Sales Channel Partner (SCP) in Mexico, SMTo Engineering, S.A. de C.V., will be participating in SMTA Guadalajara Expo & Tech Forum. They will be exhibiting in Booth #911 from the 25th  to the 26th of October 2023,  at the Expo Guadalajara in Jalisco, Mexico.