I-Connect007 Editor's Choice: Five Must-Reads for the Week
June 2, 2023 | Nolan Johnson, I-Connect007
Estimated reading time: 3 minutes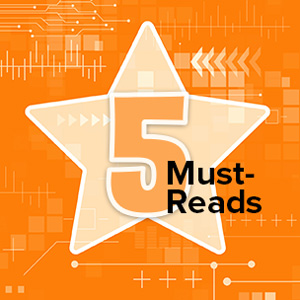 This week has been both speedy and newsy. Of course, those two characteristics often seem to travel as a pair, don't they? A four-day week here in the United States, accompanied by a wave of high-impact news from a wide variety of sources, would suggest that readers could be expected to spread out all over the news map. Not so much, judging from readership numbers; folks all found their highest value in the same type of news coverage. What do I mean by that? 
This week's list of must-reads is dominated by market reports as a result of that focused readership. On our list, we have PCB fabrication and EMS book-to-bill reports, a 10-year market forecast report, and a supply chain sentiment report. In addition, readers flocked to the EWPTE show coverage. Finally, we saw significant reader interest in the most recent podcast on sustainability in our logistical operations. 
EWPTE, the Cable and Wire Harness Industry's Exclusive Trade Show Draws More than 3,000 Attendees 
Published May 26 
Wire harnesses and cabling share a close connection (see what I did there?) with board assembly. So, it would follow that there might be a close affiliation between EMS companies and the Electrical Wire Processing Technology Expo (EWPTE), held by the Wiring Harness Manufacturer's Association (WHMA) in Milwaukee, Wisconsin, May 16-18. Readership was strong for this article. No surprise, either, that attendance also was stronger than expected.  
Readers interested in this article should also find Happy Holden's dispatch from the event to be of interest here.   
North American PCB Industry Sales Up 12.1% in April 
Published May 26 
April numbers in the IPC surveys show a mixed result. Shipments are strong, while bookings are softer. Shawn DuBravac, IPC chief economist, share his thoughts on why. Also published and inter-related is IPC's EMS market report here.  
Sustainability in Logistics: Reducing Your Carbon Footprint 
Published May 31
Now available on I-007e Podcasts and Spotify, Episode 4 of I-Connect007's new podcast, On the Line with… features an interview with Christian Wendt, marketing and communications department head at Siemens Digital Logistics. Wendt discusses the most obvious area of concern for logistics sustainability: reduction of the carbon footprint. Fossil fuel costs are one thing, but Wendt explains a wide variety of logistics-related areas to consider, ranging from employee burnout to governmental regulations and how they vary from country to country. 
Electronics Manufacturers Reporting Cautious Optimism, Especially for Second Half of 2023 
Published May 31 
Market reports from IPC were in high demand for readers this week. This news item teases the May 2023 Global Sentiment of the Electronics Supply Chain report. IPC chief economist Shawn DuBravac's team shares data and analysis that suggests cost pressures are receding, and demand currently remains positive. The article uses the phrase "cautiously optimistic." Learn more about what DuBravac summarized, and read the full report, here. 
EMS Market to Surpass $794.32 Billion, at 4.27% CAGR By 2030 
Published May 29 
This piece received a lot of reader attention. The article summarizes a number of factors contributing to this growth, both market-driven and internal/process driven. For example, this passage: 
"With the introduction of advanced automation solutions and the rise of Industry 4.0 systems, the electronics manufacturing services market is projected to experience continual innovations in manufacturing processes and technology. These technologies are intended to aid in the optimisation of production costs, resulting in increased profitability for EMS service providers. Furthermore, the rising demand for artificial intelligence-based electrical goods and solutions is expected to propel the EMS industry in the coming years. Along with automation, miniaturisation is another trend that is predicted to boost the growth of the EMS industry." 
Read the article here to learn what else will be driving the EMS industry for the next 10 years.
---
Suggested Items
09/28/2023 | SIA
The Semiconductor Industry Association (SIA) announced Geoff Martha, chairman and CEO of healthcare technology leader Medtronic, will be the keynote presenter at the 2023 SIA Awards Dinner on Thursday, Nov. 16 in San Jose, Calif.
09/28/2023 | GlobalFoundries
GlobalFoundries (GF) announced the official opening of a new hub facility in Penang, Malaysia.
09/27/2023 | HyRel
HyRel Technologies, a global provider of quick turn semiconductor modification solutions, is proud to announce that Brian Watson, the company's Founder and President, will be a featured presenter at SMTA International. The event is scheduled to take place on Tuesday, October 10.
09/27/2023 | IFR
The new World Robotics report recorded 553,052 industrial robot installations in factories around the world – a growth rate of 5% in 2022, year-on-year.
09/26/2023 | Miles Moreau, KIC
The U.S. Chips Act Propels Collaboration Between Semiconductor Manufacturers and Equipment Suppliers In today's rapidly evolving world, the semiconductor industry stands as a driving force across economies and industries, propelling progress through technological advancements. The U.S. Chips Act emerges as a game-changing legislation aimed at redefining America's semiconductor manufacturing prowess. The Act sets forth a clear mission: bolster domestic chip production, reinforce national security, and stimulate economic growth.