Element Solutions Announces Two Strategic Semiconductor Transactions
June 5, 2023 | Business Wire
Estimated reading time: 3 minutes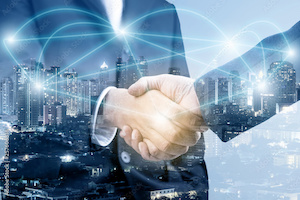 Element Solutions Inc., a global and diversified specialty chemicals company, announced two transactions to enhance its capabilities and deepen customer relationships in advanced electronics materials markets. Together, these transactions represent approximately $15 million of annualized adjusted EBITDA with significant growth potential as electronics markets improve and certain new technologies win customer qualifications.
Element Solutions has agreed to pay $185 million, net of estimated cash tax benefits, to Entegris, Inc. to terminate its long-standing distribution agreement for ViaForm® electrochemical deposition products. These wafer level plating products for the world's largest semiconductor fabricators are currently developed and manufactured by MacDermid Alpha Electronics Solutions, a business unit of Element Solutions, and have been distributed by Entegris under an evergreen distribution agreement. Following a transition period, Element Solutions will manage all aspects of the ViaForm® product line in-house, which we believe will result in a more efficient supply chain and improved customer outcomes. The payment will be funded by a combination of cash on hand and an incremental $150 million borrowing under the Company's senior credit facility.
Element Solutions has acquired Kuprion, Inc., a developer of next-generation nano-copper technology to the semiconductor, circuit board and electronics assembly markets. The company's ActiveCopper™ technology addresses the effects of thermal expansion and offers superior performance and reliability in a host of growth applications, including electric vehicles, high frequency 5G networks, IC substrate manufacturing, advanced packaging, mission critical aerospace and defense systems, and datacenters. This transaction has been structured with an upfront payment and potential earn-out payments based on milestones associated with product qualification and revenue over several years.
President and Chief Executive Officer Benjamin Gliklich said, "These transactions deepen our relationships and capabilities in compelling, long-term growth markets propelled by the proliferation of high-performance computing supporting artificial intelligence, industrial automation, and other emerging applications. The current weakness in the electronics sector represents an attractive opportunity to invest and position ourselves for the inevitable recovery. Entegris has been a solid long-term partner distributing our ViaForm® technology. Over time, however, we both agreed that unified responsibility of all aspects of the product cycle - from innovation and manufacturing through to sales and support - would be best for our customers and the growth of the product line. These products are integral to semiconductor production at the largest fabricators in the world and strengthen our relationships and value-proposition to this important supply chain. The transaction is revenue growth, margin, and CRI (Cash Return on Investment) accretive and should increase the contribution of our Electronics segment to the Company's annual adjusted EBITDA to over 70%. We thank Entegris and its legacy companies for their partnership over 20 years and for the strong commercial position they helped build. We look forward to providing an improved offering to our customers."
Mr. Gliklich continued, "Our acquisition of Kuprion brings another highly-differentiated capability to our portfolio together with the world-class R&D and applications team who developed it. Their technology is designed to solve the increasingly difficult challenges associated with thermal management and adhesion in leading-edge electronics. We believe this represents industry-changing technology with broad applications across our portfolio, from semiconductor packaging to IC substrate metallization and electronics assembly. Combining Kuprion's solutions and technical capability, already sought after by many of our largest customers, with our breadth of sales, service and applications expertise will create tremendous growth opportunities."
Mr. Gliklich concluded, "The transactions we are announcing today together are immediately accretive to adjusted earnings per share (EPS) and result in a sizeable cash tax benefit. We expect a net debt to adjusted EBITDA ratio of 3.6x at the end of the second quarter of 2023, which we expect to return below our 3.5x long-term target by the third quarter and decline even further in the fourth quarter of this year. We believe this is appropriate given these unique capital allocation opportunities, which enhance growth opportunities and business quality and which were available at reasonable valuations in this market window."
---
Suggested Items
12/07/2023 | VDL Groep
VDL Groep has strengthened its position in the high-quality electronics market. The industrial family business with its head office in Eindhoven has acquired Rena Electronica from Zundert.
12/05/2023 | HANZA
HANZA AB has signed an agreement to acquire all shares in Orbit One AB, a Swedish company that offers contract manufacturing of electronics and electromechanics. Orbit One has annual sales of approximately SEK 1.1 billion with an operating profit (EBITA) of approximately SEK 70 million.
12/05/2023 | IPC
Electronics industry sentiment improved during November with demand sentiment also taking a solid step up over the last 30 days per IPC's November 2023 Global Sentiment of the Electronics Supply Chain Report.
12/05/2023 | Robert Erickson and Lorena Villanueva, IPC
About 200 kilometers (125 miles) north of Mexico City lies Queretaro, an area rich in history, with stone streets and public squares, and which twice has been the country's capital. But it's also quickly becoming a global capital of electronics manufacturing, especially aeronautics, and was the location for the first IPC Day Mexico this past June.
12/04/2023 | USPAE
Seven microelectronics firms received nearly $10 million in combined funding to commercialize technologies of interest to the U.S. military services as winners of the Defense Business Accelerator (DBX) Microelectronics Challenge. This groundbreaking initiative is funded by the Department of Defense (DoD) and led by the U.S. Partnership for Assured Electronics (USPAE).