Renesas Completes Acquisition of Panthronics
June 5, 2023 | Business Wire
Estimated reading time: 1 minute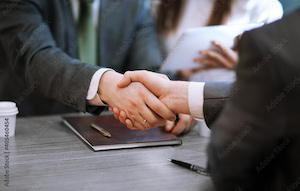 Renesas Electronics Corporation, a premier supplier of advanced semiconductor solutions, today announced its successful completion of acquiring Panthronics AG, a fabless semiconductor company specializing in high-performance wireless products. The acquisition was completed as of June 2, 2023 JST, June 1, 2023 CEST, following required regulatory approval. Renesas also announced 13 "Winning Combination" solution designs that combine Renesas' products with Panthronics' unique Near-Field Communication (NFC) technology, showcasing the continued expansion of Renesas' portfolio, specifically in the connectivity space.
"We are excited to welcome the Panthronics team to Renesas, and announce 13 Winning Combinations showcasing the technological synergy between the companies on the same day," said Sailesh Chittipeddi, Executive Vice President & General Manager of the Embedded Processing, Digital Power and Signal Chain Solutions Group. "These Winning Combinations unite Renesas' broad range of embedded processing, power, connectivity, and analog portfolios with Panthronics' NFC technology, providing customers with turnkey NFC solutions."
NFC is now widely used in our daily life, and its market is expected to grow exponentially for both industrial and automotive use cases. Headquartered in Graz, Austria, Panthronics has been offering advanced NFC chipsets and software that are easy to apply, small-in-size, and highly efficient for payment, IoT, asset tracking and wireless charging.
The acquisition provides Renesas with in-house capability to instantly capture growing market opportunities for NFC. With Panthronics' NFC expertise and skilled engineering talent, Renesas will be able to offer customers a compelling breadth of connectivity solutions in growing areas spanning fintech, IoT, and automotive spheres.
To immediately demonstrate the companies' technological advantages, Renesas announced 13 Winning Combinations integrating Renesas' embedded processing, power, connectivity, and analog portfolios with Panthronics' unique NFC technology. These market-ready reference designs allow customers to instantly start developing NFC systems with minimal cost and time. Panthronics' devices are also part of Renesas Quick-Connect IoT, a platform of standardized hardware, and the Quick-Connect Studio which enables the "drag and drop" feature in system design to quickly and easily add required functions and features.
---
Suggested Items
11/30/2023 |
The goal of the collaboration is to promote the standardization of post-quantum cryptography.
11/30/2023 | PRNewswire
Hyundai Mobis is poised to secure new orders for premium vehicle displays, characterized by large screens, high definition, and slim design, using a fusion of innovative technologies targeting global automakers.
11/30/2023 | Aoshikang
On November 28, Aoshikang Technology Co., Ltd., a prominent player among the world's top 100 PCB companies, held a grand topping-out ceremony for its Thailand-based production base, SUNDELL Technology Co., Ltd.
11/29/2023 | Intel
Ahead of Enlit Europe, Intel announced that its technology is helping power the Edge for Smart Secondary Substations (E4S) Alliance's new solution to modernize the energy grid.
11/29/2023 | HyRel
HyRel Technologies, a global provider of quick turn semiconductor modification solutions, is pleased to announce a strategic partnership with EQC Southeast as its manufacturers' representative.