Carol Handwerker Appointed to NIST Advisory Committee
June 6, 2023 | Michelle Te, I-Connect007
Estimated reading time: 2 minutes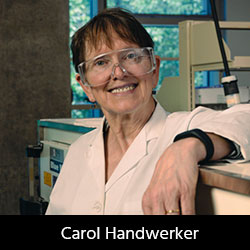 We often hear words and phrases that naturally go together: Salt and pepper, touch and go, trace and space.
When it comes to the work of IPC member Carol Handwerker, however, the collocations are much more nuanced, deeper, and have greater significance. You're more likely to think of phrases such as standards and technology, lead-free and solder, or advanced packaging and heterogeneous integration. These are just some examples of Carol's lifelong work in materials engineering, involvement with governing bodies, and a forward-thinking approach to electronics manufacturing that has spanned more than three decades.
Her latest participation is an appointment to the Industrial Advisory Committee, an extension of the National Institute of Standards and Technology (NIST), where she joins 23 other members in advising the U.S. Department of Commerce on the science and technology needs of the nation's domestic microelectronics industry. 
Carol currently serves as the Reinhardt Schuhmann Jr. Professor of Materials Engineering, Environmental and Ecological Engineering at Purdue University. She formerly worked at NIST, where she became chief of the Metallurgy Division. She is well-known for her research on determining the best options for solder that connect electronic components to circuit boards, focusing on almost any physical condition that a circuit board could encounter.
Her current research is part of the U.S. Partnership for Assured Electronics (USPAE) and is backed by a $40 million U.S. Department of Defense contract. (Click here to learn more about her research.)
But the NIST appointment is something altogether different. Her work on the committee, alongside three other representatives from academia, is to provide guidance to the federal government in relation to the recently passed CHIPS and Science Act, which has appropriated $52 billion toward bolstering the semiconductor industry in the United States.
"It's an incredible opportunity to be appointed to this committee because of my perspective, both from having been a lead in advanced packaging at NIST, seeing and believing in the mission of NIST, and knowing the strengths that can be brought to the table when academia, companies, and government work together," she says. "As a result, I have some strong views about priorities for the program."
The committee, which also includes IPC Board Member and packaging leader Meredith LaBeau of Calumet Electronics, has begun the discussions about how to best advise the Department of Commerce and what must be advised upon.
Committee members, representing companies ranging from Intel and Microsoft to Ford Motor Company, Qualcomm, and the Potomac Institute for Policy, will provide assessments of research and development (R&D) programs and activities authorized under Section 9906 of the CHIPS Act.
"My impression is that this is an incredibly knowledgeable, insightful, and powerful group," Carol says. "They are taking on these roles for the good of the country."
It's an important point to make, she says, that each comes to the committee not as an individual, but as one representing a specific sector or organization. "They were very clear when they sent the invitation that we're not supposed to leave our day jobs behind. We must bring those insights to bear on the committee."
To read the rest of this article, which appeared in the Spring 2023 issue of IPC Community, click here.
---
Suggested Items
09/28/2023 | Nolan Johnson, I-Connect007
The practical question around CHIPS Act development and electronics assembly is, "Will this change how we do business?" Indium Corporation's Dr. Andy Mackie sat down with Nolan Johnson to share what he sees as emerging answers to that question from his perspective as an expert in electronics assembly and packaging, and as a participant in standards development through IPC, JEDEC, and SEMI.
09/27/2023 | Nihon Superior Co. Ltd.
Nihon Superior Co. Ltd. is pleased to announce that Keith Sweatman, the company's Senior Technical Advisor, will deliver a presentation titled "A Path to Ductile Low-Temperature Solders for Mass Production of Electronic Assemblies" at the upcoming SMTA International conference and exposition.
09/27/2023 | Hentec Industries/RPS Automation
Hentec Industries/RPS Automation, a leading manufacturer of selective soldering, lead tinning and solderability test equipment, is pleased to announce that Kyocera International has finalized the purchase of a Hentec/RPS Odyssey 1325 robotic hot solder dip component lead tinning machine. 
09/26/2023 | Conecsus Metals México
Conecsus Metals México, an innovative environmental technology and recycling company, will exhibit at the SMTA Foro Tecnico & Expo, Guadalajara, Jalisco, México, on Wednesday, October 25, 2023, beginning at 11:00 a.m.
09/21/2023 | Thermaltronics USA, Inc.
Thermaltronics USA, Inc., a globally acclaimed manufacturer of Precision Soldering Robots and innovative Curie point soldering systems, is excited to announce its participation in the highly anticipated SMTA Guadalajara Expo & Tech Forum, scheduled to take place from October 25-26, 2023.