Global Semiconductor Sales Increase 0.3% Month-to-Month in April
June 8, 2023 | SIA
Estimated reading time: 1 minute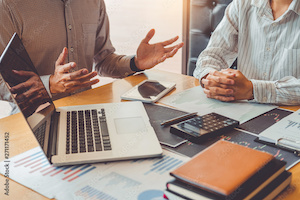 The Semiconductor Industry Association (SIA) today announced global semiconductor industry sales were $40.0 billion during the month of April 2023, an increase of 0.3% compared to the March 2023 total of $39.8 billion and 21.6% less than the April 2022 total of $50.9 billion. Monthly sales are compiled by the World Semiconductor Trade Statistics (WSTS) organization and represent a three-month moving average. Additionally, a newly released WSTS industry forecast projects annual global sales will decrease 10.3% in 2023 and then rebound with growth of 11.9% in 2023. SIA represents 99% of the U.S. semiconductor industry by revenue and nearly two-thirds of non-U.S. chip firms.
"The global semiconductor market remains in a cyclical downturn, exacerbated by sluggish macroeconomic conditions, but month-to-month sales ticked up for the second consecutive month in April, perhaps foreshadowing a continued rebound in the months ahead," said John Neuffer, SIA president and CEO. "The latest industry forecast projects a double-digit dip in global chip sales for 2023, followed by a strong rebound in 2024."
Regionally, month-to-month sales in April increased in China (2.9%) and Japan (0.9%), but decreased in Europe (-0.6%), the Americas (-1.0%), and Asia Pacific/All Other (-1.1%). Year-to-year sales in April were up in Europe (2.3%), but down in Japan (-2.3%), the Americas (-20.5%), Asia Pacific/All Other (-23.9%), and China (-31.4%).
Additionally, SIA endorsed the WSTS Spring 2023 global semiconductor sales forecast, which projects annual global sales will be $515.1 billion in 2023, down from the 2022 sales total of $574.1 billion. In 2024, global sales are projected to reach $576.0 billion, which would be the industry's highest-ever total. WSTS tabulates its semi-annual industry forecast by gathering input from an extensive group of global semiconductor companies that provide accurate and timely indicators of semiconductor trends.
---
Suggested Items
12/01/2023 | Silicon Mountain
Silicon Mountain, a leading electronic manufacturing company, is pleased to announce its participation in the 3rd Annual Idaho Manufacturing Industry Trade Show & Conference, hosted by the Idaho Manufacturing Alliance.
12/01/2023 | IPC
The Wiring Harness Manufacturer's Association (WHMA) is accepting nominations for three recognition awards — Hall of Builders, Hall of Fame and Volunteer Excellence.
12/01/2023 | SEMI
Aiming to reduce global semiconductor ecosystem carbon emissions, SEMI and the Semiconductor Climate Consortium (SCC) have created the Energy Collaborative (EC) to understand and clear roadblocks to the installation of low-carbon energy sources in the Asia-Pacific region.
12/01/2023 | Mycronic AB
Mycronic AB has received an order for an SLX mask writer from an existing customer in Asia. The order value is in the range of USD 5-7 million. Delivery of the system is planned for the second quarter of 2024.
11/29/2023 | HyRel
HyRel Technologies, a global provider of quick turn semiconductor modification solutions, is pleased to announce a strategic partnership with EQC Southeast as its manufacturers' representative.