Global Semiconductor Sales Increase 0.3% Month-to-Month in April
June 8, 2023 | SIA
Estimated reading time: 1 minute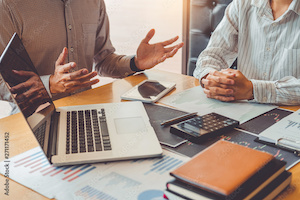 The Semiconductor Industry Association (SIA) today announced global semiconductor industry sales were $40.0 billion during the month of April 2023, an increase of 0.3% compared to the March 2023 total of $39.8 billion and 21.6% less than the April 2022 total of $50.9 billion. Monthly sales are compiled by the World Semiconductor Trade Statistics (WSTS) organization and represent a three-month moving average. Additionally, a newly released WSTS industry forecast projects annual global sales will decrease 10.3% in 2023 and then rebound with growth of 11.9% in 2023. SIA represents 99% of the U.S. semiconductor industry by revenue and nearly two-thirds of non-U.S. chip firms.
"The global semiconductor market remains in a cyclical downturn, exacerbated by sluggish macroeconomic conditions, but month-to-month sales ticked up for the second consecutive month in April, perhaps foreshadowing a continued rebound in the months ahead," said John Neuffer, SIA president and CEO. "The latest industry forecast projects a double-digit dip in global chip sales for 2023, followed by a strong rebound in 2024."
Regionally, month-to-month sales in April increased in China (2.9%) and Japan (0.9%), but decreased in Europe (-0.6%), the Americas (-1.0%), and Asia Pacific/All Other (-1.1%). Year-to-year sales in April were up in Europe (2.3%), but down in Japan (-2.3%), the Americas (-20.5%), Asia Pacific/All Other (-23.9%), and China (-31.4%).
Additionally, SIA endorsed the WSTS Spring 2023 global semiconductor sales forecast, which projects annual global sales will be $515.1 billion in 2023, down from the 2022 sales total of $574.1 billion. In 2024, global sales are projected to reach $576.0 billion, which would be the industry's highest-ever total. WSTS tabulates its semi-annual industry forecast by gathering input from an extensive group of global semiconductor companies that provide accurate and timely indicators of semiconductor trends.
---
Suggested Items
09/25/2023 | StenTech
StenTech Inc., the leading multinational SMT Printing Solutions company, is pleased to announce plans to exhibit at the SMTA Guadalajara Expo, scheduled to take place Oct. 25-26, 2023 at the Expo Guadalajara in Guadalajara, Jalisco, Mexico.
09/25/2023 | Camtek
Camtek Ltd., together with FormFactor, Inc., are pleased to announce that they have entered into an agreement for the acquisition by Camtek of FormFactor, Inc.'s FRT Metrology business for $100 million in cash, subject to customary purchase price adjustments.
09/22/2023 | IPC
Join fellow EMS leaders in the region on Oct 5, 2023, 4:30 - 8:00pm EDT, to share industry pain points and solutions. Our focus for this meeting is how companies profitably reach the next level of revenue. Following a presentation on the current EMS market and revenue tiers in the industry, participants will discuss how to reach the next level and grow their business. Discussion will pull from direct experience, questions, and ideas. From there, the conversation goes where you, the leaders, take it. Every roundtable ends in unique takeaways.  
09/21/2023 | Intraratio
Intraratio, a provider of enterprise software solutions, is pleased to announce its participation in the SMTA Guadalajara Expo and Tech Forum 2023.
09/21/2023 | SEMI
The SEMI Semiconductor Climate Consortium (SCC) issued its first report of the semiconductor ecosystem's greenhouse gas (GHG) emissions profile, an in-depth analysis of the semiconductor value chain's carbon footprint and priority-ranked carbon emission sources for the industry to address.