KP Performance Antennas Launches New Line of RET Antennas
June 9, 2023 | KP Performance Antennas
Estimated reading time: 1 minute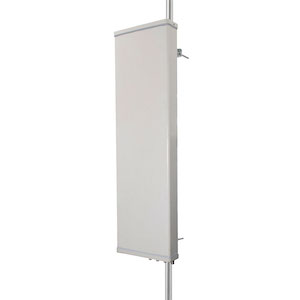 KP Performance Antennas, an Infinite Electronics brand and a manufacturer of wireless network antennas, has announced the launch of a new line of remote electrical tilt (RET) antennas for wireless communication networks.
The new RET antennas are designed to provide enhanced network coverage and capacity while reducing maintenance costs. They are ideal for use in LTE, 5G and other cellular networks.
KP's new RET antennas feature AISG 2.0 remote electrical tilt technology, available in 2° to 12° or 0° to 10° options, that allows for precise antenna adjustments. With this capability, network operators can adjust the tilt of the antenna remotely. This helps to optimize the coverage and capacity of the network, which is particularly useful in areas with varying terrain or high interference. Being able to remotely control the coverage also enables antenna adjustments without costly tower climbs or network downtime.
The RET antennas have options for two, four or six connector ports. This allows for multiple frequencies to be covered with one antenna and reduces the need for additional hardware.
The new antennas have 4.3-10 female connectors and offer low passive intermodulation, ensuring that the signal quality remains high and stable. 
Additionally, KP's RET antennas are designed to cover global 5G bands in 1710-2690 MHz or 694-960 MHz omni, making them ideal for use in a wide range of applications.
"Our new RET antennas offer real-time adjustments to the antenna's radiation pattern, enabling network operators to optimize network performance. These products can withstand harsh weather and offer high-gain performance, making them suitable for a wide range of applications," said Kevin Hietpas, Antenna Product Line Manager.
---
Suggested Items
09/25/2023 | Alison James
"Electronics systems are at the heart of almost all modern technology. The performance and functionality of these systems have increased at breathtaking speed, chiefly as a result of advancements in semiconductor technology. Semiconductors do not function in isolation," writes Alison James, IPC senior director of government relations, in a 2023 report for the European Commission's Directorate General for Internal Market, Industry, Entrepreneurship. "These electronics systems feature prominently in key sectors like defence, aerospace, space, automotive, medical, and high-performance computing, but electronics are vital to every industry and are central to a variety of EU priorities, including the twin digital and green transitions and Europe's technological sovereignty."
09/21/2023 | TrendForce
Fueled by an AI-driven inventory stocking frenzy across the supply chain, TrendForce reveals that Q2 revenue for the top 10 global IC design powerhouses soared to US $38.1 billion, marking a 12.5% quarterly increase.
09/19/2023 | indie Semiconductor
indie Semiconductor, an Autotech solutions innovator, announced it has entered into a definitive agreement and completed the acquisition of privately held EXALOS AG, a Swiss photonics company, specializing in the design of high-performance optical semiconductors.
09/19/2023 | StratEdge
StratEdge Corporation will present its thermally-efficient line of post-fired and molded ceramic semiconductor packages at several upcoming events including European Microwave Week (EuMW), September 19-21, IMAPS International, October 3-4, and IEEE BCICTS, October 16-17.
09/18/2023 | Matrix Electronics
This past year Matrix introduced the Advanced Engineering PMA101-CPB Mylar Peeler to the North American market. The PMA101-CPB Mylar Peeler is one of the most successful products in this category with over 200 units sold globally. This latest version of the mylar peeler was released in mid-2022 with a fully enclosed cabinet and upgraded PLC to support growing Industry 4.0 requirements in the PCB fab market. This machine can operate as a standalone unit or be combined with Advanced Engineering SRV automated load, unload equipment to connect to a customer's DES line.