Entegris Breaks Ground for Manufacturing Center of Excellence in Colorado Springs
June 9, 2023 | Entegris
Estimated reading time: 2 minutes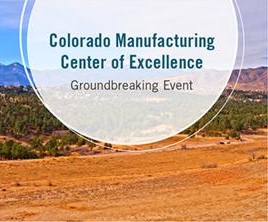 Entegris, Inc., a leading supplier of advanced materials and process solutions for the semiconductor and other high-technology industries, held a groundbreaking ceremony for its new manufacturing center of excellence in Colorado Springs, Colorado.
At the ceremony, Entegris President and Chief Executive Officer Bertrand Loy noted that the state-of-the-art facility in Colorado Springs will develop products critical to the manufacturing of semiconductors in the United States and around the world. The new leading-edge manufacturing center will serve the semiconductor industry, which is expected to grow to $1 trillion by 2030. Entegris' commitment to innovation and investment in leading-edge manufacturing and supply chain operations will strongly position Entegris – and its customers – for success, and further bolster Colorado's and the U.S.'s position as a technology, manufacturing, and innovation leader across the semiconductor ecosystem.
The new campus, which is targeted to begin initial commercial operation in early 2025, will be built in phases. The 100,000-square-foot facility to be built in the initial phase will support production for Entegris' Microcontamination Control (MC) and Advanced Materials Handling (AMH) divisions. Upon completion, the facility will increase production capabilities for Entegris' most advanced products for filtration and purification as well as wafer carriers, also known as Front-Opening-Unified Pods (FOUPs). The center of excellence will play an important role in the Colorado Springs community and has the potential to create approximately 600 new jobs over several years. Entegris continues to expect to invest approximately $600 million in phases over several years in the facility and is looking forward to working with the city, county, and state to integrate the site and surrounding land into the community in a way that preserves the natural beauty of Colorado Springs.
"The start of construction of our new world-class facility in Colorado Springs represents an important milestone for Entegris," Loy said. "The semiconductor manufacturing industry is set to expand in the United States following the passage of the CHIPS and Science Act, and Entegris' manufacturing center of excellence will enable our organization to play a meaningful role in this important effort. With our large state-of-the-art facility, we will help shorten the supply chain and more efficiently meet the growing needs of domestic manufacturers. We are pleased to have found an innovative and competitive home in Colorado Springs, and we look forward to building on our 30-year history in the region while enhancing our leadership position in the semiconductor ecosystem."
According to Bill Shaner, president, Advanced Materials Handling, "As we break ground on our new manufacturing center of excellence, we are thrilled to double our presence in Colorado and meaningfully expand our manufacturing footprint in the U.S. We look forward to developing critical products for the future, bringing new jobs to Colorado and supporting U.S. advanced manufacturing. We are grateful to the Colorado Springs community, our dedicated employees and local, state, and federal officials whose sustained government support will help fuel Entegris' future innovation."
Among the community leaders attending the groundbreaking were Johnna Reeder Kleymeyer, president & CEO, Colorado Springs Chamber of Commerce and Economic Development Corporation; Chris Jenkins, CEO of Norwood Development Group; Cami Bremer, El Paso County Commissioner; and the city's recently elected mayor, Yemi Mobolade.
---
Suggested Items
12/01/2023 | Silicon Mountain
Silicon Mountain, a leading electronic manufacturing company, is pleased to announce its participation in the 3rd Annual Idaho Manufacturing Industry Trade Show & Conference, hosted by the Idaho Manufacturing Alliance.
11/30/2023 | BUSINESS WIRE
Ciena, a U.S.-based networking systems, services and software company, is adding domestic manufacturing through an expanded agreement with global diversified manufacturer Flex.
11/30/2023 | Keysight Technologies, Inc.
Keysight Technologies, Inc. announces that Arbe has selected the E8719A Radar Target Solution (RTS) to test the Arbe 4D imaging radar chipset for automotive applications.
11/29/2023 | TT Electronics
TT Electronics, a global provider of custom power solutions and engineered technologies, has announced that its Power and Control business has officially opened its new state-of-the-art research, development and manufacturing facility.
11/29/2023 | Dana Korf -- Column: Dana on Data
November's issue of Design007 Magazine had an excellent theme that evolved around design simplification. There were exceptionally good articles about how to reduce over-constrained or needlessly complex designs. One significant time-consuming category is the creation of many design files and drawings which lead to lengthy creation and interpretation time along with the considerable time to resolve conflicting or erroneous information.