Books

Featured Books

pcb007 Magazine

Latest Issues

Current Issue

Finding Ultra

New demands on PCB fabrication, namely advanced packaging, ultra high density interconnect (UHDI), and new specialty materials, are converging, changing the landscape of our business. Is it time to start paying close attention to this convergence?

Developing a Strategy

A solid strategy is a critical part of success. This month, we asked some of the top industry leaders and business strategy "gurus" to share their thoughts on developing strategies.

Winning With TQM

In this issue, we explore how TQM has entered the DNA of continuous improvement disciplines, and the role leadership transformation plays in this. If you've ever competed against a TQM company, you understand their winning advantage.

Columns

Latest Columns

||| MENU
Peters' New Machine Ensures High Quality
September 14, 2023 | Peters
Estimated reading time: 2 minutes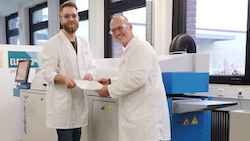 For Peters, the new Reflow 1.8. soldering machine from SEHO is an investment in the future. Like its predecessor, this machine is used in the laboratory for testing high-quality solder resists. Before the coatings are entrusted to the customers, Peters performs a thermal soldering simulation.
Substrates and circuit boards coated with Peters coatings pass through the inner workings of the machine via a conveyor belt. "There, the circuit boards are exposed to temperature stress", reports Jonas Sutmann. Together with his colleague Michael Contzen, the coatings lab technician is responsible for the machine at Peters. "If our coatings withstand this test undamaged under extreme temperature stress, the industrial customer can be sure that in their context, too, they are resistant and robust in view of permanently protecting the respective PCB," reports the 26-year-old technician from Oberhausen.
The coated part can be heated to a maximum of 320° Celsius in the new reflow system by a total of ten radiators on two levels. "If the coating shows no cracks or color changes in the inhouse soldering system after the heat bath, a major hurdle in the development of new special coating systems for electronics has been taken." This ensures the customer that the coating systems from Peters fulfill the high demands placed on them at all times.
The machine is therefore an important element in the development of solder resist technology. Peters is a leader in this field. "Our white solder resist systems from the ELPEPCB® product family are chosen for many LED lamps," reports Detlef Paschke, Head of the Technical Service at Peters. By deciding to purchase the soldering system from SEHO, the full-range supplier of coating materials for electronics from the Lower Rhine region has once again invested significantly in the family-owned company based in Kempen.
By this soldering machine, not only inhouse the research and development activities, but also the Quality Assurance sector is advancing into new dimensions that are directly adapted to the customer's needs. "This system is indeed a further development of extraordinary value for our research and development," emphasizes Detlef Paschke who has been working at Peters for 27 years. The investment in the reflow system was consistent and future-oriented," says the 54-year-old from Willich.
In the Peters laboratory, the 900-kilogram SEHO machine measuring 3.20 by 1.25 by 1.60 meters is already a hunk in terms of length, height and width. "Nevertheless, our supplier SEHO has built the system in such a way that it takes up around half as much space as in everyday industrial production," says Jonas Sutmann, the responsible machine operator.
---
Suggested Items
09/21/2023 | Thermaltronics USA, Inc.
Thermaltronics USA, Inc., a globally acclaimed manufacturer of Precision Soldering Robots and innovative Curie point soldering systems, is excited to announce its participation in the highly anticipated SMTA Guadalajara Expo & Tech Forum, scheduled to take place from October 25-26, 2023.
09/20/2023 | ULT AG
At this year's productronica, the world's leading trade show for electronics manufacturing, ULT will present a brand new extraction solution for solder fumes and vapor.
09/20/2023 | Hentec Industries/RPS Automation
Hentec Industries/RPS Automation, a leading manufacturer of selective soldering, component lead tinning and solderability test equipment, announces that it has added assembly and production staff members to its team to accommodate its recent increase in sales and order demand.
09/19/2023 | SMTA
SMTA is honored to announce Qais Qasaimeh, a graduate student at Auburn University, has been selected as the winner of the 2023 Charles Hutchins Educational Grant.
09/14/2023 | SHENMAO
SHENMAO America, Inc. is proud to introduce its latest innovation in response to the growing demand for ultra-thin packages in the electronics industry.