Books

Featured Books

pcb007 Magazine

Latest Issues

Current Issue

Finding Ultra

New demands on PCB fabrication, namely advanced packaging, ultra high density interconnect (UHDI), and new specialty materials, are converging, changing the landscape of our business. Is it time to start paying close attention to this convergence?

Developing a Strategy

A solid strategy is a critical part of success. This month, we asked some of the top industry leaders and business strategy "gurus" to share their thoughts on developing strategies.

Winning With TQM

In this issue, we explore how TQM has entered the DNA of continuous improvement disciplines, and the role leadership transformation plays in this. If you've ever competed against a TQM company, you understand their winning advantage.

Columns

Latest Columns

||| MENU
STARTEAM GLOBAL Expands Global Footprint with New Smart Manufacturing Factory in Prachinburi, Thailand
September 15, 2023 | STARTEAM GLOBAL
Estimated reading time: 3 minutes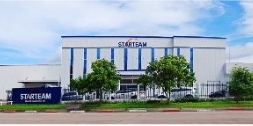 STARTEAM GLOBAL, a leading manufacturer of Printed Circuit Boards (PCB), technology and service solutions, is pleased to announce the opening of our new PCB manufacturing factory in Prachinburi, Thailand, on Wednesday 27 September 2023.
Thailand's Industrial-Rich Province, Prachinburi: The Optimal 'Golden Location'
In addition to our existing operations in Jiangyou, China, this expansion marks a significant move in our global long-term growth strategy to diversify our operations, increase production capacity, and enhance synergy and resource utilisation, to better serve our clients worldwide. With Thailand being ASEAN's largest automotive player, it has also become a key hub for the electronics industry, ensuring the efficient production of high-quality PCBs.
Nestled in Prachinburi province, just east of Bangkok, our Prachinburi STARTEAM (PST) factory operates in the dynamic 304 Industrial Park, which serves as an optimal location and an abundance of skilled workers for the automotive and electronics industries. With a well- developed infrastructure, the industrial park is known as the 'Golden Location'. A highly advantageous site situated 14-20 metres above sea level, the location boasts a certified drainage system, mitigating the risk of flooding for businesses and industries. Additionally, the site is equipped with high-quality on-site infrastructure, including robust water and electricity systems that can cater to enterprises of all sizes. A selection of accommodations is also offered for staff and visitors, complemented by convenient access to commercial zones and recreational facilities.
New Investment Bolsters Supply Chain Resilience Under China+1 Strategy
It is important to clarify that our investment in Thailand is not a relocation of our operations from China. The decision to open PST is in line with our China+1 strategy, aimed at diversifying our manufacturing locations while maintaining our commitment to our existing facility in China. This expansion allows us to meet the increasing demand for our products and strengthen our position and relationships with our valued customers in the ever-evolving geopolitical landscape.
Efficiency, Quality, and Sustainability: The Cornerstones of Our Ventures
To maximise productivity, we utilise a variety of industry-leading machinery, including 12 drilling machines (model no. N6-200) from Schmoll Maschinen. Each machine boasts 6 spindles that can rotate at speeds of up to 200k RPM, with half featuring controlled depth drilling. Our other notable machines include Laser Direct Imaging (LDI) technology from Hans Laser and Wet Processing from Universal (UCE) to ensure unparalleled precision and product excellence.
Moving forward into this exciting new venture, we remain committed to adhering to a stringent automotive quality mindset that prioritises efficiency, quality, traceability, and sustainability. Our operations will incorporate the following:
Automotive Quality Approach: We strive for constant precision, offering efficiency and quality that aligns with the highest automotive standards.
Smart Manufacturing: Our facility is highly automated and digitally enabled, ensuring accuracy, reliability, and speed in our deliverables.
Integrative Technology Network: By integrating machinery, manpower, and big data through a single, cohesive ecosystem, we leverage intelligent systems including AI production scheduling, Manufacturing Executive System (MES), and Machine Learning tools to achieve optimal efficiency, reliability, traceability, and visibility.
Sustainable Sourcing Strategy: In strategic partnership with our factory in China, we incorporate our lean manufacturing method and prioritise sourcing sustainable and local materials. 
Beyond ESG Compliance: We commit to meeting and exceeding ESG requirements set by the European Supply Chain Act, demonstrating our dedication to implementing positive environmental, social, and governance impacts. 
A Strategic Move: Diversifying Production, Maximising Global Reach, and Enhancing Business Resilience
PST aims to serve as a significant hub for PCB production while benefitting from synergies with our operations in China to add robustness to our global manufacturing footprint. Additionally, we are now uniquely positioned to present supply chain solutions to clients by offering dual sourcing options from China and Thailand, managed seamlessly by one organisation. Serving as a strategic measure to diversify production, maximise global reach, and enhance overall business resilience, we continue to reinforce our market position, deliver innovative solutions, exceptional quality, and professional service worldwide.
---
Suggested Items
09/22/2023 | GlobalFoundries
The U.S. Department of Defense (DoD) has awarded GlobalFoundries (Nasdaq: GFS) (GF) a new 10-year contract for a supply of securely manufactured, U.S.-made semiconductors for use across a wide range of critical aerospace and defense applications. 
09/25/2023 | APCT
APCT, a leading name in the PCB and electronics industry, is delighted to announce the appointment of Peter Austin as its President and CEO, effective September 1. Peter takes the reins from former CEO, Steve Robinson, who has retired after years of dedicated service to the company.
09/22/2023 | Happy Holden, I-Connect007
Ever since high density interconnect (HDI) was created in 1982 by Hewlett-Packard to package its first 32-bit computer powered by a single chip, it has continued to evolve and provide the solutions for miniaturized products. The leading edge of HDI technology became the process used for organic flip-chip packaging for the semiconductor industry. The two distinct markets—IC substrates and product-system integration—are now colliding and utilizing the same ultra-HDI manufacturing processes.
09/21/2023 | KIC
KIC, a renowned pioneer in thermal process and temperature measurement solutions for electronics manufacturing, is thrilled to announce its participation in the upcoming SMTA Guadalajara Expo & Tech Forum.
09/21/2023 | Intraratio
Intraratio, a provider of enterprise software solutions, is pleased to announce its participation in the SMTA Guadalajara Expo and Tech Forum 2023.